New Poll Finds Strong Support For Enhanced Background Checks For Gun Sales
A new poll finds strong public support for enhanced background checks and barring people on Federal watch lists from purchasing weapons.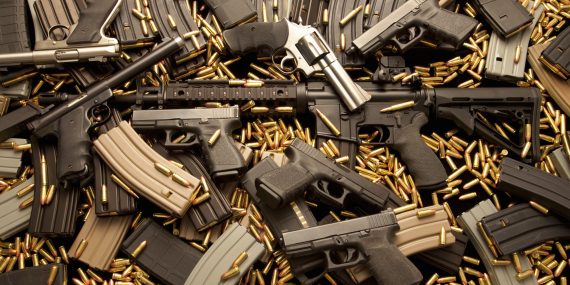 A new poll finds that the vast majority of Americans support a law that would bar people on the "No Fly" and Terrorist Watch lists from being able to legally purchase a gun:
More than half of registered voters support stricter gun laws in the United States, according to the latest results of a nationwide Quinnipiac University poll released Thursday that also found strong levels of support for background checks and for preventing people on government watch lists from purchasing guns.

Regardless of their opinions on specific proposals, 54 percent of registered voters surveyed said they would like tougher legislation when it comes to guns, the highest percentage of Americans expressing that view in the poll's history. Another 42 percent said they opposed stricter gun laws in the U.S., while 4 percent declined to respond. Among the various cleavages in the data for that question, 51 percent of men said they opposed tougher measures, while 45 percent supported; in contrast, more than six in 10 women, or 63 percent to 33 percent, said they would like to see increased measures.

Asked if it is possible to have new gun laws that will not interfere with the rights of responsible gun owners, 64 percent overall said they thought that would be the case, while 28 percent said they would interfere. On the notion that the U.S. would be safer if more people carried guns, 52 percent said it would be less safe, while 40 percent said would be safer. More than half of those in a gun-owing household, 55 percent to 34 percent, said that more guns would make the country more secure.

Six in 10 voters between the ages of 18 and 35 expressed support, compared to 57 percent of those aged 35 to 49 and 54 percent for those 65 and older. Among voters between the ages of 50 and 64, there is a split of 48 percent each. Voters in households owning guns said they would oppose stricter laws, 56 percent to 39 percent, as did white men, 57 percent to 39 percent.

Support was more universal for requiring background checks of all gun buyers. More than nine in 10, 93 percent, said they supported that, while just 6 percent said they opposed, with similar levels of support across various demographic and ideological groups. About 62 percent of all voters said requiring background checks would be effective in reducing gun violence in the U.S., while 35 percent expressed doubt that they would.

As for whether they would support barring people on federal watch lists from buying guns, 86 percent said they would, while just 12 percent overall opposed the idea.

Nearly six in 10, or 59 percent, said they would support a nationwide ban on the sale of assault weapons, while 37 percent said they opposed such an idea. Voters were largely divided on how effective such a ban would be in preventing future gun violence, with 47 percent saying they believed it would and 49 percent who said they did not think so.
This poll comes in the wake of the Senate's rejection of a set of enhancements to the nation's gun control laws that included provisions that would have barred people on Federal watch lists, including the so-called no-fly list, from purchasing guns legally as well as news that the House of Representatives would take up its own version of an expanded gun control bill of some kind that would include provisions covering the watch list issue. If the bills that were introduced by Senate Republicans are any indication, it's likely that whatever the House votes on will include provisions allowing people denied the ability to purchase a gun due to their presence on a Federal watch list to appeal that decision, and to challenge the basis for their presence on the list. As I've noted before, — see here and here — using either the "terrorist watch list" or the far more expansive "no-fly list" as a basis for denying someone a legal and Constitutional right raises significant civil liberties issues, and even a DHS official has argued against using such lists for anything other than their intended purpose. Because of this, the idea of using these lists to deny people a constitutionally protected right have been troublesome from the start, especially since there have been numerous instances of people with no connections to terrorism ending up on one of these lists while the parties who committed the three deadliest attacks since September 11th, 2001 in Boston, San Bernardino, and Orlando, essentially flew completely under the radar of law enforcement and were never placed on any list whatsoever. Given that, it's unclear exactly what this "No fly, no buy" proposal is accomplishing except, of course, scoring political points in an election year.
As for the polling, there's nothing here that's all that surprising. Public opinion has always been strongly supportive of expanded background checks, especially in the wake of a mass shooting incident such as the one in Orlando, and the polling has been similarly supportive when respondents are asked about including people from the watch lists from purchasing legal weapons. As we've seen before, though, gun control is generally a low priority issue for Americans so even when Congress fails to pass one of these measures there is rarely very much negative impact at the polls on Election Day. Voters may say they support these measures, but they obviously don't consider them to be important enough to toss someone out of office over, at least not in comparison to other issues. As long as that's the case, then Congress isn't going to feel inclined to act on this issue.