Nice Work If You Can Get It: Bill And Hillary Rake In Millions On The Speaking Circuit
Bill and Hillary Clinton have done quite well for themselves of the speaking circuit.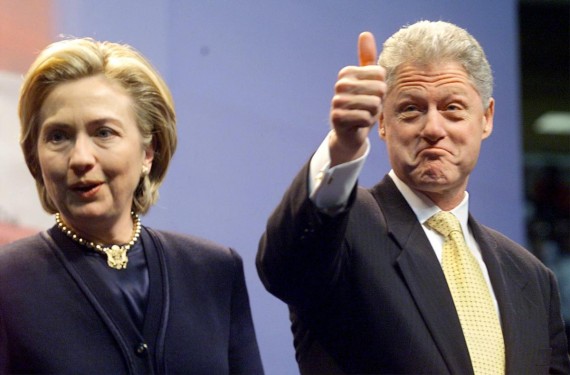 Newly released documents reveal that Bill and Hillary Clinton have made $30 million giving speeches just in the last 16 months:
Hillary Rodham Clinton and her husband made at least $30 million over the last 16 months, mainly from giving paid speeches to corporations, banks and other organizations, according to financial disclosure forms filed with federal elections officials on Friday.

The sum, which makes Mrs. Clinton among the wealthiest of the 2016 presidential candidates, could create challenges for the former secretary of state as she tries to cast herself as a champion of everyday Americans in an era of income inequality.

The $25 million in speaking fees since the beginning of last year continue a lucrative trend for the Clintons: They have now earned more than $125 million on the circuit since leaving the White House in 2001.

In addition, the report shows, Mrs. Clinton reported income exceeding $5 million from her memoir of her time as secretary of state, "Hard Choices."

The Clintons' riches have already become a subject of political attacks, and her campaign has been eager to showcase Mrs. Clinton as a more down-to-earth figure. Her only declared Democratic opponent at this point, Senator Bernie Sanders of Vermont, is an avowed socialist, while Republicans like Senator Marco Rubio of Florida and Gov. Scott Walker of Wisconsin have considerably more modest means.

A major dimension of Mrs. Clinton's candidacy is expected to be policy proposals to narrow the gap between the rich and poor and to address stagnant wages. Yet she is far from those problems; while she said she and President Clinton were "dead broke" when they left the White House in early 2001, they are now part of the American elite.

The report makes clear that Mrs. Clinton, since leaving the State Department, has joined the family speechmaking business with gusto. But the former president can still command higher fees than his wife, collecting about an average of about $250,000 per speech to $235,000 for Mrs. Clinton.

And while Mr. Clinton's largest honorarium was the $500,000 he collected from the EAT Stockholm Food Forum in Sweden, his wife's engagements topped out at $350,000.

(…)

The disclosure forms cover Jan. 1, 2014 to May 14 of this year. They show that even as his wife has begun her pursuit of the presidency, Mr. Clinton has shown no signs of slowing down: He gave three speeches in recent days, including one Thursday for theAmerican Institute of Architects in Atlanta, and two on Tuesday in New York — one for Univision Management and one for Apollo Management Holdings.

The disclosure forms do not reveal what taxes the couple paid on their income, but a campaign official who requested anonymity said they had paid an effective tax rate of about 30 percent.

Mrs. Clinton's last filing, which covered her final years as secretary of state, disclosed more than $16 million in income. Most of the money, mainly covering 2012, stemmed from about 70 honorariums for President Clinton.

The Clintons have come under increasing scrutiny for their financial activities since she announced her run for president last month. Much of the attention has been focused on the Clinton Foundation and thedonations it received from foreign entities during the time that she was secretary of state.

But the couple has also faced criticism for giving highly paid speeches to certain groups, particularly the financial industry.
As Politico notes, the disclosure doesn't disclose the full amount of what the Clinton's have earned from making speeches since it excludes those occasions where the honoraria was paid to the Clinton Foundation rather than directly to former President Clinton or his wife. This is contrary to the guidelines from the Office of Government Ethics, which state that honoraria directed to a charity should be reported in the same manner as those paid to an individual. It's impossible to know how many speeches this may have covered, but it does appear that thery amounted to something more than a handful, which would mean that the Clinton's earnings from speeches just since the beginning of 2014 is actually  likely far north of the Additionally, Jonathan Allen at Vox is out with an extensive report on Hillary Clinton's financial relationship with Corning, the New York based glass company, and the extent to which Corning directly lobbied the State Department during the time that she was Secretary of State and the company was making repeated large donations to the Clinton Foundation.
Given the latest revelations regarding donations to the Clinton Foundation during the time that Clinton was Secretary of State, this latest revelation raises eyebrows simply because it provides yet another insight into the manner in which the Clinton's have managed to enrich themselves and their foundation by selling access to themselves. People aren't paying Bill Clinton a half million dollars per speech, and Hillary Clinton $350,000 a speech because of their speaking abilities. They are paying them that much money to speak, and donating to the Foundation, because of the promise that it will buy them access to a former President of the United States and a former Senator and Secretary of State who has a very good chance of being the 45th President Of The United States. They believe that this access will buy them influence, and there's plenty of evidence available to show that they're correct, such as the case of a Canadian energy concern that was bought by one of Russia's largest energy companies.  If these businessmen and corporations didn't believe that cozying up to the Clinton's like this wasn't going to inure to their benefit. The Clinton's know this, and they've spent the fourteen years since Bill left office taking advantage of it. Even if it isn't illegal, it's sleazy and it's not something we should want in a President, because if anyone doesn't think that all these entities aren't going to be looking for favors from a Hillary Clinton Administration they are incredibly naive.
These reports also revive an issue that became public last year after the release of Hillary Clinton's book Hard Choices. As you may recall, during the tour for that book, Clinton was asked about the issue of all the money that the couple had made giving speeches, and in other ways, by saying that they were "dead broke" when they left the White House in 2001. It was a silly, ridiculous assertion that Clinton kept making on the book tour, and these revelations show just how silly it was. The Clintons have done quite well for themselves by selling access and friendship over the past fourteen years. The idea that they were anything close to "middle class" is quite simply absurd.