Obama Authorizes 1,500 More U.S. Troops For ISIS Fight
Mission creep.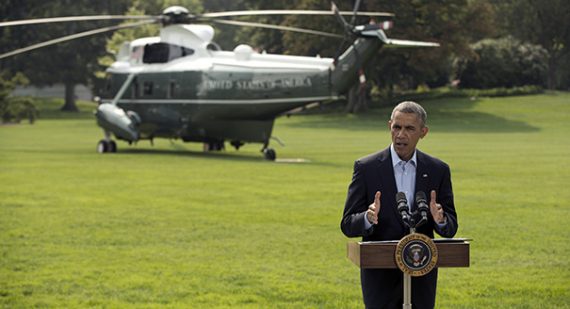 President Obama is apparently set to once again significantly expand the role of American forces on the ground in the first against ISIS in Iraq:
WASHINGTON — President Obama has authorized the deployment of an additional 1,500 American troops to Iraq in the coming months, doubling the number of Americans meant to train and advise Iraqi and Kurdish forces.

The trainers and advisers are to help Iraqis and Kurds as they plan a major offensive expected next spring against Islamic State fighters who have poured into Iraq from Syria.

Pentagon officials said Friday that military advisers would establish training sites across Iraq in a significant expansion of the American military campaign in Iraq and Syria against the Islamic State. A Defense Department official said that a number of military personnel would deploy specifically to Anbar Province, the Sunni stronghold in western Iraq that was the scene of bloody fighting for years after the 2003 American-led invasion. In recent months Sunni militants with the Islamic State have been seizing and holding territory across Anbar.

In addition, White House budget officials said they would ask Congress for $5 billion for military operations in the Middle East against the Islamic State, including $1.6 billion to train and equip Iraqi troops. At its height in 2006 and 2007, the Iraq war was costing the United States more than $60 billion a year.

Administration officials said the expanded effort was intended to help the Iraqis break the Islamic State's occupation in northern and western Iraq, re-establish the government's control over the country's major roads and borders, and retake Mosul, a city of about a million people 250 miles north of Baghdad.

The timing of the announcement — three days after the midterm elections — raised the question of whether the administration, wary of angering a war-weary American public, decided to wait until after the elections to minimize further damage to Democratic candidates. For several weeks now, administration officials have said they expected they would have to send additional American troops to help the Iraqi forces, who initially disintegrated in the face of the rampaging Islamic State.

Defense Secretary Chuck Hagel, acting on weeks-old advice from top generals, formally requested the additional troops this week, according to Rear Adm. John Kirby, the Pentagon press secretary. Pentagon officials said that Mr. Hagel was responding to a request from the Iraqi government for the troops and that United States Central Command, which oversees American military operations in the Middle East, had assessed the Iraqi units and determined that help was needed.

Josh Earnest, the White House press secretary, said that Mr. Obama has authorized the additional personnel to operate at Iraqi bases, even those outside the Iraqi capital, Baghdad, and Erbil, the Kurdish capital. Until now, American troops have been operating at a headquarters with Iraqi and Kurdish forces in those two cities.

Administration officials insisted Friday that the doubling to 3,000 American troops in Iraq was consistent with the president's policy that the United States is not engaged in combat in Iraq. Mr. Obama, who ran against the Iraq war in his 2008 presidential campaign and pulled all American troops from the country in 2011, has repeatedly ruled out sending ground troops back to Iraq, even as he is deepening American military engagement in both Iraq and Syria.

A senior administration official, who asked for anonymity under ground rules imposed by the White House, rejected suggestions that the doubling of forces amounted to mission creep.

"The mission is not changing at all for our service members," the official said, adding that the president "made clear that we are not going to be putting U.S. men and women back into combat. We will continue to assure people that this is a different kind of mission."
Notwithstanding the fact that the Administration is insisting that this is not mission creep, it's hard to see it any other way, especially when viewed in the context of American involvement in this conflict from the beginning. What started out as a humanitarian mission to allow members of the Yazedi minority in northern Iraq to escape from a siege on Mount Sinjar and protect American diplomats in Kirkuk quickly expanded into a mission to aid Iraqi Kurds and the Iraqi Army in their battles against ISIS forces inside Iraq, and then morphed into attacking ISIS positions inside Syria, as well as the positions of a previously never discussed al Qaeda offshoot group called the Korisan Group. Now, the President tells us, the mission is to "degrade and destroy" ISIS both in Iraq and in Syria, but it still remains unclear how we are going to accomplish that. As a preliminary matter at least, it does not appear that air power is having much of an impact on the group in either country, and while it may have slowed down their advance toward Baghdad and their effort to capture crucial cities in Syria such as Khobani on the Syrian border, Slowing down an advance, however, is a far different matter from halting and reversing it, however, and there doesn't seem to be much indication of that happening any time soon. In no small part, of course, that last part is because the primary ground forces that we're supposedly relying on to do that — the Iraqi Army and the "moderate" Syrian rebels — are by no means ready to fulfill the mission we'd purport to assign to them. Indeed, in the case of the Syrian rebels, it's been clear from the start that their primary mission remains toppling the Assad regime so it's unclear that they will even use the training we are giving them to do what we want them to do. The Kurdish Peshmerga forces are a better organized force, of course, but they are understandably far more concerned with defending Kurdish areas in Iraq and Syria from ISIS than they are in protecting Iraq in any significant manner. Thus, with the air campaign only having limited success and the likelihood that ISIS will play the waiting game until our purported allies are ready to strike, President Obama obviously feels the need to ramp up America's involvement in this war of his if only to show that he's "doing something."
As I've said before, there are real dangers in the strategy that the President is undertaking here, and we've seen them unfold in other conflicts that the United States has found itself part of in the past. Allowing mission creep to take place means that you have entered a conflict without any real sense of what your mission is and, more importantly, no conception of what an exit strategy might be. Given the fact that the Administration has characterized the campaign against ISIS as being, legally and factually, inseparable from the "War On Terror" that begin thirteen years ago in the wake of the September 11th attacks, it's no real surprise that we're proceeding down this path. After all, the War in Afghanistan itself can be characterized as having been rife with mission creep, and the broader "War On Terror" has morphed from something centered in Afghanistan and Pakistan to targets in Yemen, sub-Saharan Africa, and elsewhere. Now, even though the connection between ISIS and al Qaeda is tenuous as best the Administration is purporting to sue the same Authorization for Use of Military Force that justified those actions to launch military actions in Iraq and Syria that are obviously going to require more than just drone strikes to be successful. And that's where the problem with mission creep really comes into play. Once you've committed to a course of action that leads down that path, it becomes next to impossible, both as a matter of domestic politics and international affairs, to either reassess what you're doing or to, god forbid, consider the possibility of turning back. To pick just one extreme example, that's essentially what happened to the United States after 1965 when President Johnson first started committing forces to the conflict in South Vietnam. At some point, it became impossible for him to say no to further escalation, and we all know what happened after that.
Now, I'm not saying that we're headed for a Vietnam style conflict in Iraq and Syria, at least not in the same way and most certainly not in the same numbers. I am suggesting, however, that by not defining a clear strategy, or even a clear reason for why we should be investing ourselves in fighting ISIS and to preserve the territorial integrity of nations like Iraq and Syria, President Obama has committed the United States to a course of conduct that will likely only suck us further into a conflict that has no good end for anyone involved, and most certainly not a good end for us. Indeed, I am not even certain that we have the option of withdrawing at this point even though that may seem to be the best course of action.