Obama Derangement Syndrome At National Review?
Blaming Obama for the security bubble he travels in is, in the end, a pretty dumb argument.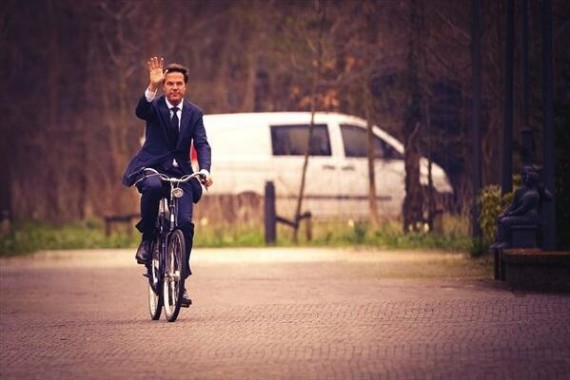 National Review's Kevin Williamson, makes this observation regarding the above photograph, which shows Dutch Prime Minister Mark Rutte, who showed up to a meeting with President Obama today on his bicycle:
Barack Obama showed up at his meeting with Dutch PM Mark Rutte with his usual caravan of armored limousines and the like.

Dutch leaders not only are better at republican manners than ours are — no caesaropapist trappings for Mr. Rutte — but also offer a standing rebuke to American cultural practices by reminding us that it is possible to ride a bicycle without special shoes, a helmet, or spandex.
This is, of course, a ridiculous comparison.
First of all, the security retunie surrounding an American President is huge. It has been for more than 50 years now ever since John F. Kennedy was assassinated in Dallas. The bubble became even more restrictive in the wake of the attempted assassination of President Reagan in 1981, the Oklahoma City Bombing in 1995, which resulted in the permanent closure of Pennsylvania Avenue to vehicular traffic, and the terrorist attacks on September 11, 2001. After Barack Obama became President, the Secret Service increased protection somewhat due to documented threats against him and his family. None of this was Barack Obama's choice, nor was it the choice of any other person who has served as President before him. Indeed, perhaps he'd would prefer getting around D.C. on a bike like Prime Minister Rutte apparently does. But that's simply not possible in today's day and age and, in any case, the Presidential security bubble did not begin with Barack Obama and it will not end with him either.
Second, with all due respect to our friends and allies in Amsterdam, the President of the United States is quite obviously a more high value target to terrorists than the Prime Minister of The Netherlands.
Third, Williamson ends his piece with a gratuitous and wholly unnecessary slap at President Obama over this photograph taken during one of the Obama family's Christmas holidays in Hawaii. Yes, making fun of the President for riding a bicycle while wearing a helmet. Very mature.
Finally, pointing to Prime Minister Rutte as some example of "republican" values is quite ironic given the fact that he is the Head of Government of a nation whose Head Of State, King Willem-Alexander. The Netherlands, in other words, is a Constitutional Monarchy, not a Republic.
The only thing I can conclude from all of this is that even a relatively reasonable conservative like Williamson finds it obligatory to dip into the crazy well of Obama Derangement Syndrome from time to time. One wonders what William F. Buckley would have to say about all of this.