Obama Handing Out Ambassadorships To Top Donors And Friends, Just Like His Predecessors
President Obama has appointed a lot of donor's and supporters to plumb Ambassadorial slots. That's not at all unusual.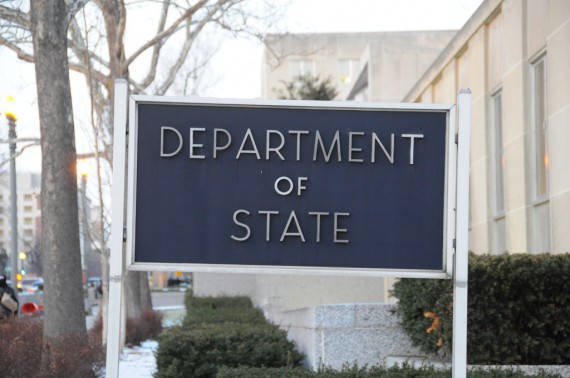 President Obama has given out a lot of plumb Ambassadorial slots to top campaign donors, supporters and bundlers, but that's just a continuation of a practice that's been going on in Washington for a long time:
President Obama has rewarded at least 19 campaign contributors and political allies with ambassadorships this year, according to an analysis by The Hill.

Nominations to plum postings have gone to no fewer than eight bundlers, six of whom raised more than $1 million for the president's reelection campaign. The president has also given prized ambassadorships to key fundraising staffers, including the head of his 2012 finance operation.

(…)

Internal financial documents obtained by The New York Times suggest the price per post is also at an all-time high, although apples-to-apples comparisons aren't possible because precise figures aren't available for previous administrations.

The amounts raised by the eight bundlers in 2011-2012 ranged from $2.36 million by Women for Obama Finance Chairwoman Denise Bauer to $477,000 from Los Angeles entertainment attorney and Michelle Obama Princeton classmate Crystal Nix Hines. The two women have been named to serve as ambassadors to Belgium and UNESCO, respectively, while other bundlers have been tapped for service in the United Kingdom, Germany, Spain, the Dominican Republic, Singapore and Austria.

Another bundler, Democratic National Committee National Finance Chairwoman Jane Stetson, is rumored to be in line for the top diplomatic post in Paris, perhaps the most prestigious ambassadorial position of them all. Stetson raised $2.43 million for Obama.

The Paris and London postings were also coveted by Vogue Editor-in-Chief Anna Wintour, Obama's fourth biggest bundler, who raised $2.68 million, but she's expected to have to settle for something else.

Retired JPMorgan Vice President Azita Raji, Obama's second biggest bundler, at $3.15 million, is a top choice for ambassador to Switzerland.

And Caroline Kennedy, daughter of John F. Kennedy and a lifelong Democratic activist, is the heavy favorite for ambassador to Japan.

"I am proud that such experienced and committed individuals have agreed to serve the American people in these important roles," Obama said when he named Matthew Barzun, the national finance chairman of Obama for America and a bundler who raised $2.31 million, to be ambassador to the United Kingdom of Great Britain and Northern Ireland.

Obama's use of ambassadorships as rewards to bundlers has drawn cries of protest from career diplomats.

"Now is the time to end the spoils system and the de facto 'three-year rental' of ambassadorships," the American Foreign Service Association said in a statement after Obama's election. "The United States is alone in this practice; no other major democracy routinely appoints non-diplomats to serve as envoys to other countries."

Retired U.S. diplomat Thomas Pickering told Britain's The Guardian newspaper that the practice amounted to selling public office to the highest bidder after a spate of donor appointments last week.

"All these people want to go to places where the lifestyle issues [are pleasant]," Pickering said. "It has the effect of diminishing perhaps the sense that the US is treating these countries with the respect they deserve."
Pickering arguably has a point here. Giving out Ambassadorial appointments to supporters and "Friends of the President" is a seemingly unique American practice, and one can see why host countries might be put off by a practice that basically says that the resident representative of a close ally, and the most important nation on the planet, is being decided who raised the  most money for the President's campaign. At the same time, though, its never been clear that these appointments really raise all that much ire with the host country at all. After all, the job of Ambassador in a nation such as France, Japan, or the United Kingdom hardly involves the kind of diplomatic training that a campaign donor is unlikely to have. Instead, they tend to play more of a role on the business side of the ledger, acting as an advocate for doing business in the United States and expanding trade relationships. Given that many of these top campaign donors come from the business world, it's arguably the case that they have precisely the kind of skills necessary to perform that role. Finally, it's worth noting that we now live in a world where it's not really necessary for Ambassadors to act as the primary diplomatic contact between the United States and the host country. If the Secretary of State needs to talk to his counterpart in London, Berlin, Paris, or Tokyo, the technology exists today to make that happen quite easily, not just by telephone but also via video conference if necessary. When Ambassador's are acting in a diplomatic role today, they are typically just following up on those discussion, and likely only after having been extensively briefed on what to say by people back in Washington. The days when Thomas Jefferson and John Adams had to wait weeks to hear back from the government in Philadelphia about how to proceed with respect to discussions with the Bourbon King Louis XVI or the Court of St. James.
The other thing worth pointing out is that President Obama isn't really doing anything unusual:
Presidents of both parties have long rewarded donors with diplomatic prestige, but Obama appears to be outdoing his immediate predecessors.

As of June 28, 32.2 percent of Obama's ambassadorial appointments had gone to political appointees, according to the American Foreign Service Association, versus 30.02 percent under George W. Bush, 27.82 percent under Bill Clinton and 31.30 percent under George H.W. Bush.
Yes 32.2% is higher than 30p.02%, 27.82%, and 31.30%, but two thoughts come to mind. First of all, the numbers for previous Presidents appear to be through their full terms in office, while Obama's are only through his first term and first six months of his second term. Would it not be more valid to compare numbers for all four Presidents over a similar period of time? After all, the President will obviously be appointing more Ambassadors over the next 3 1/2 years and many of them will likely be career diplomats, especially those to sensitive posts and most third-world nations. At that point we'll get a better idea of what the comparisons are. Second, notwithstanding the  fact that the President does lead his four immediate predecessors in the percentage of Ambassadorial appointments going to donors and supporters, the numbers don't really appear to me to be statistically significant. Is Obama's 32.2% really all that different than George W. Bush's 31.30%, or the numbers for the first President  Bush and President Clinton?
I tend to agree that there is something unseemly about diplomatic posts seeming to go to the highest bidder, but this is something that has been a long-standing practice for better or for worse. Given the fact that there doesn't seem to be any damage or offense caused by this statute, and that President Obama's appointments don't strike me as being all that far out of line compared to the practices of his immediate predecessors. Unless someone can point me to a real harm that's being done to the nati0n's foreign relations, I just don't see the story here.
H/T: Ed Morrissey
Photo via Flick feed of Flickr user tom_arthur under a Creative Commons license