Obama Hit For Lack Of Diversity In Reshuffled Cabinet
President Obama is taking some heat over the fact that his Second Term cabinet selections have been very white and very male.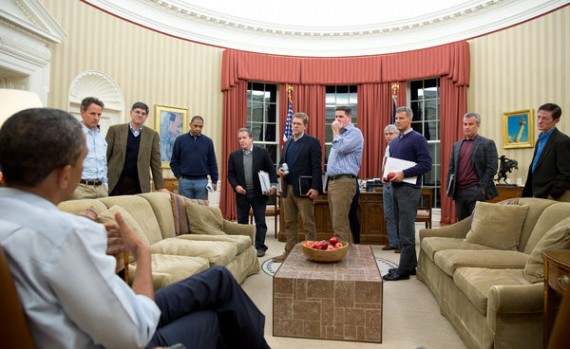 As we get closer to Inauguration Day, President Obama has been well on the way toward the traditional Second Term cabinet reshuffle. He's already essentially completely remade his foreign policy team with the selection of John Kerry for Secretary of State, Chuck Hagel for Secretary of Defense, and John Brennan for CIA Director. Later today, hell officially announce the selection of Jack Lew to replace Timothy Geithner at the Treasury Department, and there will be at least two more appointments coming now that Hilda Solis has announced her resignation as Secretary of Labor and Obama has set to name a permanent replacement for Secretary of Commerce after the June resignation of John Bryson in the wake of a bizarre driving incident in Los Angeles. Some members of the cabinet — Attorney General Holder, Secretary of Veterans Affairs Eric Shinseki, Secretary of Homeland Security Janet Napolitano, and Secretary of Health and Human Services Kathleen Sebelius — will be staying over at least for now, but it's clear that the President's Cabinet and inner circle will look much different from the one that entered office with him in January 2009.
There's little doubt, I think, that the new Cabinet Members that the President has selected are all well qualified for their jobs. However, some are taking note of the fact that the President's selections seems to lack racial or gender diversity:
WASHINGTON — In an Oval Office meeting on Dec. 29, 11 of President Obama's top advisers stood before him discussing the heated fiscal negotiations. The 10 visible in a White House photo are men.

In the days since, Mr. Obama has put together a national security team dominated by men, with Senator John Kerry of Massachusetts nominated to succeed Hillary Rodham Clinton as the secretary of state, Chuck Hagelchosen to be the defense secretary and John O. Brennan nominated as the director of the Central Intelligence Agency. Given the leading contenders for other top jobs, including chief of staff and Treasury secretary, Mr. Obama's inner circle will continue to be dominated by men well into his second term.

From the White House down the ranks, the Obama administration has compiled a broad appointment record that has significantly exceeded the Bush administration in appointing women but has done no better than the Clinton administration, according to an analysis of personnel data by The New York Times. About 43 percent of Mr. Obama's appointees have been women, about the same proportion as in the Clinton administration, but up from the roughly one-third appointed by George W. Bush.

The skew was widespread: male appointees under Mr. Obama outnumbered female appointees at 11 of the 15 federal departments, for instance. In some cases, the skew was also deep. At the Departments of Justice, Defense, Veterans Affairs and Energy, male appointees outnumbered female appointees by about two to one.

"We're not only getting better than previous administrations, but we also want to get better ourselves as well," Nancy D. Hogan, assistant to the president and director of presidential personnel, said in response to the Times analysis. "The president puts a premium on making his team representative of the American people."

The White House itself employs almost exactly the same number of men and women, and administration officials said they hoped to even out the ratio across the government and help ensure that future Democratic administrations have a diverse and deep bench of candidates for high-level jobs.

But Mr. Obama's recent nominations raised concern that women were being underrepresented at the highest level of government and would be passed over for top positions.

For instance, many Democrats had hoped that Mr. Obama would name Michèle Flournoy, a former under secretary of defense, to the Pentagon post. They had also hoped that he might name Alyssa Mastromonaco or Nancy-Ann M. DeParle, who are top White House aides, to the chief of staff job, or Lael Brainard, an under secretary at the Treasury Department, as secretary. But speculation about the chief of staff position now rests on Denis McDonough, the deputy national security adviser, and Ronald A. Klain, a former chief of staff to Vice President Joseph R. Biden Jr. For the Treasury position, most expect Mr. Obama to name his current chief of staff, Jacob J. Lew.

"It's not so much about checking a box, like on a census form," said Tracy Sefl, a Democratic political consultant in Washington. "It's about the qualitative properties that the candidate takes to the position. In this case you're talking about tremendous women, and then we get a whole bunch more white guys."

Interviews with current and former members of the administration, both men and women, suggested that there was no single reason for the gender discrepancy in administration appointments, and several repeatedly spoke of the administration's internal commitment to diversity and gender equity.

But several said that the "pipeline" of candidates appeared to be one problem. They said it seemed that more men than women were put forward or put their names forward for jobs. In part, that might be a result of the persistence of historical discrepancies: men have traditionally dominated government fields like finance, security and defense.
CNN repeats the same story today:
Washington (CNN) – As Democrats in Congress celebrate a historic number of women elected to their ranks, the White House's top ranks reflect a very different picture — one that is largely male.

CNN has learned President Barack Obama is expected to nominate White House chief of staff Jack Lew as treasury secretary.

The likely contenders to replace Lew — including Ron Klain, who once served as Vice President Joe Biden's chief of staff, and Denis McDonough, a deputy national security adviser — are all men.

Then there's the president's recent choice for defense secretary: former Sen. Chuck Hagel. The preferred choice to replace Hillary Clinton as secretary of state is another man: Massachusetts Sen. John Kerry.

The trend troubles those who study the role of women in government.

"What you're hearing is that as new openings come up, there are missed opportunities to bring women in at that level," said Debbie Walsh, director of Rutgers University's Center for American Women and Politics, which tracks women in elective office.

"It is concerning at a time when you have a gender gap that put (Obama) over the top, and that gap was a diverse gender gap," Walsh said.
Similarly, NBC's First Read calls the lack of diversity issue part of the Administration's disorganized cabinet shuffle, and Congressman Charles Rangel calls it "embarrassing as hell," a phrase that he apparently doesn't think applies to his multiple violations of tax laws an Congressional Ethics Rules. On the other side of the aisle, conservatives are taking no small amount of joy in pointing out the President's alleged hypocrisy, which is ironic considering that these are people who have stood strongly against affirmative action and other similar programs.
One some level, perhaps, the President has set himself up for criticism here. After all, he had promised in the past that he would appoint a diverse cabinet and, while he achieved that to some extent during his Firs Term, there has been an undercurrent of criticism in Washington for the past four years about the White House being mostly a "boys club" where women were often shunted to the side when it came to significant policy decisions. In the end, though, it strikes me that there really ought to be only one relevant question when it comes to the selection of a President's top political advisers, and that's the question of whether or not they are qualified for the position to which they are being named. A secondary factor, of course, is the extent to which the President himself feels comfortable working closely with these people as his top advisers for the next and whether he trusts them to give him the advice and counsel that he needs. What race, gender, or ethnicity these people happen to be strikes me as being so far down on the list of relevant considerations when it comes to selecting high level adviser. Indeed, haven't we gotten beyond the point where a person's gender or the color of their skin should even be a relevant consideration. If Kerry, Hagel, Brennan, and Lew are the people that President Obama chooses to have closest to him in the final four years of his Presidency, why does it matter if they are white males at all? I can't conceive of a single relevant reason, personally.