Obama Job Approval On Foreign Policy Hits Low In New Poll
President Obama is losing public support in the one area where he's generally had broad support from the public in the past.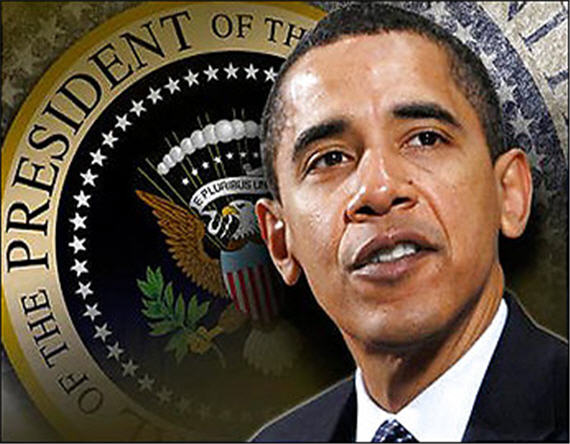 President Obama's overall job approval has, throughout his term in office, fluctuated within a fairly narrow band. With exceptions that can be tied to explicit events such as the raid that killed Osama bin Laden, the 2010 elections, and the 2012 elections, those numbers have stayed within that range. Things have been different when you dig deeper into the polls and look at his job approval on specific areas of policy. On the issue of the economy, for example, the President's numbers have been upside down since late 2009, something that's understandable given the state of the economy over the past four years. The same has largely been true of the President's job approval numbers on the issue of health care, which started turning negative virtually from the moment that Congress started working on what eventually became the Affordable Court Act.  There's one issue, though, on which the President has generally had high and positive job approval numbers, and that's foreign policy. For the most part, as the chart at this last link shows, the public has given the President good marks on foreign policy, as it traditionally has for all Presidents in the recent past. Recently, though, things seem to have changed, as a new Quinnipiac poll indicates: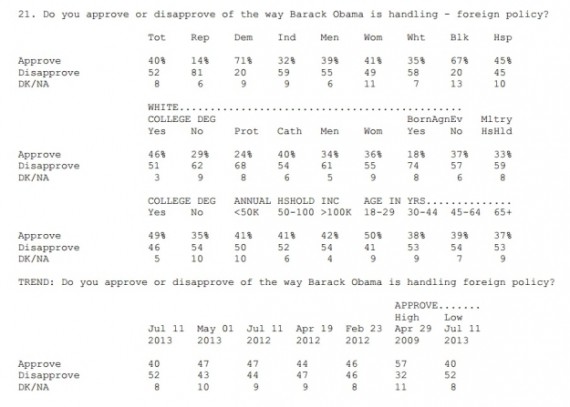 Back in May, 47% approved of Obama's job on foreign police, while 43% disapproved. A year ago the numbers were 47% approve/40% disapprove. Now, we're at 40% approve and a rather stunning 52% disapprove. What could account for this? It's not as though the United States has suffered any real setbacks in international affairs over the past year. Indeed, one could even argue that it has been the opposite. Digging deeper into the poll, though, it's clear that there's clear public disapproval of several recent decisions made on the foreign policy front by the Obama White House:
Even on specific issues, things are bleak for the president. Just 33 percent Americans agree with the path the president wants to take in Syria. And while pressure from lawmakers and some foreign policy groups may be on President Obama to intervene in the country, the American people still don't think he should.

The results reaffirm a general trend among Americans in recent polling on Syria: they don't truly think the U.S. should be providing weapons to the opposition, nor do they think it's in our best interests to get involved. But that's not stopping the Obama administration from going ahead with its plans to arm some of the rebels fighting President Bashar al-Assad.

Among those polled, only 27 percent of Americans think getting involved in Syria serves the national interest of the U.S. Just 27 percent of Americans also think the U.S. should provide arms and military supplies to rebel groups, while 59 percent of Americans would oppose such action. This lack of support goes across party lines, as Republicans, Democrats and independents show similar numbers.
There also appears to be some dissatisfaction with the way things are going in Afghanistan:
Voters remain split 46 percent to 45 percent on his handling of the war in Afghanistan.

Here are some results for other Afghanistan questions:

Thinking about the situation in Afghanistan, do you think the United States should or should not negotiate with members of the Taliban?

Yes 28%, No 63%

 Do you think the United States should or should not negotiate with members of the Taliban, if such negotiations could end the war in Afghanistan?

Yes 53%, No 40%

 Some people say the United States should not negotiate with terrorists because it encourages more terrorism. Do you agree or disagree?

Agree 60%, Disagree 33%

 Some people say the United States should have negotiations with the Taliban because it will get American troops home more quickly. Do you agree or disagree?

Agree 35%, Disagree 57%
Other than sheer war weariness, it's hard to say why the public has seemingly turned on Obama on Afghanistan, unless its just collateral damage from the disapproval of his policy in Syria. In either case, it does look as though the public has turned on the President in the one area where he has enjoyed a positive reputation for pretty much the entirety of his Presidency.
Clearly the President would prefer that the public be behind even in an area like this where he has broad degrees of discretion. In part this is because he does need the support of Congress in certain policy areas, such as Syria, if he's going to move his policy forward, and it's easier to get that support if the public is behind you. It's worth noting, of course, that this is just one data point in a larger universe, though. It's entirely possible that, three or six months ago, the President's foreign policy numbers will turn back around to the positive side. This could happen quickly if a foreign policy crisis leads to the "rally" effect that we've seen so many times before. If that happens, then the President has nothing to worry about. If it doesn't turn around, though, then foreign policy will join the economy and health care as one of those policy areas where the President's job approval is upside down. While some will argue that President Obama doesn't have to worry about these numbers so much anymore since he won't be running for re-election anymore, there's no denying that they could have a serious impact on his party's fortunes in next year's elections and on the President's ability to push his second term agenda through Congress, something he hasn't' had very much luck doing since being inaugurated in January to begin with. Given that his lame duck period is likely only about 18 months away from beginning, at the very most, that doesn't give the President much time to get anything done.