Obama May Cancel Moscow Trip Over Snowden Affair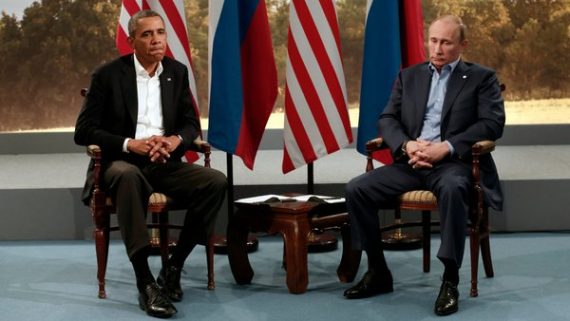 American athletes are still going to go to the Sochi Olympics next year, but the Edward Snowden affair may lead to President Obama canceling a private meeting with Russian President Vladimir Putin when he's in Russia for the G-20 summit:
WASHINGTON — President Obama may cancel a scheduled trip to Moscow to meet with President Vladimir V. Putin in September as the standoff over the fate of Edward J. Snowden, the former National Security Agency contractor seeking asylum there, takes its toll on already strained relations between the United States and Russia, officials said Thursday.

The White House announced the Moscow meeting in June as an extra stop on an already planned trip to St. Petersburg for the annual gathering of the Group of 20 nations. But while Mr. Obama is still committed to going to St. Petersburg, he is now rethinking the Moscow stop, not just because of the impasse over Mr. Snowden but due to a whole range of issues dividing the two countries.

A cancellation of the Moscow meeting would be seen as a direct slap at Mr. Putin, who is known to value such high-level visits as a validation of Russian prestige. While the White House may be using the meeting as leverage to win cooperation as it seeks the return to the United States of Mr. Snowden, who is now staying at Moscow's airport, the reconsideration also reflects a broader concern that the two countries are far apart on issues like Syria, Iran, arms control and missile defense.

The White House has not publicly confirmed the prospect of scrubbing the Moscow meeting, but has sent unmistakable signals that it is now on the table. Asked directly on Wednesday if Mr. Obama is still going to Moscow before the G-20 meeting in St. Petersburg, Jay Carney, the White House press secretary, declined to say. "I can say that the president intends to travel to Russia for the G-20 summit," Mr. Carney said. "I don't have anything to add to what we've said in the past about that trip."

If Mr. Obama does cancel his stop in Moscow, he could still meet with Mr. Putin on the sidelines of the St. Petersburg meeting to avoid a bigger rupture. But some critics have urged Mr. Obama to be even more aggressive in responding to Russia's harboring of Mr. Snowden.

Senator Lindsey Graham, Republican of South Carolina, said that the president should push to move the G-20 meeting out of Russia altogether and that the United States should boycott the Winter Olympic Games set for 2014 in Sochi, Russia.

"President Obama, should you go to St. Petersburg, Russia, for the G-20 summit if they give Snowden asylum and they don't change their policy toward Syria and continue to help Iran?" Mr. Graham said Wednesday on "The Lead with Jake Tapper" on CNN. "Should you go? My advice to you is I wouldn't go to St. Petersburg. I would ask for a change of venue."

While using the Snowden affair to jab the United States for supposed hypocrisy in prosecuting a whistle-blower, Mr. Putin has also made clear that he does not want the showdown to harm ties. "Bilateral relations, in my opinion, are far more important than squabbles about the activities of the secret services," he told Russian reporters who asked Wednesday about the scheduled Moscow meeting.
It's possible, of course, that Snowden won't even be in Russia by the time President Obama gets there. If he isn't that may make this a moot issue to some extent. Yes, there are still other issues, such as Syria, between the U.S. and Russia, but the real awkwardness, I think, would be the idea of the President being in Moscow while Snowden is there living in asylum. Of course, if Putin and Obama talk, perhaps that asylum wouldn't last very long.