Obama Oil Spill Speech Reax: Epic Fail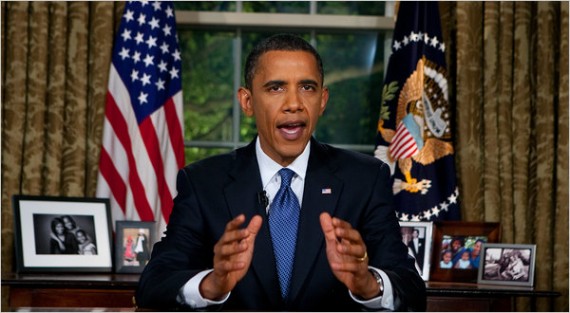 Doug has already done an excellent job assessing President Obama's Gulf cleanup speech but I'm going to weigh in with some further thoughts.
As has been my custom in recent years, I skipped the speech altogether, preferring to assess it the next morning based on reading the text and gauging the reactions to it.  This has several advantages.  First, it diminishes the importance of the skill of delivery, which made Bush's speeches seem better and makes Obama's seem worse.  Second, I get the "sound byte" effect, which is how most Americans will form their opinions on the speech.  Third, I can much more efficiently select skim through smart analyses if I give it a few hours.  Fourth, I don't have to spend my limited family relaxation time listening to banal speeches.
My general sense of the matter is that there was really very little Obama could have said at this point that would have satisfied anyone.   We're already 57 days into this mess and he's been talking about it non-stop.  Absent some surprise announcement that he's been working with James Carville and come up with an instant solution, he wasn't going to give us anything new of significance.
Even with those very low expectations, though, this was a shockingly underwhelming speech.  The few sound bytes I heard on NPR this morning were exceedingly week, even by George W. Bush standards.  Moreover, even those on the president's side were disappointed if not outright angry.
My initial thoughts when I was reading some of the "leaked" previews yesterday were that it sounded like a speech Jimmy Carter would have given.  Indeed, like speeches Jimmy Carter give thirty-odd years ago.
The RealClearPolitics gang provides a video clip from the MSNBC crew (see link) of Keith Olbermann, Chris ("Thrill Up My Leg" Matthews, and Howard Fineman. The RCP summary:
Olbermann: "It was a great speech if you were on another planet for the last 57 days."

Matthews compared Obama to Carter.

Olbermann: "Nothing specific at all was said."

Matthews: "No direction."

Howard Fineman: "He wasn't specific enough."

Olbermann: "I don't think he aimed low, I don't think he aimed at all. It's startling."

Howard Fineman: Obama should be acting like a "commander-in-chief."

Matthews: Ludicrous that he keeps saying [Secretary of Energy] Chu has a Nobel prize. "I'll barf if he does it one more time."

Matthews: "A lot of meritocracy, a lot of blue ribbon talk."

Matthews: "I don't sense executive command."
How about some less emotional types than Olbermann and Matthews?
Here's Kevin Drum:  "What a terrible speech."
The whole point of a prime time Oval Office speech (transcript here) is that it announces something big. On that score, Obama failed right from the start. He told us that lots of people are already working the cleanup. Yawn. That Ray Mabus is going to develop a long-term Gulf Coast Restoration Plan as soon as possible. A plan! Hurrah! That we're gonna make BP pay for everything. Roger that. And then this: "I have established a National Commission to understand the causes of this disaster and offer recommendations on what additional safety and environmental standards we need to put in place." A commission! So much for "going big."
He then takes a long look at the Carteresque proposal to get off foreign oil:
This gives pablum a bad name. Obama wants a bill. Pretty much any bill will do. But he didn't say a single word about what he himself wanted. A carbon tax? Cap-and-trade? Nuclear subsidies? Electric cars? Who knows? And as Kate Sheppard notes, he didn't breathe so much as a word about climate change.

I dunno. This speech felt entirely by-the-numbers to me. He told us about the spill. He told us the best minds in the country were working on it. He told us BP would pay for it. He told us he was setting up some commissions. He said he wanted an energy bill of some kind. Then he told us all to pray. It felt like he was reading off a PowerPoint deck.

This is, by a long way, the most negative reaction I've ever had to an Obama speech.
How about Ezra Klein?  He notes that the major policy speeches were "broadly-expected" and that the language of the energy dependency part of the speech was exceedingly derivative of his health care speeches.
The optimistic take, at least for environmentalists, is that this is the language and approach Obama uses when he really means to legislate. The pessimistic take is that Obama shied away from clearly describing the problem, did not endorse specific legislation, did not set benchmarks, and chose poll-tested language rather than a sharper case that might persuade skeptics.
Or Taegan Goddard:
Though Obama called for a "national mission" to transition to clean energy, he was vague on what he actually wants to see in a comprehensive energy bill. In doing so, Obama is just another president that has refused to ask Americans for the necessary sacrifice to finally achieve this greater national goal. He missed a golden opportunity.
Or Jonathan Chait:
The important part of his speech concerned how we would wean ourselves off of fossil fuels. This portion revealed just how much Obama is operating from a position of weakness.
These aren't wild lefty ideologues expecting the politically impossible.  Nor, obviously, are the Republican partisans hoping for the president to fail.   That these folks are piling on tells me that the speech was an epic failure.
But, as Greg Sargent reminds us,
The intended audience of this speech was a general public wondering what the heck is going on with the spill and what the broader game plan is. This audience didn't need to hear the level of commitment to specific policy prescriptions that we all might have wanted.
We'll see what the polls tell us.  But the general public will filter their reactions of the speech through the media commentary.