Obama Swings And Misses In Oval Office Address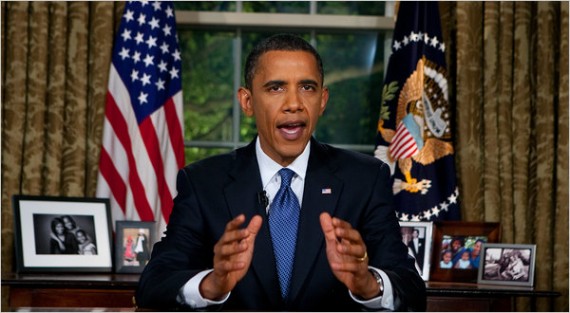 President Obama used the prestige of his very first Oval Office speech to report to the American public on Day 57 of the Gulf Oil Spill Crisis, and it was, quite honestly, less than it should have been:
WASHINGTON — President Obama summoned Americans on Tuesday to a "national mission" to move away from reliance on oil and develop alternative sources of energy, demanding that Congress move quickly to overcome "a lack of political courage and candor."

Speaking to a national television audience from the Oval Office, Mr. Obama also promised a long-term plan to make sure that the gulf states suffering from the oil spill are made whole again. He said he was appointing Ray Mabus, the secretary of the Navy and the former governor of Mississippi, to develop a Gulf Coast restoration plan in cooperation with states, local communities, tribes, fishermen, conservationists and gulf residents.

"Today, as we look to the gulf, we see an entire way of life being threatened by a menacing cloud of black crude," Mr. Obama said. "We cannot consign our children to this future. The tragedy unfolding on our coast is the most painful and powerful reminder yet that the time to embrace a clean energy future is now."

For Mr. Obama, the 18-minute address, in which he spoke from his desk, took place in a far different venue from the crowded campaign rallies, international university halls and banquet rooms where he has produced some of his most soaring speeches. This time, Mr. Obama, wearing a dark blue suit and light blue tie, struck a solemn tone but a hopeful one as he spoke of the American ingenuity he said was now needed to help the country rein in its reliance on oil.

Seizing on the widening oil calamity in the Gulf of Mexico to push for legislation he has advocated since his campaign, Mr. Obama said he was willing to look at approaches from Democrats and Republicans, including raising efficiency standards for buildings as well as cars and trucks.

But, he warned: "The one approach I will not accept is inaction. The one answer I will not settle for is the idea that this challenge is too big and too difficult to meet."
Beyond a now familiar recitation of the things that Obama says were done in the immediate aftermath of the April 20th explosion and sinking of the Deepwater Horizon, there was very little substance in the speech beyond promises that the Gulf region would be restored to a state better than it was before the accident and that BP would pay for everything.
Even when he repeated his energy independence talking points, the President was fairly vague and certainly didn't use the speech as an opportunity to lay down the gauntlet for a Senate that seems increasingly un-eager to take up the Cap & Trade legislation before the November elections. In fact, the speech was more remarkable for what Obama didn't say than what he did — there were no deadlines, no calls for citizens to call their Senators, and not even a mention of the phrase "cap and trade." Perhaps this is because the White House knows that the battle in the Senate is one they're not likely to win.
I will say that there was one specific provision in the speech that I think is a good idea, and that relates to Obama's announcement that he would be pressuring BP to establish an escrow fund from which claims can be paid. While the fears about BP's fiscal solvency may prove to be unfounded, ensuring that justly owed claims will be paid in full is the least that BP can do at this point.
The real purpose of tonight's speech, though, was to put a stop to the talk both inside and outside the beltway that Obama has let the crisis get away from him and that he hasn't displayed the kind of leadership that the American public supposedly expects in these respects.  Judging from the reaction from those people who are usually the President's allies, one would have to say that he didn't succeed in that task at all.
Here, for example, is Ezra Klein's take:
[H]is language was a close echo of the language he used in the health-care fight. "There are costs associated with this transition," he said, using a formulation many will remember from health care. "And some believe we can't afford those costs right now. I say we can't afford not to change how we produce and use energy." Similarly familiar was his reminder that "I am happy to look at other ideas and approaches from either party – as long they seriously tackle our addiction to fossil fuels," and his promise that "the one approach I will not accept is inaction."

The optimistic take, at least for environmentalists, is that this is the language and approach Obama uses when he really means to legislate. The pessimistic take is that Obama shied away from clearly describing the problem, did not endorse specific legislation, did not set benchmarks, and chose poll-tested language rather than a sharper case that might persuade skeptics.
Even more remarkable is the reaction of two people who have perhaps been the President's biggest cheerleaders in the media, Chris Matthews and Keith Olbermann:
The White House was clearly hoping that tonight's speech, along with the just concluded two-day trip to the Gulf region, would start to turn the political tide for the Obama Administration. If that was the goal, I think it's fairly clear that Obama completely failed to achieve it.