Obama Reiterates Statements On Israeli-Palestinian Talks In AIPAC Speech
President Obama doubled down in his speech before this year's AIPAC conference. Why he did so only he understands.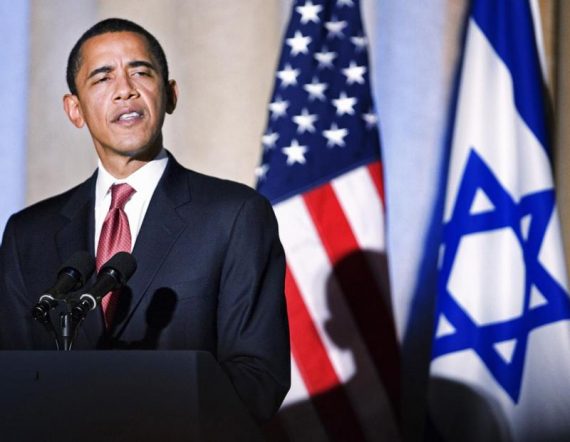 Fresh of a weekend of mostly contrived outrage over his speech on Middle East policy late last week, President Obama spoke to the annual meeting of the American-Israel Public Affairs Committee and essentially reiterated what he had said on Thursday:
WASHINGTON — President Obama, speaking on Sunday to the nation's foremost pro-Israel lobbying group, repeated his call for Palestinian statehood based on Israel's pre-1967 borders adjusted for land swaps, issuing a challenge to the Israeli government to "make the hard choices that are necessary to protect a Jewish and democratic state for which so many generations have sacrificed."

'In his remarks to the American Israel Public Affairs Committee, the president, while offering praise for the relationship with Israel, did not walk back from his speech on Thursday, which had infuriated Prime Minister Benjamin Netanyahu of Israel. Rather, the president took indirect aim at Mr. Netanyahu, first by repeating what the Israeli prime minister so objected to — the phrase pre-1967 borders — and then by challenging those whom he said had "misrepresented" his position.

"Let me repeat what I actually said on Thursday," Mr. Obama said in firm tones at one point, "not what I was reported to have said."

"I said that the United States believes that negotiations should result in two states, with permanent Palestinian borders with Israel, Jordan, and Egypt, and permanent Israeli borders with Palestine. The borders of Israel and Palestine should be based on the 1967 lines with mutually agreed swaps, so that secure and recognized borders are established for both states."

The president emphasized the "mutually agreed swaps," then went into an elaboration of what he believes that means. Mr. Netanyahu, in his critique of Mr. Obama's remarks, had ignored the "mutually agreed swaps" part of the president's proposal.

"Since my position has been misrepresented several times, let me reaffirm what "1967 lines with mutually agreed swaps" means," Mr. Obama said. "By definition, it means that the parties themselves — Israelis and Palestinians — will negotiate a border that is different than the one that existed on June 4, 1967. It is a well known formula to all who have worked on this issue for a generation. It allows the parties themselves to account for the changes that have taken place over the last 44 years."

"There was nothing particularly original in my proposal," he said. "This basic framework for negotiations has long been the basis for discussions among the parties, including previous U.S. administrations."

Mr. Netanyahu's furious reaction last week to what many administration officials viewed as a modest compromise from the more dramatic all-encompassing American peace plan that some of Mr. Obama's advisers had been advocating, infuriated the White House. In particular, administration officials were angry by Mr. Netanyahu's lecturing tone during statements the two leaders gave on Friday. American officials were also irritated by Mr. Netanyahu statement directly after Mr. Obama's speech that used the phrase "expects to hear" in saying that Mr. Netanyahu expected to hear certain assurances from Mr. Obama during their meeting.

Mr. Obama also assured the group that the administration was steadfast in its "opposition to any attempt to de-legitimize the state of Israel," but he warned that Israel would face growing isolation without a credible Middle East peace process.

Sunday's audience, which had been quiet, cheered Mr. Obama, although the cheers were far more muted than the standing ovation they had given at other points of Mr. Obama's speech, like when he talked about Iran and when he reiterated that his opposition to a looming United Nations vote on Palestinian statehood.

"I know very well that the easy thing to do, particularly for a president preparing for re-election, is to avoid any controversy," Mr. Obama said. "I don't need Rahm" — former chief of staff Rahm Emanuel — "to tell me that."

But, Mr. Obama added, "as I said to Prime Minister Netanyahu, I believe that the current situation in the Middle East does not allow for procrastination. I also believe that real friends talk openly and honestly with one another."
Not surprisingly, Jeffrey Goldberg at The Altantic, who has been defending the President since Thursday, called it a good speech:
President Obama gave a very good speech to AIPAC: Tough on Hamas, tough on Iran, but also somewhat tough on Israeli procrastination. He understands Israel's dilemma in the same way Ariel Sharon, Ehud Olmert, Ehud Barak, Shimon Peres and Yitzhak Rabin understood their country's dilemma. Israel needs to find a way to maintain its democratic nature and its Jewish majority. Only compromise on the West Bank — yes, a return to 1967 borders, with some obvious adjustments (and the President was much more clear today than he was on Thursday on what the term "land-swap" means) will help Israel maintain itself as a Jewish democracy, and will protect it from becoming an international pariah.
Goldberg seems to be largely alone, though. David Frum calls the whole speech unwise and puzzling:
That was a deeply unwise speech Obama just gave to AIPAC. The president did not ask himself the first question of political speechmaking: Why am I saying this? Instead he surrendered to his personal exasperation with Benjamin Netanyahu, and escalated a confrontation he had every reason to de-ecalate.

The president did not merely restate his view on the 1967 lines. He added extra emphasis on a worrying point that was implicit in his big Thursday speech on the Middle East: that the future Palestinian state will have exclusive responsibility for security arrangements within its territory. So, if a rocket is fired at Israel from the West Bank, it will be the security forces of the Palestinian state that will deal with it – or not. If Hezbollah intrudes into the West Bank it will be the security forces of the Palestinian state that will react – or not. And since those security forces are to be non-militarized, they may well lack the means even if they have the will.

(…)

Meanwhile the president offers as a new benefit something that Israel had always assumed it could count upon in the past: the support of the US at the United Nations
I don't know whether we have seen the launch of a new diplomatic initiative on Israel/Palestine. The general sloppiness with which this whole affair has been handled suggests that we are witnessing the fall-out of poorly considered improvisations.
Well, it wouldn't be the first time that the Obama Administration has rolled out a new policy, be it foreign or domestic, and completely mishandled the public relations to the point where the policy itself gets called into question. Even changing most of the people at the top of the communications shop in the White House and bringing in a new Chief of Staff haven't changed that tendency to bungle. In fact, it may have been bungling by the communications shop that created the confusion over Obama's Thursday speech to begin with:
If Obama's position was taken out of context, he's the one to blame. It was his staffers who were telling the New York Times and other media outlets that there was going to be a major "surprise" in his Thursday address, and suggested that it was related to Israel. With literally nothing else newsworthy in the speech besides his 1967 border comments, obviously reporters were going to run with that story.
And some are arguing that there was more confusion created by today's speech:
At the AIPAC policy conference today, President Obama created even more confusion over where he stands on Israel. While the president acknowledged that Israel cannot be expected to negotiate a peace deal with a terrorist organization like Hamas, he immediately suggested that Israel needs to try anyway.

"No country can be expected to negotiate with a terrorist organization sworn to its destruction," said Obama. "We will continue to demand that Hamas accept the basic responsibilities of peace: recognizing Israel's right to exist, rejecting violence, and adhering to all existing agreements."

He then added, "Yet, no matter how hard it may be to start meaningful negotiations under the current circumstances, we must acknowledge that a failure to try is not an option. The status quo is unsustainable."

So which is it? Does Obama understand that Israel cannot negotiate with a terrorist organization bent on its destruction? Or does he believe that Israel still needs to start negotiations "under the current circumstances"—i.e. with a unity government that includes Hamas?
More importantly, why does the United States need to be getting involved in this mess at all. Every President since Nixon has plunged deep into the quicksand of Middle East politics convinced that they could come away as the savior of the world. With the exception of the Camp David Accords, which had more to do with the work of Prime Minister Begin and President Sadat than anything Jimmy Carter did, the record is, shall we say, less than stellar. And yet, once again, we have an American President who, frustrated by lack of success on the home front, is looking overseas to create a legacy:
Obama is simply doing what many other Presidents (Carter, Bush, Clinton and even G.W. Bush gave it a shot) have done…try and build a legacy by solving the Israel-Palestinian conflict. He'll fail just like the rest simply because the Palestinians don't want to solve it by any means other than the destruction of Israel. Until that changes, this will always be a Siren's Song that winds up with everyone crashing on the rocks.
Middle East peace will come with the people in the Middle East want it, and not a moment sooner. Why Barack Obama is trying to get into the middle of a conflict that will only cause him problems at home is beyond me.