Obama White House Thinks It Can Kill Americans In America
The Obama White House is not ruling out targeted strikes against Americans inside American territory.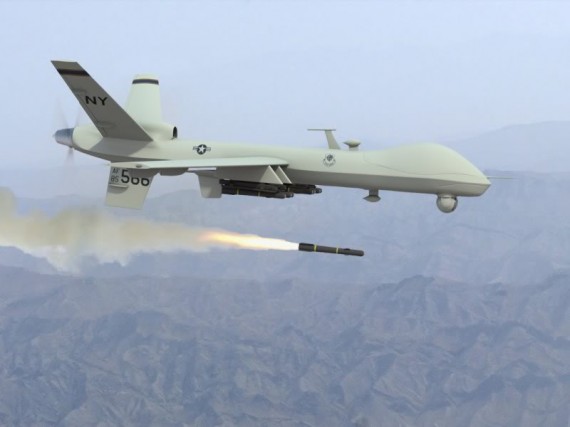 One of the unanswered questions arising out of the Obama Administration's assertion of the power to order the assassination of American citizens residing overseas who are believed to be involved in terrorism or other violent acts against the United States has been the question of just how far the power extends. For example, recently, Kentucky Senator Rand Paul sent an inquiry to Attorney General Eric Holder asking him if the power being asserted by the Administration would potentially include similar actions against Americans here in the United States. Holder's response is rather chilling:
President Barack Obama could order the use of deadly force against an American inside the United States, Attorney General Eric Holder said in a letter to Sen. Rand Paul (R-Ky.) released Tuesday.

Paul and other senators had asked various administration officials whether deadly drones strikes like the ones the U.S. carries out in Pakistan, Yemen and other foreign countries could ever be used in the U.S. Paul said he would seek to block the confirmation of John Brennan as Central Intelligence Agency director if the question was not answered. (Brennan's nomination was endorsed by the Senate Intelligence Committee Tuesday afternoon in a 12-3 vote.)

In the one-page letter dated Monday, Holder said: "The U.S. government has not carried out drone strikes in the United States and has no intention of doing so." The attorney general argued that law enforcement is best suited to resolve such threats "in this country."

However, Holder says that in situations akin to the 1941 assault on Pearl Harbor or the September 11, 2001 attacks, the president might have to order the use of deadly force in the U.S.

"The question you have posed is entirely hypothetical, unlikely to occur, and one we hope no President will ever have to confront," Holder wrote. "It is possible, I supposed, to imagine an extraordinary circumstance in which it would be necessary and appropriate under the Constitution and applicable laws of the United States for the President to authorize the military to use lethal force within the territory of the United States. For example, the President could concievably have no choice but to authorize the military to use such force if necessary to protect the homeland in the circumstances of a catastrophic attack like the ones suffered on December 7, 1941, and September 11, 2001."

Paul said in a statement that he was deeply disturbed by Holder's views.

"The U.S. Attorney General's refusal to rule out the possibility of drone strikes on American citizens and on American soil is more than frightening – it is an affront the Constitutional due process rights of all Americans," Paul said.
Holder's invocation of Pearl Harbor is, of course, a complete non sequitur. That was a military attack on the United States by a foreign power. If, theoretically, the United States had gotten advance notice of this attack, it would have quite obviously have been completely appropriate and justified to undertake an attack to destroy, cripple, or repel the attacking force. Similarly, if NORAD had somehow figured out what was really happening on September 11, 2001, it would have been entirely justified for them to shoot the planes out of the sky. And one can come up any number of scenarios that would justify the President authorizing using the use deadly force to prevent an imminent attack. Additionally, there are countless numbers of scenarios where law enforcement would be perfectly authorized to use deadly force against a suspect and in which nobody would question the decisions that were made by the officers on scene.
However, I would suggest that this isn't really what Paul's letter was directed at, which is why Holder's response raises someone concern.
The incident that has resulted in the death of an American citizen overseas on Presidential order is the case of Anwar al-Alwaki, who had been living in Yemen and involved with that nation's al Qaeda affiliate, an allegation that I think has been fairly well proven. At the time al-Alwaki was killed, however, he wasn't, as far as we know, involved in an imminent  attack on the United States or American interests. Although there doesn't seem to be any doubt about his involvement in past incidents, there was no evidence at the time that the order to kill him was carried out that he was about to order, or carry out, an attack on either. Therefore, it strikes me that trying to analogize this incident to either Pearl Harbor or a law enforcement incident involving the justifiable use of deadly force. Therefore, Holder's legal prevarications don't strike me as being very convincing at all.
The question that we all deserve an answer to, I think, is whether the Administration sees a day where Predator drones are roaming American skies looking for American citizens to strike at, regardless of the reason. Because if that's the future they see, it certainly isn't a future I want to be a part of.