Obama Won't Go To Congress, Because History Has Taught Him He Doesn't Have To
Presidents have gotten away with ignoring Congress when it comes to foreign military adventures for a very long time.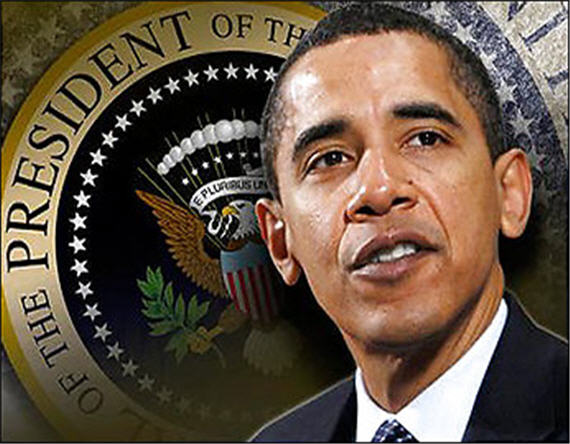 Notwithstanding the polls and the arguments in favor of it, Daniel Larison doesn't think that President Obama will bother seeking Congressional approval for any military action against Syria:
The answer is that he doesn't think he needs to go to Congress for the same reason that he didn't think he needed to do that two years ago. If this White House could concoct an absurd legal theory that eight months of bombing another country didn't constitute "hostilities," is it likely to think that a week of cruise missile strikes requires Congressional approval? Obama certainly forgot the Constitution two years ago, and for a lot longer than a moment, and he appears to be ready to forget it again. He does this because he can, and because he assumes that no one will hold him accountable for it.

It's only "dangerous territory" if there are serious consequences, and Obama's experience from two years ago tells him that there won't be. In other words, he won't pay that respect because he assumes he can get away with not paying it, and he has yet to be proven wrong.
It's really no surprise that President Obama has reached this conclusion given the fact that American history is full of examples of Presidents who have undertaken punitive military expeditions, or sent American forces off on extended deployments in dangerous lands, without seeking prior approval from Congress virtually from the beginning of the Republic. No less a President than Thomas Jefferson arguably started the precedent when he committed American naval forces to a punitive expedition against pirates operating out of what is now Libya who were attacking American shipping with impunity, although in that case he did at least seek approval from Congress for the expenditures needed for the mission. America's bloodiest war, the Civil War, was fought without any declaration of war at all and without any prior Presidential approval. In subsequent years, various American Presidents sent American forces off to locations in Latin America and the Caribbean to take sides in an ongoing conflict or otherwise influence the internal politics of one of our neighbors to the south.
During the Cold War, Presidents became even more willing to engage in military action without prior Congressional approval in matters ranging from major conflicts like Korea and Vietnam1 to minor actions such as the deployment of Marines to Beirut, the invasions of Panama and Grenada. The First Gulf War, meanwhile, was technically authorized by Congress but given that the vote occurred mere days before the air campaign began at a time when American and allied forces were literally waiting in the desert of Saudi Arabia to engage the enemy, it can hardly be said to have been deliberative in any way. Under President Clinton, we saw the U.S. military deployed to Somalia and the Balkans to engage in what might fairly be called the first "humanitarian" wars as well as military action against targets in Iraq, Afghanistan, and Somalia related to what we would soon come to call the "War On Terror." Indeed, the seriousness of the September 11th attacks was made clear when President Bush formally asked Congress for authorization to pursue those responsible for the attack, as well as any nation giving them safe harbor. That Authorization for Use of Military Force Against Terrorists was passed overwhelmingly just three days after the attacks, remains in effect to this day, and has served as the justification for everything ranging the Afghanistan War itself to U.S. drone programs that have operated in nations such as Pakistan and Yemen as well as in the Horn of Africa. Finally, just two years ago, President Obama sent American forces to aid the U.N./NATO mission in Libya without seeking authorization from Congress and, as Larison noted, did not suffer politically for it.
For the most part, these assertions of power by Presidents of both political parties have been acceded to by Congress, which has over the years acted more as a rubber stamp than a real check on Presidential power. There was some effort to reign in Presidential war powers in the wake of the Vietnam War and President Nixon's decision to spread that war into Cambodia with the passage of the War Powers Act. However, every President since Nixon has taken the position that the act is essentially a nullity even when they act in manners that are required under the law. More importantly, some scholars have suggested that the War Powers Act actually expanded Presidential war powers because it created a number of circumstances under which Presidents could commit American forces to a hostile area for as long as 60 days, or longer under some circumstances, and then essentially dare Congress to utilize its power of the purse to deny funding for those troops once they were already in theater. Even in cases of controversial actions where Congress has been controlled by the party opposing the President, no Congress has ever taken a President up on that particular dare. Additionally, numerous Congresses have failed to seriously question the wisdom of continuing ongoing military actions.
In a piece written when the debate over committing forces to the Libya mission was being debated in the press, Matthew Yglesias correctly pointed out the dynamic that has played out between Congress and the President in these situations:
[W]hile the trend toward undeclared military incursions is often described as a kind of presidential "power grab" it's much more accurately described as a congressional abdication of responsibility. Even if you completely leave the declaration of war business aside, congress' control over the purse strings still gives a determined congressional majority ample latitude to restrain presidential foreign policy. The main reason congress tends, in practice, not to use this authority is that congress rarely wants to. Congressional Democrats didn't block the "surge" in Iraq, congressional Republicans didn't block the air war in Kosovo, etc. And for congress, it's quite convenient to be able to duck these issues. Handling Libya this way means that those members of congress whowant to go on cable and complain about the president's conduct are free to do so, but those who don't want to talk about Libya can say nothing or stay vague. Nobody's forced to take a vote that may look bad in retrospect, and nobody in congress needs to take responsibility for the success or failure of the mission. If things work out well in Libya, John McCain will say he presciently urged the White House to act. If things work out poorly in Libya, McCain will say he consistently criticized the White House's fecklessness. Nobody needs to face a binary "I endorse what Obama's doing / I oppose what Obama's doing" choice.
In other words, this is as much a conscious failure to act on the part of Congress as it is a power grab on the part the Executive Branch. Whatever the cause, though, its something that has a long history in the United States notwithstanding what the particulars of the Constitution might say about war powers and the responsibilities of the Legislative Branch of the government. Yes, President Obama learned a lesson from Congressional inaction in the wake of Libya, but its a lesson that almost every President has learned, certainly since the end of World War Two, and its one that has granted to the Executive wide ranging powers that, arguably, the Constitution never intended him (or her) to have.
Update August 31, 2013: Well, to the surprise of many observers, President Obama has proven both Larison and I wrong and will indeed seek Congressional authorization. I'll have observations about this move, and how this might proceed in Congress itself, later this weekend.
1 Congress did pass the Gulf of Tonkin Resolution in 1964, but American forced had already been involved in engaging the enemy at that point, ant the United States was involving itself in Vietnam's conflict long before that vote.