Obama's Approval Numbers Continue To Fall
If the President looks worried, he has a pretty good reason.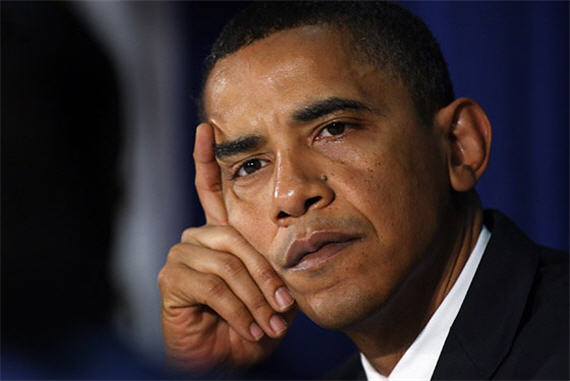 As the summer of non-recovery goes on, and the American political process continues it's obsession with silly issues like the fate of a former Burlington Coat Factory location, President Obama's approval numbers seem to have started on an accelerating downward trend that could portend very bad things for Democrats in November:
President Barack Obama's approval rating has dipped to a new low in the latest Gallup poll.

Obama's 44 percent average approval in Gallup's daily tracking polls last week marks the weakest level of support he has registered since taking office.

His weekly average had been holding steady at 45 percent approval in recent weeks.

Additionally, the share of Americans who disapprove of the president's job performance reached 50 percent for the first time over the three-day stretch of Aug. 13-15.

The drop can likely be attributed to the loss of independents. Obama's approval rating among independents now stands at 39 percent, down 4 points from June. Obama began his presidency with the support 74 percent of independents.

Eighty percent of Democrats still approve of the president's job performance, down only 2 percent from June.

Obama?s numbers among Republicans have also remained relatively constant as only 12 percent approve of his performance, the same level from this April.
The chart itself looks like something that would make a stock analyst sick: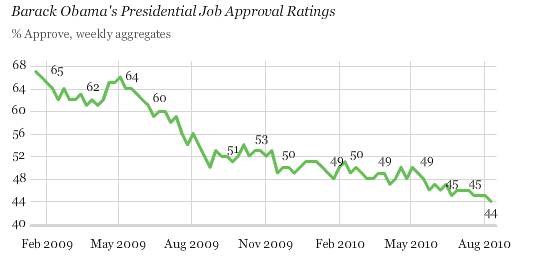 And, the Pollster poll averages show that, sometime in May, things started turning badly for the President and they're just getting worse: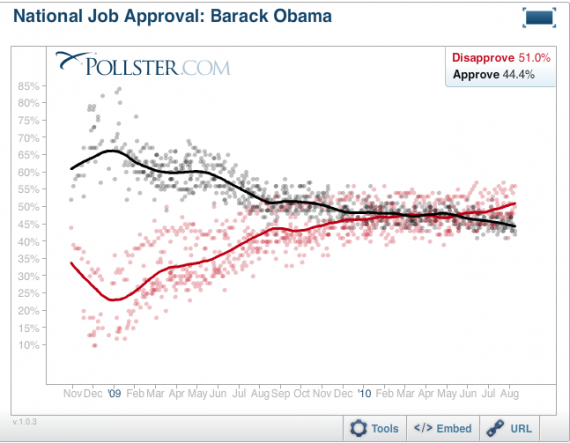 Add to this two numbers that should scare the heck out of any Democrat running for office this November — both the Gallup and Rasmussen Generic Congressional ballots show Republicans with the largest lead yet.
All of this is due to the economy, of course, and given the fact that there's no reason to believe that there were be any appreciable change in things like the unemployment rate between now and November 2nd, it's easy to see that things could get much worse for the President and his party before they get better.
Will it necessarily lead to a Republican take over of one or both Houses of Congress ? I'm still not convinced of that, and it's entirely possible that the GOP may be peaking too early. However, between the economy and the "Ground Zero mosque" demagougary from person's such as Newt Gingrich, it would seem that things are not in the President's favor right now.