Obama's Poll Rebound: Almost As Many Approve as Disapprove!
By popular demand: An assessment of the latest polling numbers.
A couple of commenters are excited about new poll numbers showing a slight uptick in President Obama's poll numbers. I tend not to pay much attention to small fluctuations in these things, given that they have no real impact right now (the next poll that matters is a year from now and Obama gets to keep his job until noon on January 20, 2013 no matter what his approval numbers are), unless the overall narrative is somehow changed.
Has that happened? Not so far as I can tell.
The RealClearPolitics poll of polls looks remarkably steady of late: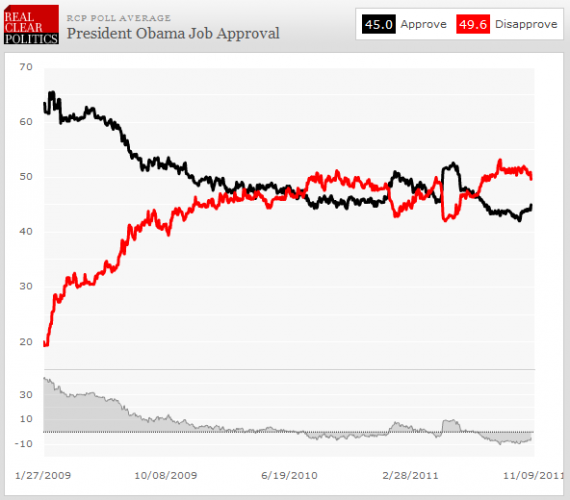 His approval numbers tanked and his disapproval numbers skyrocketed his first nine months in office. That was interesting–Look! Movement!–but unsurprising. The economy was in the tank, he made some really hard calls in order to deal with that fact, and the absurd euphoria over his ability to instantly solve intractable problems dissipated.
Since December of 2009, though, the story has been unchanged: Roughly half the country approves of his job performance and roughly half disapproves.
There were some minor milestones along the way, with his disapproval numbers setting several statistically insignificant but journalistically interesting "records." Then there was a nice spike at in May with the killing of Osama bin Laden. But, basically, meh.
There have been three new polls released: Gallup, Rasmussen, and Quinnipiac. They're all safely within the "meh" range, showing approval ratings of 45, 44, and 47 and disapproval numbers of 48, 55, and 49, respectively. The "meh" factor goes up considerably when we add a pinch of salt to the Rasmussen numbers which, for a variety of reasons, tend to show weaker numbers for Obama.
Here's the Gallup trend over the same period:
It's hard to see much good news for the president here. His disapproval remains ever-so-slightly higher than his approval. You really have to zero in on the individual data points to see that his approval is up 5 points from where it was in early August; to the naked eye it looks like a flat line with expected daily variations.
There's no meaningful variation at all in the Rasmussen numbers but, again, let's dismiss them given the not entirely unfounded controversy surrounding them.
Then there's Quinnipiac:
President Barack Obama's job approval rating is up, from a negative 41 – 55 percent October 6, to a split today with 47 percent approving and 49 percent disapproving in a Quinnipiac University poll released today. The president has leads of 5 to 16 percentage points over likely Republican challengers.

Voters also are divided 47 – 49 percent on whether Obama deserves reelection, compared to last month, when voters said 54 – 42 percent he did not deserve reelection.

[…]

"President Barack Obama seems to be improving in voters' eyes almost across-the-board," said Peter Brown, assistant director of the Quinnipiac University Polling Institute. "He scores big gains among the groups with whom he has had the most problems – whites and men. Women also shift from a five-point negative to a four-point positive.

"Whether this is a blip, perhaps because of the death of Moammar Gadhafi and the slight improvement in some of the economic numbers, or the beginning of a sustained upward move in his popularity isn't clear and won't be for some time. Nevertheless, the movement allows the White House a sigh of relief, for the president's approval had been stuck in the low 40s for some time and even a temporary upward move is good news for the folks at 1600 Pennsylvania Ave."
That's actually quite a bit of variation in one respectable poll. But, again, all within the 50-50 "meh" range of the last two years.
Here's Michael Memoli of the LAT offers a balanced assessment ("Obama's approval rating on the rebound?"):
Don't call it a comeback; he's still in perilous terrain for an incumbent. But President Obama's job approval rating is showing remarkable consistency of late after reaching an all time low.

According to the Gallup daily tracking poll, Obama's rating now stands at 43%, where it's rested seven of the last nine days.

His approval rating has been at or above 40% for 13 straight days now, equaling the longest such stretch since he first slipped below 40% in mid-August.

Any incumbent president who is polling below 50% is thought to be vulnerable in a reelection year, and the White House would certainly like to see his numbers higher. But the relative stability of late represents progress, and perhaps the success of the new approach of keeping the president out on the road, and avoiding a deadlocked Congress by making incremental policy moves through executive orders.
My assessment of all this remains pretty much what it has been for quite some time:
1. Obama's approval numbers are remarkably good considering the horrendous state of the economy. This reflects an enormous amount of good will he enjoys personally.
2. Obama is the favorite to win the next presidential election. That's true of any incumbent not embroiled in a horrendous scandal and he has the added advantages of being likable, a good campaigner, and able to raise a boatload of money.
3. A plausible Republican such as Mitt Romney–and, frankly, there's no longer a "such as" –nonetheless has a decent chance of knocking him off given the aforementioned horrendous state of the economy.