Occupy DC: A Loud and Clear Yawp
Protestors have converged on DC, rallying against Afghanistan, Wall Street, and stuff.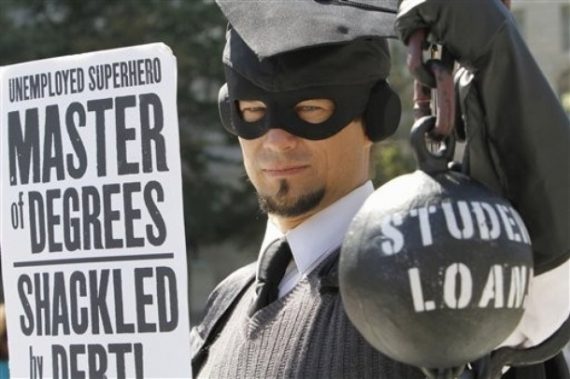 There are all manner of demonstrations, mostly small, going on around DC today. Judging by the signs, they seem to be some confluence of the Occupy Wall Street protests and anti-war rallies, presumably timed around the tenth anniversary of the Afghanistan mission.
Ezra Klein prints some useful insights from Rich Yeselson on the hard, tedious work required to turn resentment and anger into a useful political movement. Whether these protests "will grow larger and sustain themselves beyond these initial street actions will depend upon four things: the work of skilled organizers; the success of those organizers in getting people, once these events end, to meet over and over and over again; whether or not the movement can promote public policy solutions that are organically linked to the quotidian lives of its supporters; and the ability of liberalism's infrastructure of intellectuals, writers, artists and professionals to expend an enormous amount of their cultural capital in support of the movement."
He expands these thoughts in great detail later in the piece but the key takeaway is that "anger alone can't sustain action. And action alone can't sustain political militancy."
As noted previously in this space, I'm rather skeptical about this movement because it currently seems so disjointed. Yeselson, who's far more a kindred spirit to the protestors, seems to agree, arguing that they need to go from random, pie-in-the-sky goals to more coherent, achievable objectives.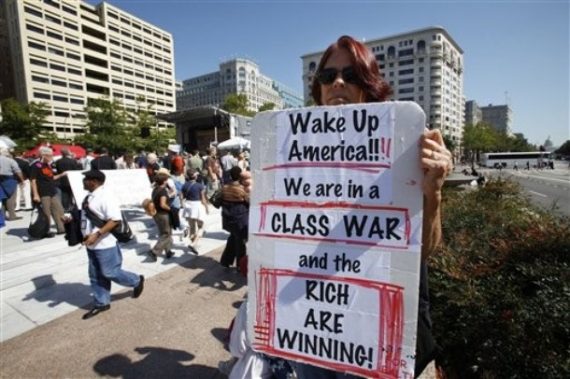 Esquire's Charles Pierce demurs:
If the primary criticism of the ongoing demonstrations is that they seem to lack, as a hundred media reports have put it, "a cohesive public message," that is also one of their great strengths. This is a very loud and clear yawp against the irresponsible use of power by unaccountable institutions, including, increasingly, the government itself. The protests here are omni-directional. They appear inchoate because their target is so diffuse — an accelerating sense in the country that there is no pea under any of the shells, that the red Jack is not in the deck, that the wealth of the country is being swindled and gambled and frittered away by so many people in so many ways that to sharpen the focus on one of the long cons is to let a dozen others reach fruition. This is a protest about declining wages and corporate greed, about baroque financial schemes and the unfathomable fine print on the back of your credit-card statement, about a grand critique of mutated capitalism and outrage at the simple tragedy of foreclosure fraud.
No doubt, these things frustrate a lot of people.  Indeed, many of them frustrate me.  And plenty of the Tea Party folks, too. Enough so that Occupy Wall Street is getting lip service from the Progressive Establishment, with a handful Democratic Congressmen and even President Obama and Fed Chairman Ben Bernanke expressing sympathy with the frustrations that have sparked the protests.
Right now, it seems to be some variation of the 1960's alienation with "the system," without anything quite so pressing as the civil rights movement or the war in Vietnam to rally the troops.
Primarily because there's no draft–but also because the casualties are so much lower–the ongoing wars in Iraq and Afghanistan just haven't mustered the same resentment. Then again, it's worth noting that it's been a long time since a majority of Americans supported either war and quite a while since an overwhelming majority opposed them. It hasn't seemed to matter.
Similarly, the various bailouts that so animated the Tea Party and now seem part of the inchoate resentments animating their lefty analogue, were opposed by most Americans to little effect. Indeed, most on my side of the aisle seem to forget that President Bush did the first round of auto bailouts on his own initiative after Congress specifically declined to do so.
There's a lot of anger out there. Mostly, it's manifesting in people dropping out of the political system in disgust. Neither the Tea Party nor the Occupy Wall Street gang quite seem to know what they want or seem to have any real plan to get it. But they clearly want something other than what they're getting.