Occupy Wall Street Now Less Popular Than Tea Party Movement
Public opinion on the Occupy movement has turned increasingly sour.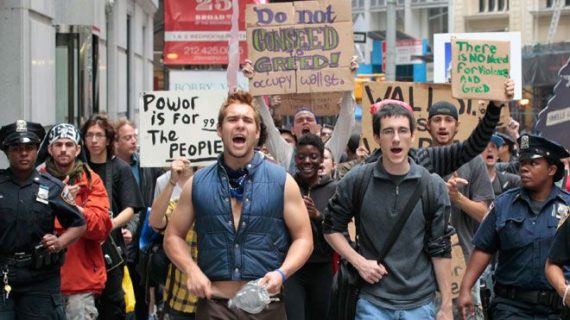 Democratic-leaning pollster Public Policy Polling is out with a new poll that shows a tremendous drop off in support for the Occupy movement:
The Occupy Wall Street movement is not wearing well with voters across the country. Only 33% now say that they are supportive of its goals, compared to 45% who say they oppose them. That represents an 11 point shift in the wrong direction for the movement's support compared to a month ago when 35% of voters said they supported it and 36% were opposed. Most notably independents have gone from supporting Occupy Wall Street's goals 39/34, to opposing them 34/42.

Voters don't care for the Tea Party either, with 42% saying they support its goals to 45% opposed.  But asked whether they have a higher opinion of the Tea Party or Occupy Wall Street movement the Tea Party wins out 43-37, representing a flip from last month when Occupy Wall Street won out 40-37 on that question. Again the movement with independents is notable- from preferring Occupy Wall Street 43-34, to siding with the Tea Party 44-40.
Of course, the poll also shows that Republicans in Congress aren't faring so well with the public these days either:
Voters continue to be very unhappy with the new majority in the House.  Only 37% of voters think the Republicans have been an upgrade from when the Democrats were in charge, to 41% who believe they've been worse. Among independent voters, whose overwhelming support fueled the new GOP majorities, 26% think the Republicans have been an improvement to 37% who believe they've made things worse. That unhappiness extends to John Boehner's personal poll numbers as well- just 30% of voters approve of the job he's doing to 46% who disapprove.  That -16 spread is a whole lot worse than the -6 we find for Obama's approval, but you don't see the Speaker being described as unpopular whenever you read about him the way you do the President.

As unpopular as the House Republicans are we find a tie in the generic Congressional ballot with 45% of voters favoring a Democratic candidate and 45% going for a Republican.  That's because Congressional Democrats, with a 28/63 approval spread, are almost as unpopular as their GOP counterparts
This last part isn't really a surprise, of course. Hating Congress is something of a national pastime, and neither party on Capitol Hill has done much over the past several years to inspire respect from the public.
The drop-off in support for the Occupy movement, though, is interesting. Obviously, a good part of it can be attributed to the movement itself.  In the beginning, the press coverage of the protests was fairly positive and sympathetic, but as weeks have dragged on into months, most of what we've seen on the news has been about violence in various cities,  public health threats, and even rapes at a few locations. Additionally, try as they might, the "residents" of places like Zuccotti Park could only keep up the illusion that they really do represent "the 99%" for so long, eventually the seedy underbelly of the movement became far too prevalent to ignore. Yes there were regular people at the protests but at some point it came to be dominated by the drum circles, the "consensus meetings," and people whose response to a request for dialog was to elect a Border Collie as their leader. Most Americans looking at things like that, even though they're likely sympathetic to arguments based in the frustrations created by a stagnant economy, are going to be turned off.
The movement still doesn't seem to understand the extent to which it has become its own worst enemy either. Having been prevented from sleeping overnight at Zuccotti Park, the people of Occupy Wall Street are apparently prepared to mark tomorrow's two-month anniversary of their protests by engaging in activity that is only likely to make the people of New York City dislike them even more:
Occupy Wall Street leaders announced today their plans to rachet up their wild antics — vowing to wreak havoc on Thursday by shutting down Wall Street and the subways to mark the renegade group's two-month takeover of Zuccotti.

According to their Web site, the day will include "Mass, Non-violent Direct Action" to "Shut Down Wall Street" at 7 a.m., "Occupy the Subways" in all five boroughs at 3 p.m. and "Take the Square," referring to Foley Square, at 5 p.m.

Protest organizers were also touting signs alluding to China's infamous Tiananmen Square revolt.

The poster advertising the event uses the image of the lone Chinese protester confronting tanks in China's Tiananmen Square as rows of supporets stand in the background.

The demonstrators, the poster reads, aim to "resist austerity, reclaim the economy [and] recreate our democracy."

The protesters also plan to march from City Hall to the Brooklyn Bridge at some point.

They said they're expecting a turnout larger than that Oct. 1, when more than 700 arrests were made on the bridge.

Organizer Senia Barragan said their goal is to "rebuild our economy, and the bridge is a quintessential symbol of that message" because infrastructure projects would create jobs.

One protester said the plan to "Occupy the Subway" is an effort to bring the OWS message to the outerboroughs
The story of this planned "Day of Action" is detailed on their website. All this is guaranteed to do is annoy the people of New York who rely on the subways to get from one location to another, and to lead to a lot of these protesters getting arrested for no reason. They may think that they are engaged in some grand political struggle, but all they are really doing is giving a master class in how to lose friends and annoy people. That's not how you create political change.
None of this is to say that the issues that have come up among more serious pundits in the months since September 17th will fade away, they won't because they are issues that have come up many times before in American politics. If they're going to become a part of the wider political debate, though, it will be when the serious people take them up, not because of a bunch of people who quite obviously have no real idea what they're doing.