Only Congress Can Do What's Needed To Deal With The Border Crisis
That ball is in your court, Congress.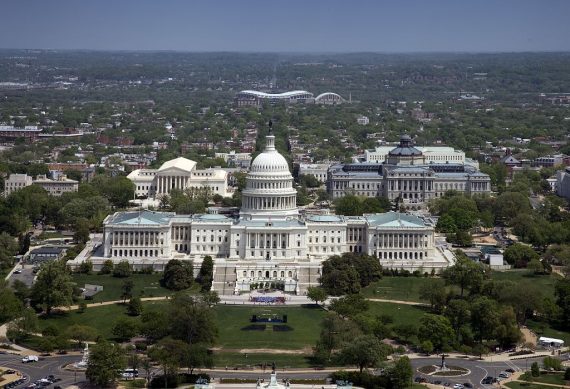 Predictably, the ongoing border crisis has devolved into a partisan battle between the White House and the Republicans in Congress over who's responsible for the current situation and what either side can do to stem the tide of children and families from Central America making their way to America's southern border. To hear Republicans tell it, the situation is largely President Obama's fault due both to his failure to 'secure the border' and executive actions he took last year to provide temporary relief to certain children of illegal immigrants, which they claim encouraged families in Central America to send their children north in the hope that they too will be granted some form of "amnesty." Governor Rick Perry and others, meanwhile, have said that the President could help stem the tide by sending the National Guard to the border. Others have outright said that the President should deport these Central Americans even though a law supported by Republicans, and signed into law by a Republican President, explicitly prevents that from happening. For the most part though, there are very few concrete proposals coming out of Congressional Republicans that would actually do anything to deal with the present problems on the border. Instead, most of them seem to be using the crisis to bash the President and accuse him of not doing anything.
As CNN's Halimah Abdullah notes, though, while there are some things the President can do, there's a lot that he cannot do, and that won't get done unless Congress acts:
Washington (CNN) – President Barack Obama is vowing to act on his own due to House inaction on immigration reform that proponents say could help address a wave of undocumented kids crossing the border from Mexico. But there are limits to the power of his pen.

Yes, the President can send National Guard troops to the border as some House Republicans insisted at recent congressional hearing on immigration.

No, the administration can't put immigrant kids "on a bus like we normally do and send them back down to Guatemala," as Alabama Republican Rep. Mike Rogers suggested.

The children have arrived in droves after fleeing violence and poverty in Central America and are seeking "permisos" or a pass to stay in America.

Thousands are being held in detention facilities as the Obama administration tries to figure out what to do.

(…)

1. The president can't bar people from applying for political asylum. Those guidelines are set by the United Nations Refugee Convention, which the United States has signed, said Stephen Yale-Loehr, an immigration attorney and professor at Cornell University Law School.

2. And no, the President can't increase the number eligible for green cards because their spouses or parents are U.S. citizens. Such matters are set by law. Though some immigration advocates have argued spouses and children shouldn't count toward 140,000 limit on employment-based green cards, whether the President can make that kind of change unilaterally is murky territory.

3. Obama also can't just eliminate judicial review for people ordered deported — such a move would violate the Constitution.

4. Nor can he just load up all undocumented immigrants on a bus and deport them without some sort of legal hearing. That type of action also would violate the law.

"The Constitution says that all persons have due process rights in the U.S. whether they are from another country or the U.S.," Yale-Loehr said.

5. And, for those hoping for (or fearing) a blanket executive action legalizing all undocumented immigrants, no the President can't do that either. There's a law for that.

"There are constitutional limits on what the president can do. We have a tripartite government system. The Congress enacts the laws; the President implements the laws," Yale-Loehr said. "The President cannot create an immigration policy willy-nilly, whole cloth. He cannot create an immigration law. He has to get Congress' approval to change an immigration law. "
As Abdullah notes, there are some things that President Obama can do without Congress. He could change policy as to how deportation proceedings are prioritized, for example. As a general rule, the current policy has been that priority is given to those deportation proceedings involving people with criminal records, especially a record of violence, or ties to drug cartels in Central America, South America, or Mexico. Because of that priority, people with no records end up being placed at the back of the line for hearings in an already overburned administrative hearing system and, of course, these latest arrivals are going to be at the very back of that line for the most part. That policy could be changed to process these people more quickly, but it would also mean delaying the hearings for criminals. The President could also send more border patrol agents to the border as Perry and others have requested. However, he would have to do so within the confines of the budget that Congress has already authorized and whatever authority he or the DHS Secretary may have to shift funds from a different program to border patrol activities. Part of the supplemental funding bill that the President is requesting from Congress would include funding for additional border patrol agents, and there is even more funding for such programs in the immigration reform bill that was passed last year by the Senate, but which is presently effectively dead in the House. He could also order the DHS to look into alternatives to detention or release for these migrants, such as angle bracelts, although that too would require either additional funding or relying on whatever is left of the Fiscal Year 2014 budget. Finally, Abdullah notes that the Administration could expand the pro bono representation program for people proceeding through immigration hearings, which would help to speed the process up. To really speed the hearing process up, though, ICE would need to hire more immigration judges, which are essentially administrative hearing officers rather than Article III Judges, but that would obviously require more money and would be a process that would take time before new employees were up and running and able to help process cases. Finally, as far as Governor Perry's call for President Obama to send the National Guard to the border, it's worth nothing that it is Rick Perry who is Commander in Chief of the Texas National Guard, not Barack Obama. Perry could call up the Guard and order them to help the Border Patrol deal with this problem at any time he wanted to.
In the end, then, this is another issue that is not going to be solved unless Congress acts. They could pass the supplemental spending package that the President is requesting, or some alternative that the parties can agree to that may end up being less than what the President is asking for but would be better than doing nothing. They could amend the 2008 law that prevents ICE from simply repatriating these migrants, although it is unclear that any such change would have nay impact on how we must process the cases of people who arrived before the law was changed. And, of course, they could pass comprehensive immigration reform but the odds of that happening stand somewhere between slim and none. Moreover, while any legislation obviously needs to pass both the House and the Senate, it's the House GOP Caucus that holds all the cards here given their previous reluctance to do anything regarding immigration reform, or anything smacking of bipartisanship for that matter. The question that they have to ask themselves now, with just about two weeks left before they go off on a month long vacation, is whether they are going to act on this issue, or just use it as another partisan cudgel against the President.