The Border Crisis: Many Causes, No Simple Solutions
Trying to make sense of a very complicated issue.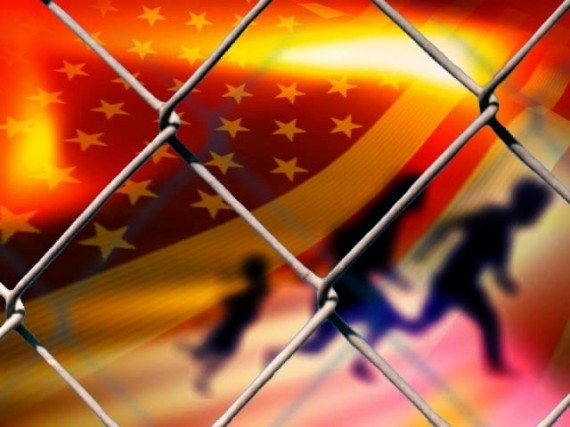 While international crises rage in Israel, Ukraine and Syria and domestic battles continue on other fronts, the story that has taken over the news cycle has been the crisis that has developed on America's southern border, principally in Texas. Since the beginning of the year, but most especially in the last several months, the number of people arriving in this area has increased to such a degree that the ability of Federal and State authorities to deal with the situation logistically is being stretched to the breaking point. With very few places available in the immediate area to house the people arriving even temporarily, efforts have been made to move them into temporary housing elsewhere in the area, and indeed elsewhere in the country. Predictably, these moves have been met with protests and, even more predictably, the entire crisis has become wrapped up into the partisan battle that American politics has turned into.
On one side, Republicans, led in many respects by Texas Governor Rick Perry but also including members of the House and Senate GOP Caucuses, have sought to lay the blame for the entire crisis on President Obama and his policies in the area of immigration. According to this narrative, Administration polices such as 2012's administrative moves to provide relief to the children of some illegal immigrants has led to the creation of the impression among Central Americans that if young people show up on the American border with Mexico, they will automatically be granted asylum under the law. Republican critics have also alleged that the crisis is rooted at least in part in the Administration's supposed lax enforcement on the border, an assertion that seems to be belied by the record number of deportations under this President and the fact that the vast majority of these Central Americans are apparently presenting themselves at regular border crossings rather than trying to get across the border illegally. Some Republicans have even alleged that this entire crisis was somehow manufactured or encouraged by the White House in an effort to force Republicans to act on immigration reform. Most recently, many Republicans, and even some Democrats, are criticizing the President for failing to visit the border during a trip this week to Texas that includes two fundraisers in Dallas and Austin, an idea which the President rejected yesterday as a mere "photo op."  Finally, Governor Perry and other political leaders are now calling on President Obama to authorize the use of National Guard troops to stem the tide of migrants and deal with the logistical problems that they have created.
On the Democratic side, the argument includes accusations that the crisis is somehow rooted in the failure of Congress to pass an immigration reform bill, although its worth noting that nothing in the bill passed by the Senate last year does not really contain any provisions that would directly deal with the current crisis. More on point, though, the President pointed out yesterday that the governments response to the influx of refugees is, to a large degree, dictated by a law that was passed in 2008 that places restrictions on what Federal authorities can do with people who arrive at America's borders from nations either than Canada or Mexico. Under that law, the William Wilberforce Trafficking Victims Protection Reauthorization Act of 2008, unaccompanied minor children from one of these "noncontiguous nations" cannot simply be deported immediately the way a minor from Mexico or Canada can be. Instead, they must be taken into custody and processed through the immigration system to determine whether or not they are eligible for asylum under the U.S. law. Given the fact that the U.S. immigration hearing system is already incredibly backlogged, the odds that these determinations will be made quickly is exceedingly low, of course, and President Obama has responded to that by asking Congress to authorize as much as $4 billion in additional spending to deal with the immigration infrastructure issues that he contends are part of the problem. The President has also challenged Congress to amend the 2008 law to make deportation easier, however there is significant Democratic opposition to that idea that makes it unlikely that an effort to make such a change in the law would succeed. Additionally, it is important to note that not all of the migrants that are arriving in this current wave are unaccompanied minor children; many of them are families consisting of or one both parents with children or minors with adults that they may or may not be related to. Although the 2008 law doesn't necessarily apply to these people, they have been caught up in the same humanitarian crisis and are essentially being processed
Putting aside all of the partisan bickering as best as possible, there have been several thoughts that have occurred to me about how we ought to handle this issue going forward.
First of all, I think it is important to separate the current crisis from both the issue of illegal immigration and illegal border crossings and the issue of comprehensive immigration reform. As I  noted above, the vast majority of these Central American migrants are presenting themselves at designated border crossings rather than crossing illegally. So, when conservatives try to equate what is happening now to the illegal border crossing issue and then blame the crisis on an alleged failure to control the border, they are conflating two largely unrelated issues. Similarly, I think its largely incorrect to try to tie this issue to the overall issue of immigration reform and place blame on Congress for failing to act in that area. It's unclear that an immigration reform bill would have done anything to prevent what is happening now even if it had passed. At most, it would have provided the border control with some more resources to deal with the issues, but even the spending part of the Senate bill is something that would be rolled out over time, meaning that hiring new border agents is not something that would happen overnight. It's inevitable, of course, that this current crisis would get tied up with the overall immigration debate, especially in an election year. However, doing so is likely going to make dealing with this issue far more difficult.
Second, it's worth understanding why these people are risking everything, most especially their lives with a long trek northward through Mexico, in order to get to the United States on the chance that they might be able to stay. The nations they are coming from, which principally seem to include Guatemala, Honduras, and Nicaragua, are immensely poor, often politically unstable, and crime ridden thanks to the drug gangs that have taken hold in many parts of the area. For parents, it's not surprising why someone would make the choice to undertake a dangerous journey for the promise of a better life when the alternatives include living in such conditions and, potentially, the prospect of their children essentially getting drafted into a gang whether they like it or not. In some sense, they are motivated by the same things that have motivated people to come to this country for hundreds of years. Given that, it strikes me that perhaps we ought to be a little more charitable in our views about how to deal with these migrants.
Finally, it's worth noting that there was a time when we welcomed those people, now they are met with protests in cities like Murietta, California, and the near universal assumption in Washington that we simply ought to return all of them to their country of origin. Obviously, not everyone coming in this current wave of migrants can or should be allowed to stay, but neither is it the case that all of them should be forced to return. In the past, people motivated by the same desires as these migrants were allowed to enter the country to begin new lives and, while it was not easy and integration into American society was often a long and difficult process, that immigration has always been a net benefit to our country. More importantly, sympathy toward refuges, whether they are motivated by political, safety, or economic concerns strike me as something that is just the right thing to do. The extent to which people, mostly on the political right have been outright hostile to these people is, quite frankly, highly disturbing. Aren't these the same sort of "huddled masses" that we used to welcome into the country?
The biggest question, of course, is what can and should be done about the current crisis. Ideally, the solution would be to stem the tide at the source but as long as conditions in these nations are in the state they are in now, people are going to be motivated to find a way out and toward a better life no matter how tight "border security" happens to be. Some issues, such as a the backlogged immigration hearing system and the issue of people who are given court dates that they never show up for, can only realistically be dealt with by providing Immigration and Customs Enforcement with the additional resources they need to handle the volume of hearings involved, which was high long before these people started showing up in Texas. That, of course, requires Congress to act. Additionally, there likely ought to be changes to the 2008 law mentioned above that would streamline the process of dealing with these types of migrants, most especially the ones that clearly do no have legitimate asylum claims.  Finally, yes, I agree with the President that Congress ought to act on comprehensive immigration reform; however, the prospect that this is going to happen before the midterm elections is essentially zero.  Most of all, it seems important to understand that the influx of refuges that we are dealing with right now is motivated by factors that aren't necessarily under our control. At some point, the most we can do is deal with these people withing the boundaries of the law, and with the kind of human decency and respect that seems to be sadly lacking in some people when it comes to this issue.