OTB Caption Contest Winners
The Bikini Whacks Edition OTB Caption ContestTM is now over.
The Bikini Whacks Edition OTB Caption ContestTM is now over.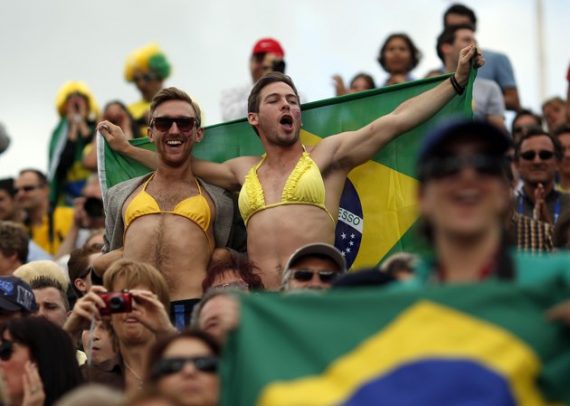 ✰ THE WINNERS ✰
First: Mr. Prosser – Kramer's "Mansierre" will be marketed heavily in Rio in 2016.

Second: al-Ameda – Chick-Fil-A sells out

Third: Donald Sensing – Announcing the motto of the 2016 Olympics: "What Happens in Rio Stays in Rio!"
HONORABLE MENTION
J-Dub – Two Greek women cheer on their soccer team.

Art Smith – Two members of the Brazilian womens Olympic volleyball team were disqualified when Olympic officials discovered they were actually male transvestites. Officials explained: "Sometimes it's difficult to tell the difference between men and women athletes. These guys did a good job disguising their actual gender with creative apparel choices, including astonishingly well coordinated accessories."

G.A. Phillips – The other Packer fans?

John425 – Ah, the Boys of Summer!

MstrB – I though East Germany stopped sending a women's team to the Olympics

Rufus T. Firefly – Ah, se ela soubesse que quando ela passa o mundo inteirinho se enche de graça e fica mais lindo por causa do amor.
ℛODNEY'S BOTTOM OF THE BARREL
The Boys from BROzil fail to win the coveted NEET endorsement.

GOOOOAAAAAALLLLLL!!!

Chick-A-Fil here we come!!!

Just another product advertisement from Kramzil, Inc. (a subsidy of Kramerica corporation)
The Thursday Contest is already having a ball.