OTB Caption Contest Winners
The How Do I Order Ham and Eggs? Edition OTB Caption ContestTM is now over.
The How Do I Order Ham and Eggs? Edition OTB Caption ContestTM is now over.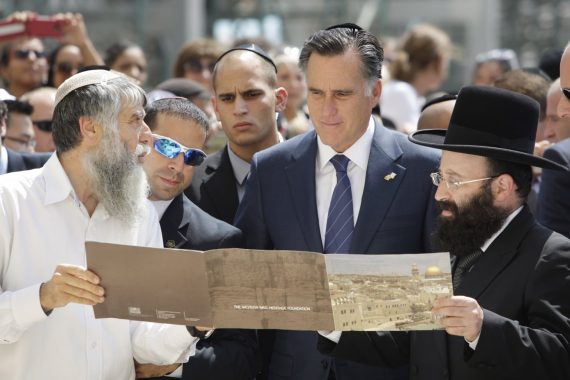 (AP Photo/Dan Balilty)

✰ THE WINNERS ✰
First(tie): Stormy Dragon – "Obama's staff is too long. They're digging in the wrong place!"

First(tie): black onion – How did you get a copy of my schematics? (The Rominator – rodney)

Second: MstrB – No, we only cut off this part.

Third: Vast Variety – "I gotta admit, this centerfold is pretty hot."
HONORABLE MENTION
KRM – "West Bank, schmesh bank, Mitt! Your a mensch, and I'm tellin' you -Once these last 2 timeshares go, they ain't buildin' no more!"

Mr. Prosser – No, Mr. Romney, let's go over this again; with the corned beef you have a choice of cole slaw or potato salad. You want soup, that's an extra side.

Donald sensing – "Mr.Romney, this is where our people used to keep our inscribed golden plates. But they disappeared in 1823. Any idea where they went?"

C. Clavin – Look right here Mr. Romney…the path you are taking to the White House is very, very narrow.

jd – I still think the camel joke was best.

Robert W. Armijo – Members of the IDF share their plans with Mitt Romney to invade Iran and Dearborn, Michigan.

CSK – "No, really, it's true, governor. There ARE fifteen commandments."
ℛODNEY'S BOTTOM OF THE BARREL
I know this plan doesn't look like much, but for the finale you get to do the big number 'Always Look On The Bright Side Of Life' with Eric Idle.

"What? …but the Secret Service said 'Rosh Katan' was the perfect code name for me."
The Monday Contest is ready for round two.