OTB Caption Contest Winners
The May The Farce Be With You Edition OTB Caption ContestTM is now over.
The May The Farce Be With You Edition OTB Caption ContestTM is now over.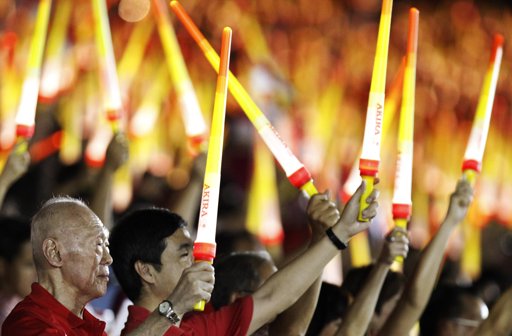 Photo by LARRY DOWNING/REUTERS

✰ THE WINNERS ✰
First: Tony W – Workers at the candy-corn factory outside Fukushima Japan, gather at a company meeting.

Second: CSK – The Japanese re-make of "The Charge of the Light Brigade" took a few liberties with the original version.

Third: markm – Seeking solutions to short landings, San Francisco International Airport has hired hundreds of part time aircraft marshaling specialists. The photo shows the signal for PULL THE F*#K UP.
HONORABLE MENTION
John425 – Tibetans show new colonoscopy tool to their Chinese overlords.

Brian – Disney firmly denied their flop The Lone Ranger caused the new Star Wars film to have a massive special effect budget cut, but from the clip we were shown for review…

Mu – After intensive training using toy lightsabers members of the Jedi Volkssturm demanded to be issued the real thing.

James in Silverdale, WA – "We demand Candy Corn for All!"

JWH – Shanghai Jedi fans practice their version of the tomahawk chop.

Paul Hooson – Boy: "What do you call thousands of Asians standing around carrying plastic lightsabers?" Dad: "I'm not sure son, but the streets sure sound a lot safer with less Asians suddenly driving!'
ℛODNEY'S BOTTOM OF THE BARREL
What is the sound of one light saber humming?

Pirates and Ninja's beware.

"REEROY JENKINS"

These are not the Sinoids you're looking for

Son: "Who's the Jedi Knight known for accidently starting house fires with his light saber?" Dad: "I don't know, Who son?" Son: "Awww… you guessed it…."
The Thursday Contest is already just another brick in the wall.