OTB Caption Contest Winners
The How You Doin? Edition OTB Caption ContestTM is now over.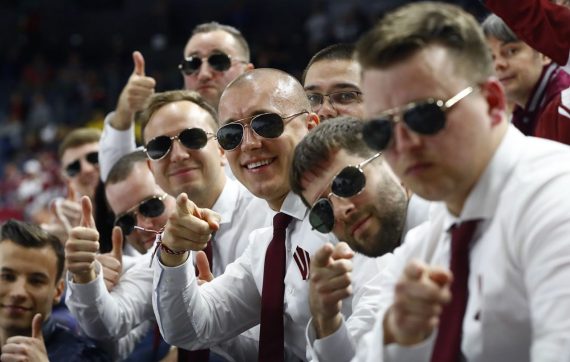 (Wolfgang Rattay/Reuters)

✰ THE WINNERS ✰
First: Franklin – Call now to get YOUR degree from Trump University!

Second: BrendanR – Post concert with Pitbull at this year's CPAC Convention.

Third: CSK – Gang signs: Nerds doing them wrong.
HONORABLE MENTION
flat earth luddite – 6 out of 7 Russian security experts find no issues in the Team Trump's security vetting.

DrDaveT – Jehovah's Witness Protection Program

Mu – Several Elders got in trouble for sneaking alcohol into the "return from mission" meeting

Paul Hooson – Guys putting in their resumes for FBI Director?

john430 – ESPN personalities who weren't fired, go to a game and celebrate.

Janis Gore – Top accordian group chosen to perform at VP function.
ℛODNEY'S BOTTOM OF THE BARREL
"I'm unique…. just like everyone else."

The new face of the PGA…. Pussy Grabbers Anonymous

"…and we live in a van… down by the river."

"Uncle Putin want you."