OTB Caption Contest Winners
The Fearless Freep Edition OTB Caption ContestTM is now over.
The Fearless Freep Edition OTB Caption ContestTM is now over.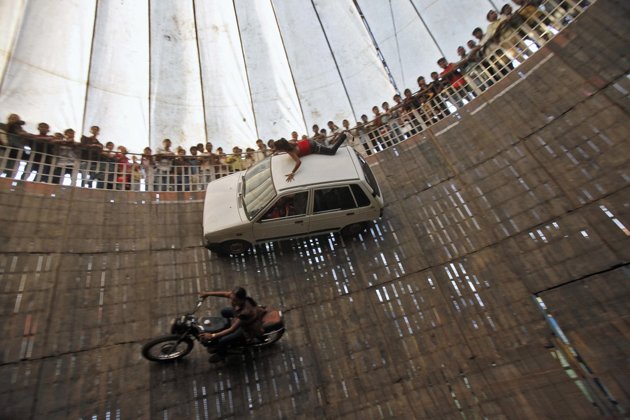 A lot of really good, creative captions this contest. They are worth the read, and are virtually all Winners ('cept thats not the way it works.)
If you have time to scan through all 58, please do so. (at the time). Thanks for playing
✰ THE WINNERS ✰
First: KRM – Recalculating…

Second: MStrB – Wow, these occupy protesters will do anything to poop on a car.

Third: Stormy Dragon – Five years after Harry Reid first used the nuclear option, the resulting tit-for-tat between the two parties had left Senate debate nearly unrecognizable.
HONORABLE MENTION
Mr. Prosser – The citizens watch and laugh at the political clown race, not realizing the whole program is resting on a rickety, gimcrack track of rotten wood.

Moderate Mom – "If she can hang on for two more turns around the track, she wins a job interview with one of our corporate sponsors!"

NickNot – Okay, here's the plan…

OzarkHillbilly – Jon Huntsman barely hangs on as the GOP race takes another predictable turn.

Gollum – "Hey . . . what's this button do?"

Linda – PRESENTING Barak Obama and The Democrats! Going nowhere fast since 2008!

Maggie Mama – ver since Garmin added Star War character voices, many drivers now believe "the force is with them."

Robert w. Armijo – Herman Cain continues to insist that race doesn't matter in America, despite the personal difficulty he encounters attempting to catch a New York taxi.
ℛODNEY'S BOTTOM OF THE BARREL
9 Races, 9 Laps, 9 Drivers

Why Johnny Can't Speed

The more trouble Obama found himself in the faster the political spin game became

Harry Reid's Senate rule changes lead to some rather unexpected procedures to get laws past.

The Occupy Wall Street crowd employs new methods to garner attention

Something went awry when Tidy Bowl became a sponsor for NASCAR

On the next pass, Suzannah failed to clear the mountain

The cornerstone of the US Economy

"I told you to go before we left."
The Thursday Contest has some red meat for the base constituents.