Over The Fiscal Cliff, Sort Of
Automatic tax hikes and spending cuts took effect at midnight. A deal involving the executive and half of the legislative branch could largely reverse them.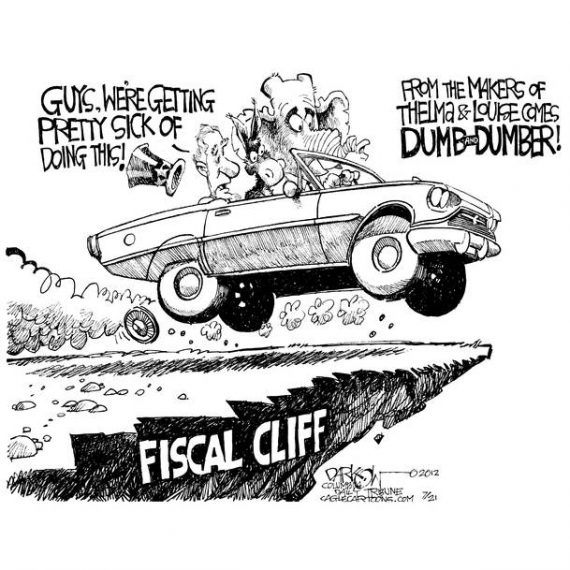 Midnight having struck without countervailing legislation in place, the United States has gone over the so-called fiscal cliff. A deal struck by President Obama and Senate leaders could mitigate the worst effects retroactively if the House decides to go along.
NYT ("Tentative Deal Is Reached to Raise Taxes on the Wealthy"):
Furious last-minute negotiations between the White House and the Senate Republican leadership on Monday secured a tentative agreement to allow tax rates to rise on affluent Americans, but not in time for Congress to meet its Dec. 31 deadline for averting automatic tax increases and spending cuts deemed a threat to the economy.

While the Senate moved toward a vote on legislation to avoid the so-called fiscal cliff, the House was not going to consider any deal until Tuesday afternoon at the earliest, meaning that a combination of tax increases and spending cuts would go into effect as 2013 began. If Congress acts quickly and sends the legislation to President Obama, the economic impact could still be very limited.

Under the agreement, tax rates would jump to 39.6 percent from 35 percent for individual incomes over $400,000 and couples over $450,000, while tax deductions and credits would start phasing out on incomes as low as $250,000, a clear win for President Obama, who campaigned on higher taxes for the wealthy.

"Just last month Republicans in Congress said they would never agree to raise tax rates on the wealthiest Americans," Mr. Obama said at a hastily arranged news briefing, with middle-income onlookers cheering behind him. "Obviously, the agreement that's currently being discussed would raise those rates and raise them permanently."
Or, at least, until a future Congress lowers them and a future president signs the bill. There's no such thing as "permanent" legislation, let alone tax rates. Considering that, since the rates are now technically already raised for all Americans, the Republicans have technically made true on their pledge: They'll now be voting to cut taxes on the bottom 99 percent of earners, not raise them on the top 2 percent. Moving outside the silly technicalities, this is in fact a tax cut on the bottom 99 percent of earners; it just won't seem like one, since several extensions of the "temporary" Bush tax rates make these rates seem like the new normal.
Democrats also secured a full year's extension of unemployment insurance without strings attached and without offsetting spending cuts, a $30 billion cost.
A perfectly sensible compromise, and likely the right thing to do, but I'm a little fuzzy on how one side agreeing to cut taxes on 99 percent of households and the other side agreeing to spend $30 extra is going to close the deficit. Which was ostensibly the objective.
In one final piece of the puzzle, negotiators agreed to put off $110 billion in across-the-board cuts to military and domestic programs for two months while broader deficit reduction talks continue. Those cuts begin to go into force on Wednesday, and that deadline, too, might be missed before Congress approves the legislation.
Given that the tax issue would seem to be off the table, with Republicans having gotten more than the cards they held suggested they should have been able, it's not at all clear to me what leverage exists to forge a deal on spending cuts. My guess is that means we won't see much in the way of spending cuts. In the short term, that's probably the right outcome—austerity just doesn't make sense during slow economic times—but we actually need to rethink our massive military spending and address very real issues with entitlement commitments.
To secure votes, Mr. Reid also told Democrats the legislation would cancel a pending congressional pay raise — putting opponents in the politically difficult position of supporting a raise — and extend an expiring dairy policy that would have seen the price of milk double in some parts of the country.
So, a symbolic move on Congressional pay—almost certainly right optically but fiscally irrelevant and arguably silly—and a little bit of stupidity. (No, the federal government isn't holding milk prices down artificially; it's doing just the opposite. But we averted going back to absurdly high 1947-level supports for no apparent reason.)
Anticipating Senate approval of the deal, Speaker John A. Boehner late Monday said the House would "honor its commitment to consider the Senate agreement if it is passed. Decisions about whether the House will seek to accept or promptly amend the measure will not be made until House members — and the American people — have been able to review the legislation."
Ezra Klein's summary of the deal, which the Senate overwhelmingly passed in the wee hours, is good:
The top tax rate rises to 39.6 percent for individuals making more than $400,000 and families making more than $450,000. Capital gains and dividends will be taxed at 20 percent with the same income thresholds. The Personal Exemption Phaseout (PEP) is set at $250,000 and the itemized deduction limitation (Pease) kicks in at $300,000. The AMT is patched permanently. The estate tax would exempt estates up to $5 million and tax them at 40 percent above that.

The various business tax credits — R&D, wind, etc — would be extended through 2013, as would unemployment insurance. The stimulus tax credits — namely, the expansions of the Earned Income Tax Credit, the Child Tax Credit, and the college credit —  would be extended for five years, which is hugely important to the White House. The scheduled cuts to doctors in Medicare would be averted for a year through spending offsets that neither side considers injurious. The treatment of the sequester is still up in the air, as the president is refusing to offset it unless revenues are part of the mix.

It would be going too far to say White House officials are thrilled with this package. But it looks pretty good to them. As they see it, it sets up a three-part deficit reduction process. Part one came in 2011, when they agreed to the Budget Control Act, which included more than a trillion dollars in discretionary spending cuts. Part two will be this deal, which is $600 billion — and maybe a bit more — in revenue. And part three is still to come, but any entitlement cuts that Republicans want will have to be matched by revenues generated through tax reform. If Republicans want $700 billion in further spending cuts and the White House insists on $700 billion in tax reform, they'll end up with more revenue than in Obama's final offer to House Speaker John Boehner.
My guess is that House Republicans will ultimately sign off on the agreement. It achieves none of the fiscal austerity they wanted, and some number of them will prefer the status quo—the full-on going over the cliff—to this deal. But they can't possibly stand in the way of tax cuts for essentially their entire constituency in the name of reducing spending.
In a perfect world, we'd get real tax reform, including ending such abominations as the Alternative Minimum Tax. But I don't see any path to doing good right now; the best we can seem to get is averting self-imposed disaster.