Paul Ryan For President, With A Push From GOP Insiders?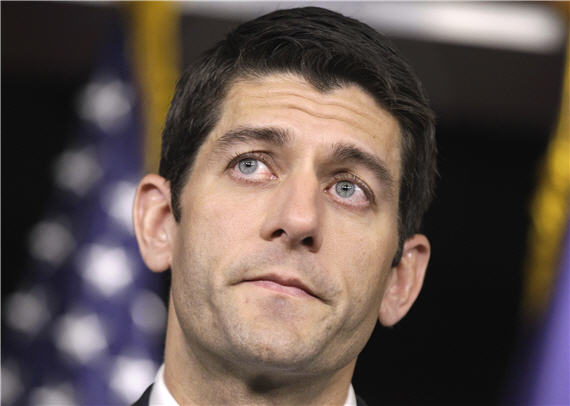 Stephen Hayes of The Weekly Standard is up with another report on the rumors of a Paul Ryan run for the White House, this time with news that several top Republicans are now pushing Ryan to run:
As Wisconsin congressman Paul Ryan comes to a final decision about running for president, several top national conservatives are encouraging him to join the race. Ryan, who has been seriously but quietly considering a presidential bid for several months, is expected to decide on a run in the next two weeks.

Indiana governor Mitch Daniels hopes he runs. "If there were a Paul Ryan fan club, I'd be a national officer," Daniels said in a phone interview Wednesday morning.

"I don't think it's a secret that he was strongly encouraging me to try. I've been strongly encouraging him to run as well. He has all the qualities our party needs to be emphasizing in these elections. He can explain—and is willing to explain—in plain English why today's policies are a disaster for the middle class, and he has the smarts to go toe-to-toe with the people who are saying misleading things about the proposals that he's put out there."

(…)

Another prominent conservative reformer, Jeb Bush, also thinks Ryan should run. "Paul Ryan would be a formidable candidate. I admire his substance and energy. Win or lose, he would force the race to be about sustained, job-creating economic growth and the real policies that can achieve it."

Ryan has been receiving encouragement from his colleagues in the House for months. California congressman Devin Nunes, who has worked extensively with Ryan on entitlement reform and spending issues, has been pushing Ryan for months. So has John Boehner, according to two sources familiar with their conversations. Boehner has praised Ryan as a "natural candidate" to fellow House Republicans.

Ohio congressman Jim Jordan, a leading conservative in the House and head of the Republican Study Committee, is also bullish on a possible Ryan bid. "He'd certainly be an asset to the race. When Paul talks about Cut, Cap, and Balance as a key to solving America's debt problem, people get it."
Hayes also reports that three sources have told him that Ryan's wife Jana is "on board" should Ryan decide to go forward with a run. Given that family issues were one of the primary reasons that Ryan cited when he dismissed the speculation about running back in April, that could be significant if Ryan is leaning toward running.  Frankly, I think Ryan would be smarter not to run this time around, and perhaps take the VP slot if it's offered to him next year, but the fact that you've got several Republican heavyweights urging him to jump in could prove decisive.
As always when it comes to these stories about possible candidates, stay skeptical but stay tuned.