Pennsylvania Court Reinstates Jerry Sandusky's State Pension
This is likely to outrage a lot of people, but it may not be incorrect under the law.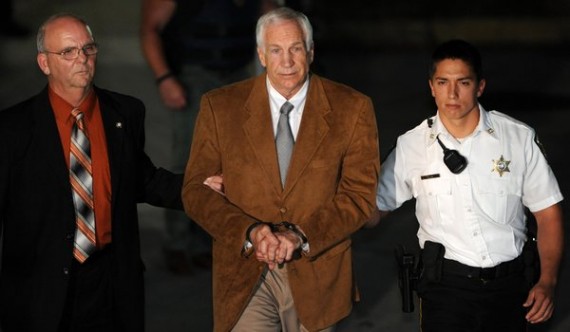 A Pennsylvania Court has ruled the Jerry Sandusky, the former Penn State Assistant Coach who was convicted of abusing numerous boys both before and after he worked in the school's football program, sentenced to what effectively amounts to the rest of his life in prison, and set off a scandal that led to the downfall of iconic Penn State Coach Joe Paterno, is entitled to the state pension stripped from him shortly after the scandal broke:
HARRISBURG, Pa. – The state must restore the $4,900-a-month pension of former Penn State assistant football coach Jerry Sandusky that was taken away three years ago when he was sentenced to decades in prison on child molestation convictions, a court ordered Friday.

A Commonwealth Court panel ruled unanimously that the State Employees' Retirement Board wrongly concluded Sandusky was a Penn State employee when he committed the crimes that were the basis for the pension forfeiture.

"The board conflated the requirements that Mr. Sandusky engage in 'work relating to' PSU and that he engage in that work 'for' PSU," Judge Dan Pellegrini wrote. "Mr. Sandusky's performance of services that benefited PSU does not render him a PSU employee."

Sandusky, 71, collected a $148,000 lump sum payment upon retirement in 1999 and began receiving monthly payments of $4,900.

The board stopped those payments in October 2012 on the day he was sentenced to 30 to 60 years in prison for sexually abusing 10 children. A jury found him guilty of 45 counts for offenses that ranged from grooming and fondling to violent sexual attacks. Some of the encounters happened inside university facilities.

The basis for the pension board's decision was a provision in the state Pension Forfeiture Act that applies to "crimes related to public office or public employment," and he was convicted of indecent assault and involuntary deviate sexual intercourse.

The judges said the board's characterization of Sandusky as a Penn State employee at the time those offenses occurred was erroneous because he did not maintain an employer-employee relationship with the university after 1999.

The judges ordered the board to pay back interest and reinstated the pension retroactively, granting him about three years of makeup payments.
Understandably, some people aren't very happy about this:
IT WAS A GOOD DAY for Jerry Sandusky – and a bad day for people who wanted to keep down their lunches.

A panel of Commonwealth Court judges yesterday said Sandusky, the convicted pedophile and ex-Penn State defensive coach, should have his $4,900-a-month state pension reinstated.

The seven judges unanimously ruled that the State Employees' Retirement Board erred when it stripped Sandusky of his pension in 2012 – after he was sentenced to 30 to 60 years in prison for sexually abusing 10 boys – on the grounds that he was still a "de facto" Penn State employee when he sexually assaulted some of the children.

Those who know the skin-crawling details of Sandusky's horrific crimes were outraged by the court's ruling.
"I'm sure it's painful for the victims of his predatory behavior and their families and friends to hear this."

The mere mention of Sandusky's name in a news headline is traumatic for his victims.

"I think it's likely that many of Sandusky's victims are chilled whenever they see his name in the paper or hear him mentioned in the media," said McGettigan, who now works for McAndrews Law Offices, P.C.

"Whether it is likely or even reasonable, they fear he'll be released somehow or granted a new trial."

(…)

Sandusky's attorney, Richard A. Beran, said the law is black and white – and in this one instance, on Sandusky's side. He contends the retirement board inserted its own gray area because of the emotions and controversy associated with the case.

"There is no doubt in my mind," Beran said. "There's no such thing as 'de facto.' It was purely made up to deprive the Sanduskies of their right to a pension."

Others begged to differ.

Jennifer Storm, of Pennsylvania's Office of Victim Advocate, said the ruling defies common sense, and makes and attempts to disconnect Sandusky's crimes from Happy Valley.

"He was committing these crimes while he was employed at Penn State," she said. "It's very disappointing. I don't see how you couldn't see he used his position at Penn State to harm these young boys."

Storm said she visited Greene State Prison, where Sandusky is incarcerated, a few weeks ago, and observed him watching television in his cell. She said the ruling means his life will be a little easier.

"He'll have more money now to continue this charade to try to clear his name," she said.
As a practical matter, of course, it's not as if Sandusky will be able to spend this money on lavish vacations or any other such things. The majority of the funds are likely to go to his defense attorneys and other legal expenses. Additionally, it may be the case that these funds could be attached in some way by the victims who are suing him, and the university, in civil court for the damage they suffered as a result of his horrible actions. Also, while the reaction to this outcome is entirely understandable, and the mere mention of Sandusky's name continues to make one's skin crawl, some caveats are in order. First of all, if the pension board did not have the legal authority to revoke the pension under Pennsylvania law then what Sandusky did is, in some sense irrelevant. If he's legally entitled to the funds, and nothing in the law prevents them from being revoked under the known facts, then the decision to revoke it was beyond their authority. Second, the fact that this was a unanimous decision joined by all seven judges on the appeals panel that heard the matter would seem to suggest that there's little doubt about the state of the law. Yes, it's possible that all seven judges are viewing the matter incorrectly, but the odds of that seem to me to be low. Additionally, there's nothing about this decision that makes it at all likely that Sandusky will get a new trial on the criminal charges of which he was convicted, or that he will be released from prison any time soon. Finally, this decision will be appealed to Pennsylvania's Supreme Court, which will likely have the last word on the matter.
So yes, Jerry Sandusky had a good day, but he's still a criminal low life who is going to die in prison. And that's exactly what he deserves. Whether he does so with or without the pension may not be something the law can do anything about.