Political Fantasy World
It never ceases to amaze me how many smart people manage to believe, against all evidence to the contrary, that their political philosophy has massive support.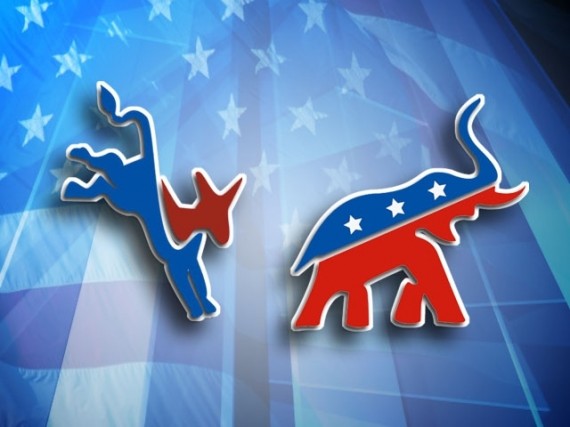 It never ceases to amaze me how many smart people manage to believe, against all evidence to the contrary, that their political philosophy has massive support.
Most commonly, this is seen in the Pundit's Fallacy that, if only a politician espousing exactly the beliefs that Thomas Friedman holds would run, he'd win in a landslide. But that's at least excusable by data showing as desire for a "more centrist" and "less partisan" candidate. That those groupings include people across a wide spectrum of belief is easy to gloss over.
But how do people on the far right and far left justify this view?
Matt Stoller's Salon essay "What Democrats can do about Obama" is but the latest exemplar.
 Democrats may soon have to confront an uncomfortable truth, and ask whether Obama is a suitable choice at the top of the ticket in 2012. They may then have to ask themselves if there's any way they can push him off the top of the ticket.

That these questions have not yet been asked in any serious way shows how weak the Democratic Party is as a political organization. Yet this political weakness is not inevitable, it can be changed through courage and collective action by a few party insiders smart and principled enough to understand the value of a public debate, and by activists who are courageous enough to face the real legacy of the Obama years.

Obama has ruined the Democratic Party. The 2010 wipeout was an electoral catastrophe so bad you'd have to go back to 1894 to find comparable losses. From 2008 to 2010, according to Gallup, the fastest growing demographic party label was former Democrat. Obama took over the party in 2008 with 36 percent of Americans considering themselves Democrats. Within just two years, that number had dropped to 31 percent, which tied a 22-year low.
There's a reason no one serious is asking these questions. The last time a political party dumped a sitting president and won the presidency with a different candidate? As best I can tell, never.
If would be one thing if Obama were failing because he was too close to party orthodoxy. Yet his failures have come precisely because Obama has not listened to Democratic Party voters. He continued idiotic wars, bailed out banks, ignored luminaries like Paul Krugman, and generally did whatever he could to repudiate the New Deal. The Democratic Party should be the party of pay raises and homes, but under Obama it has become the party of pay cuts and foreclosures. Getting rid of Obama as the head of the party is the first step in reverting to form.

So why isn't there a legitimate primary challenger to Obama to make this case? Forty years ago, primaries were instituted in the Democratic Party as a response to party insiders having too much influence over nominations. These reforms were implemented before the prevalence of money in politics was as extreme as it is now. At this point, primary challenges are so expensive that a serious 2012 campaign would ironically require support of party insiders for viability. The party, inflexible as it was in 1968, is perhaps even more rigid today. As a result, no candidate has stepped up to challenge Obama in a primary, even though 32 percent of Democratic voters want one.

This is an institutional crisis for Democrats. The groups that fund and organize the party — an uneasy alliance of financiers, conservative technology interests, the telecommunications industry, healthcare industries, labor unions, feminists, elite foundations, African-American church networks, academic elites, liberals at groups like MoveOn, the ACLU and the blogosphere — are frustrated, but not one of them has broken from the pack. In remaining silent, they give their assent to the right-wing policy framework that first George W. Bush, and now Barack Obama, cemented in place. It will be nearly impossible to dislodge such a framework without starting within the Democratic Party itself.
There's an argument to be made that Obama has continued the Bush foreign policy; indeed, I've made it. But the caveat is that it's because Bush moderated and went back to the Realist consensus in his second term, especially after the 2006 midterm shellacking. On the bank bailouts and stimulus packages, he was basically following the expert consensus and operating within the constraints of political reality.
FDL's Blue Texan points out that several liberal economics luminaries–Paul Krugman, Dean Baker, Brad DeLong, and others–argued for a much larger stimulus. But passing the $787 billion version required the Democrats to go to the mats, barely peeling off enough Republican votes to avoid a Senate filibuster. And doing that fired up the Tea Party and directly led to the historic 2010 thumping that Stoller blames on Obama being insufficiently progressive.
Krugman and I were on the same side of the bank bailout issue and for similar reasons. But we were extreme outliers. Most economists were warning of dire consequences if we allowed the banks to collapse. As it was, the Bush administration's decision to  let Lehman Brothers go under is cited by many as ground zero in the global financial collapse.
Similarly, Krugman and I were outliers on the stimulus, with him arguing for one wildly larger than there was political support for and me arguing for a much smaller one targeted at those who lost their jobs and houses because of the meltdown. Frankly, either of those would likely have been better than the expensive but futile mishmash we got. But nobody made either of us king and we therefore got to live with the political realities rather than our fantasy world.
By any reasonable standpoint, Obama has been a fairly centrist president. One can make the case that his "lead from behind" style has made him a weak president but one can also make the opposite case–that he's passed a massive stimulus, a historic reorganization of the health care system, and took us to a war that had very little political support through working the system from behind the scenes.
In other words, party inflexibility has a price. If the economy worsens going into the fall, and the president continues as he has to attempt to cut Social Security, Democrats might be facing a Carter-Reagan scenario. Reagan, at first considered a lightweight candidate, ended up winning a landslide victory that devastated the Democratic Party in 1980. Carter wasn't the only loss; many significant liberal senators, such as George McGovern, John Culver and Birch Bayh, fell that year.
The alternative, however, was to nominate Ted Kennedy. That would have been much more satisfying for those we then called "liberals." But Kennedy would almost surely have lost even more states than Carter–and quite possibly created an even bigger Republican wave in the Senate. But Stoller apparently thinks that would have been preferable:
So what can party leaders do? History offers one model. In 1892, the Democratic Party nominated Grover Cleveland, and with sweeping majorities in both houses, Democrats had control of the federal government for the first time since before the Civil War. Then a financial crisis, plus Cleveland's stubborn allegiance to banking interests, turned his presidency into a catastrophe for Democrats.

When taking state candidates into account, the 1894 midterm elections were comparable to the 2010 wipeout; Cleveland was disliked so ardently that party leaders pushed him out of running for reelection. Instead the Democrats nominated William Jennings Bryan, who introduced many populist themes into the party and began the ideological transformation that would culminate with the election of Franklin Roosevelt in 1932.
The Republican mythology has a similar story: Barry Goldwater's epic loss in 1964 paved the way for Reagan in 1980.
But both stories treat ideology as the only factor. It took the calamity of the Great Depression to make Franklin Roosevelt's radical policy prescriptions attractive to voters. And Ronald Reagan's optimistic spirit and folk wisdom was especially attractive in 1980, following years of economic stagnation; the political and social strife of Vietnam, the civil rights fights, and Watergate; the Iran Hostage Crisis; and Jimmy Carter's lectures about malaise.
Every presidential election is touted as "the most important ever," because there are always major issues on the table. Four years is a long time and it comes with the ability to shape the future, especially in the realm of judicial appointments. Further, since incumbent presidents have a very high re-election rate, sacrificing one cycle for ideological principle often means sacrificing two.
With the economy is such horrible shape, Obama is undoubtedly vulnerable. Mitt Romney would almost surely beat him if the election were held this November rather than next and Rick Perry would have a strong chance. But, given the mood of the country, it's hard to see how a Progressive dream candidate would fare better.