Politicization of Dead Spies
The 117 CIA officers who have died in our service should not be used to score cheap political points.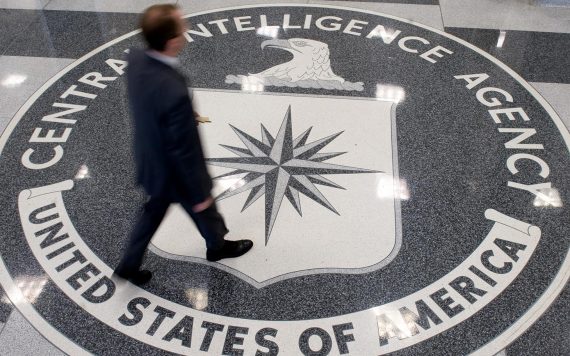 The opening week of the Trump administration has involved more outrages than I've had time or energy to address. The new president's outrageously hamhanded visit to CIA headquarters has received sufficient attention that I have little new to add. But there's one aspect that I haven't seen covered.
Everyone is rightly outraged by this:
In his remarks, Trump made passing reference to the "special wall" behind him but never mentioned the top-secret work or personal sacrifices of intelligence officers like Ames and the others who died in Beirut, including the C.I.A. station chief Kenneth Haas, and James F. Lewis, who had been a prisoner of war in North Vietnam, and his wife Monique, who was on her first day on the job at the Beirut embassy. Nor did the President refer to any of the dozens of others for whom stars are etched on the hallowed C.I.A. wall of honor. It was like going to the Tomb of the Unknown Soldier and not mentioning those who died in the Second World War.

[…]

Trump's remarks caused astonishment and anger among current and former C.I.A. officials. The former C.I.A. director John Brennan, who retired on Friday, called it a "despicable display of self-aggrandizement in front of C.I.A.'s Memorial Wall of Agency heroes," according to a statement released through a former aide. Brennan said he thought Trump "should be ashamed of himself."

Crocker, who was among the last to see Ames and the local C.I.A. team alive in Beirut, was "appalled" by Trump's comments. "Whatever his intentions, it was horrible," Crocker, who went on to serve as the U.S. Ambassador in Iraq, Syria, Afghanistan, Pakistan, Lebanon, and Kuwait, told me. "As he stood there talking about how great Trump is, I kept looking at the wall behind him—as I'm sure everyone in the room was, too. He has no understanding of the world and what is going on. It was really ugly."

"Why," Crocker added, "did he even bother? I can't imagine a worse Day One scenario. And what's next?"

John McLaughlin is a thirty-year C.I.A. veteran and a former acting director of the C.I.A. who now teaches at Johns Hopkins University. He also chairs a foundation that raises funds to educate children of intelligence officers killed on the job. "It's simply inappropriate to engage in self obsession on a spot that memorializes those who obsessed about others, and about mission, more than themselves," he wrote to me in an e-mail on Sunday. "Also, people there spent their lives trying to figure out what's true, so it's hard to make the case that the media created a feud with Trump. It just ain't so."

John MacGaffin, another thirty-year veteran who rose to become the No. 2 in the C.I.A. directorate for clandestine espionage, said that Trump's appearance should have been a "slam dunk," calming deep unease within the intelligence community about the new President. According to MacGaffin, Trump should have talked about the mutual reliance between the White House and the C.I.A. in dealing with global crises and acknowledged those who had given their lives doing just that.

"What self-centered, irrational decision process got him to this travesty?" MacGaffin told me. "Most importantly, how will that process serve us when the issues he must address are dangerous and incredibly complex? This is scary stuff!"
But politicization of heroes is shameless regardless of who's doing it.  Here's Brennan a week ago, before Trump's speech:
While Mr. Brennan brushed off Mr. Trump's dig at him personally, he was indignant at the president-elect's attack on his fellow spies. In recent weeks, Mr. Trump has accused them of botching their analysis on the Russian hacking campaign and accused them of leaking pieces of their conclusions for political gain.

"I think it's the right and indeed the responsibility of the president of the United States to challenge the conclusions of the intelligence community," Mr. Brennan said. "We don't expect our information and our assessments to be swallowed whole.

"It's when there are allegations made about leaking or about dishonesty or a lack of integrity, that's where I think the line is crossed," he continued, taking particular umbrage at Mr. Trump's comments last week that leaking intelligence on political figures was something that Nazi Germany "would have done and did do."

"Tell the families of those 117 CIA officers who are forever memorialized on our wall of honor that their loved ones who gave their lives were akin to Nazis," Mr. Brennan said. "Tell the CIA officers who are serving in harm's way right now and their families who are worried about them that they are akin to Nazi Germany. I found that to be very repugnant, and I will forever stand up for the integrity and patriotism of my officers who have done much over the years to sacrifice for their fellow citizens."
Now, Brennan is absolutely right that Trump's equating the US intelligence community with Nazi Germany is repugnant. But there's simply no question that, on occasion, the IC leaks information—usually via Congressional offices that they know will share it—-to the press. That practice is almost always done by headquarters types, not rank-and-file officers in the Clandestine Service or Directorate of Operations or whatever they're calling themselves this week. So, hiding behind the 117 heroes who lost their life in the service of their country over the seventy-year history of the CIA is a rather shameless politicization of their sacrifice.  (And, yes, that applies to headquarters generals who point to dead soldiers and Marines in justifying their pet project.)
To be clear, Trump's and Brennan's transgressions here aren't of the same weight. We' have, however, unfortunately already established that Trump is without class or honor. Brennan is a career professional; I expect better from him.