Poll Finds Majority Support For Missile Strikes On Syria
A majority of Americans support last week's airstrikes in Syria but are skeptical of any expansion beyond that.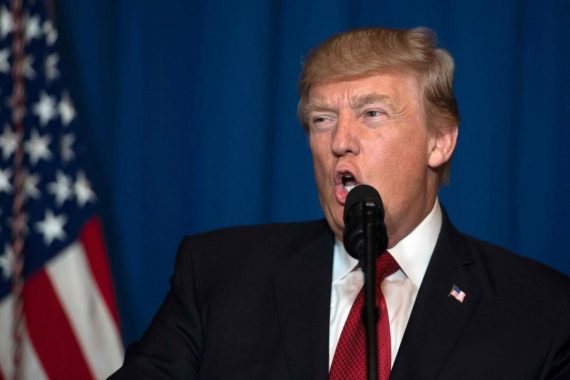 A new poll finds that a majority of Americans support last week's airstrikes against Syria, but are skeptical of military action beyond that:
Fifty-seven percent of Americans approve of the airstrike against Syrian military targets – calling immoral the Syrian regime's use of chemical weapons that led to the strike – but most are leery of any military involvement beyond airstrikes, a CBS News poll shows.

President Trump's overall approval rating edged up, though most respondents voice unease about his approach to Syria going forward, and say Congress must authorize further actions there.

Few Americans are willing to see the U.S. get involved in Syria beyond the use of airstrikes. Only 18 percent would want ground troops. Half of Republicans would limit involvement to either airstrikes or diplomacy, and Democrats largely would focus on diplomatic efforts.

Seven-in-ten Americans think Mr. Trump needs to get authorization from Congress before any further action against Syria; more than half of Republicans agree.

Americans support last week's U.S. strike in part because most say the use of chemical weapons is immoral. There's more division on whether it constitutes a direct threat to the U.S.

Back in 2013, most Republicans opposed the idea of airstrikes against Syria by President Obama, and half of Democrats were opposed then, as well.

Since the strike. Mr. Trump's overall job approval rating has seen an increase to 43 percent.  Slightly fewer now disapprove than did before. Forty-nine percent now disapprove of his performance.

The increase in approval is driven mainly by independents, who are now at 42 percent approval up from 34 percent, while Republicans have held steady.

There is still some concern about the president's ability to handle the Syria situation going forward. Nearly eight-in-ten Republicans express confidence in Mr. Trump on that, while most Democrats do not. Independents are more uneasy about the handling going forward even as they are approving of the strike last week.
Given the images that quickly went around the world after last week's chemical weapons attacks, it's not entirely surprising that there would be majority support for the rather limited airstrikes that the United States engaged in on Thursday evening. For one thing, the image of victims such as women and children being treated for exposure to Sarin gas were fairly shocking and there's a long-standing distaste for the impact that such weapons have on civilians. For another, the attacks that the U.S. engaged in were rather limited and aimed primarily at the delivery base for the attack itself rather than being something more wide-ranging that could have posed the risk of the kind of collateral damage that tends to be counterproductive to say the very least. Most importantly, though, for a public that clearly remains wary of war thanks to the long experiences in Iraq and Afghanistan, a limited airstrike such as this falls within the range of acceptable military action that doesn't put American forces at risk. Finally, for the time being, the Administration has not made an argument for deeper American involvement in the Syrian civil war, although there were signs over the weekend of a battle inside the White Houe over whether or not the U.S. should prioritize the removal of Bashar Assad from power over fighting ISIS.
One question this poll doesn't really answer is whether this action is likely to have any real impact on the President's overall job approval and the perception that his Administration has been rather rudderless during its on-going first 100 days in office. So far, there has not been nearly enough time for the immediate impact of the strikes to register in the job approval numbers that are updated on a daily basis, but the initial evidence seems to be that any impact is likely to be limited at best. More importantly, while this story has at least pushed headlines about things such as the investigation of Russian interference in the 2016  election and Trump campaign communications with and ties to Russian officials and business interests both before and after the election, that won't remain the case forever. It seems inevitable that these stories have only gone away temporarily, and that the weaknesses inside the White House that have made apparent since Inauguration Day are likely to resurface sooner rather than later.
One interesting thing to note from this poll is the fact that majority support for the airstrikes isn't larger than this poll shows. Ordinarily, an attack like this would end up with a far larger majority rallying around the President. Presumably, a part of that has to do with the fact that there are still strong public doubts about the President's judgment and his Administration's ability to handle matters. That being said, the limited nature of the commitment likely helps reassure a public still unfamiliar with how this President will handle world affairs. So far, notwithstanding some of his rhetoric during the campaign, Trump's initial forays onto the world stage as President have been fairly limited and benign, perhaps thanks to the advice being given to him by people such as Defense Secretary James Mattis, Secretary of State Rex Tillerson, and National Security Adviser H.R. McMaster. If and when that changes, we could see a still war-weary public turn against Trump rather quickly, especially if things start to go badly.