Poll: Obamacare Woes Lead To Doubts About Obama's Leadership
More bad poll numbers for the President and his party.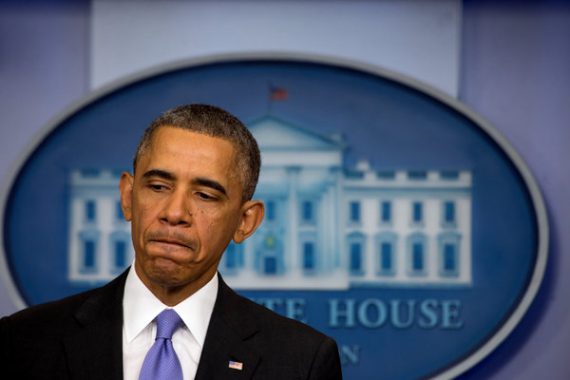 The six weeks or so since the website rollout for the Affordable Care Act have not gone very smoothly for President Obama. From a website that can't seem to function effectively, to people getting notices of canceled insurance despite his promise that 'If you like your plan, you can keep your plan," to reports that people who have been able to get the point where they're able to shop for plans are finding increased premiums and higher deductibles, the signature legislative package of the President's first term has not fared well at all. Not surprisingly, this has had quite an impact on the Presidents poll numbers, most significantly his job approval numbers which have started to drift into George W. Bush territory in some cases. Perhaps most importantly, though, we're now finding that the public seems to have serious doubts about the Presidents leadership abilities:
Washington (CNN) - Only four out of 10 Americans believe President Barack Obama can manage the federal government effectively, according to a new national poll.

And a CNN/ORC International survey released Monday morning also indicates that 53% of Americans now believe that Obama is not honest and trustworthy, the first time that a clear majority in CNN polling has felt that way.

According to the survey, conducted last Monday through Wednesday, 40% say the President can manage the government effectively. That 40% figure is down 12 percentage points from June and is the worst score Obama received among the nine personal characteristics tested in the new poll.

"A lot of attention has focused on the President's numbers on honesty in new polling the past three weeks, but it looks like the recent controversy over Obamacare has had a bigger impact on his status as an effective manager of the government, and that may be what is really driving the drop in Obama's approval rating this fall," CNN Polling Director Keating Holland said.

Does being an effective manager count more than honesty?

"Just ask Bill Clinton, whose overall approval ratings remained high during and after the Monica Lewinsky scandal because three-quarters of all Americans thought he could get things done, even though only about one in five said he was honest," Holland added.

Obama's woes are not limited to honesty and his managerial skills. Fifty-six percent say he is not a person they admire, and an equal number say he does not agree with them on important issues. Fifty-six percent also say he does not inspire confidence, and 53% don't view him as a strong and decisive leader. All of those figures are all-time records for Obama in CNN polling.
As is always the case, of course, it's important to note that this poll, like all others is merely a snapshot in time and that we could find in a month or two that things have turned around significantly not only because the Obamacare roll out has worked itself out but also because of the deal with Iran, which quite clearly has not been poll tested. Or, we could end up with a situation where the PPACA roll out continues to move along clumsily and the tales of people getting their insurance canceled and being unable to replace it because the Federal Exchange isn't working properly will continue to mount. Or, we could find that there are a whole new set of problems associated with the law as we pass the January 1st deadline when the new policies will start to go into effect. For example, there remain significant questions about how these various new policies are going to treat individual providers, and it may turn out that people will end up having purchased policies that place the family doctor they have developed a relationship with outside their provider network, meaning that they are going to have to pay more out of pocket if they want to continue going to the same doctor.
What is potentially troublesome for the President, though, is the fact that he's not just looking at what could be a temporary dip in his job approval numbers. Instead, he's looking at what could turn into permanent doubts on the part of the public about his ability to properly manage the Federal Government and, perhaps most importantly, his trustworthiness. As noted above, Bill Clinton was able to survive the Lewinsky scandal in no small part because, despite the scandal, he remained likable and trustworthy throughout the entire ordeal, something that House Republicans at the time never seemed to understand. If the public's perception of the President's competence and trustworthiness don't recover from their current woes, then it's going to make it more difficult for him not only to pursue the remainder of his agenda in 2014 and his approaching "lame duck" period but also to politically survive any future problems that his Administration may face in the final three years of his term.
Related to Obama's declining poll numbers and the Obamacare woes, is today's report in Politico that Democrats who will be running next year are becoming concerned that their party's leadership is failing to see the potential trouble the party may be in:
Democratic leaders claim the bungled launch of Obamacare is just the latest news sensation — a media-stirred tempest that looks in the heat of the moment like it could upend the midterm election, but ends up fizzling well before voters head to the polls.

Some party strategists say they're in denial.

And that perceived gap between party spin and facts on the ground is fueling worries that the White House and Democratic higher-ups aren't taking the possible electoral blowback seriously enough or doing enough to shield their candidates. Democratic contenders in the toughest races are distinctly less convinced that Obamacare will fade as an election-year issue — and they can't afford to just cross their fingers that things get ironed out or that Republicans revert to political hara-kiri.

House Minority Leader Nancy Pelosi (D-Calif.) said at a forum hosted by BuzzFeed recently that the rollout won't "hurt us in 2014," adding that "we're proud" of the law. Democratic National Committee Chairwoman Debbie Wasserman Schultz, in a recent appearance on CNN, went so far as to assert that Obamacare would be "an advantage" for Democratic candidates next year.

"Democrats will run on the Affordable Care Act and win," she has also told reporters.

The White House, meanwhile, has come across as equally dismissive of Obamacare's consequences for 2014.

"The fact is that [the president] is focused on delivering the access to quality and affordable health insurance to the American people that the Affordable Care Act promises. He's not concerned about the politics of that," White House press secretary Jay Carney recently said.

Polls, however, suggest Democrats should be worried. A CBS News poll released Wednesday showed Obama with a 37 percent approval rating, his lowest figure ever in that survey. Another all-time low in the poll: approval of Obamacare, which stood at 31 percent.

Republicans are placing their chips on Obamacare as their defining 2014 issue and putting their money where their mouths are. The Koch brothers-funded Americans for Prosperity has launched a $4 million TV ad offensive targeting House and Senate Democrats on the health care law. As much as they might be tempted, those on the receiving end can't easily flee from the law because many or most of them voted for it.

"We're trying to deny what everyone knows is happening," said one Democratic pollster who is a veteran of competitive congressional races. "Anybody who is halfway intelligent knows this is a big … problem for us. It's impossible not to see. We can try to hide our heads in the sand and pretend it's not a problem, but it is."

(…)

while Pelosi and Wasserman Schultz insist they aren't worried about Obamacare's impact on 2014, the candidates facing tough races are acting worried. This month, 39 Democrats — the vast majority of them from swing districts — broke with the White House to support a Republican bill that would allow insurance companies to continue selling plans that don't comply with Obamacare requirements through next year.

And some of them are taking a step further and taking shots at the White House. In an interview with CBS News, West Virginia Rep. Nick Rahall — one of the 39 party-bucking Democrats — said he wasn't sure Obama had the "legal underpinning" for his fix that would allow people to retain health care plans that don't comply with the ACA's benefit standards for another year.

"There's a rash of polls out this week showing Obama's approval going down and the generic ballot closing. That explains why people are doing what they're doing," Frederick said.

Some people, Frederick said, "are seeing this as a disaster and they're trying to run away from it."
If the poll numbers continue moving in the same direction that they have been, then you're likely to start seeing Democrats at both the House and Senate level doing the best that they can to distance themselves from both the PPACA and the President while the GOP does its best to tie them closely to it. In either case, such a scenario could mean that you'll be unlikely to see President Obama doing much campaign in strongly red states like Montana, South Dakota, West Virginia, Arkansas, or Louisiana, all of which have Senate seats that the GOP would very much like to win in 2014. The last time that happened was in 2006 when a lot of Republicans sought to distance themselves from a Bush Administration that was becoming increasingly unpopular, and we know how that election turned out for the GOP