Poll: President Obama Still Retains Strong Support Among Jewish Americans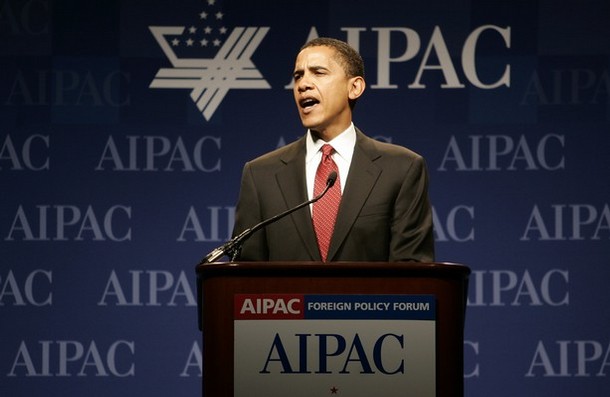 In May, President Obama was, somewhat ridiculously, accused of throwing Israel under the bus for making a reference to a negotiating position that had been a cornerstone of U.S. policy since at least the Clinton Administration. Since then, there's been some speculation that Jewish American support for the President was in jeopardy because of his policies toward Israel. According to a new Gallup poll, though, that doesn't seem to be the case:
Jewish Americans gave President Barack Obama a 60% job approval rating in June, down from 68% in May, but statistically unchanged from 64% in April. Thirty-two percent of U.S. Jews now disapprove of the job Obama is doing, similar to their 30% average thus far in 2011.

Gallup's monthly trend in Jewish approval of Obama continues to roughly follow the path of all Americans' approval of the president, more generally, as it has since Obama took office in January 2009. The 14-percentage-point difference in the two groups' approval ratings in June — 60% among U.S. Jews vs. 46% among all U.S. adults — is identical to the average gap seen over the past two and a half years. However, the monthly graph is somewhat variable due to the lower monthly sample saize of Jewish respondents (around 350).
More importantly for Obama, though, there doesn't seem to have been any statistically significant change in Jewish support for the President because of the May speech that cause so much controvery: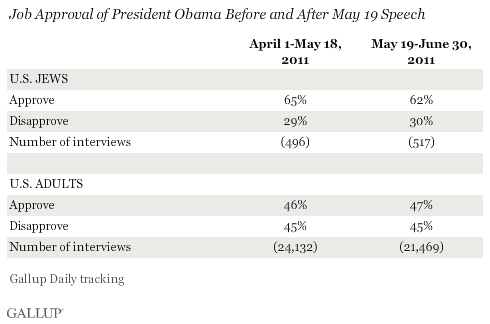 This isn't entirely a surprise, of course. Just like any other demographic group, Jewish Americans are not a single-issue voting group. Israel and American policy in the Middle East is, no doubt, an important issue for them, but it is not the only issue, any more than abortion is the only issue that Catholic Americans base their voting decisions on. As Ed Morrissey noted last week, for the most part the Democratic Party is a home for Jewish Americans for reasons that have little to do with Israel:
Jewish voters are one of the bedrock demographics for the Democratic Party, almost as loyal as black voters.  In 2008, Obama got 78% of the Jewish vote despite the questions raised by his association with Hamas-supporting Jeremiah Wright at Trinity United, as well as a campaign adviser's connections to Hamas. They still supported him despite having Samantha Power on his campaign team and in his administration (as a Special Adviser to the President for Multilateral Affairs, no less), a woman who once proposed that Western nations occupy Israel to disarm the IDF in order to impose peace in the region.

(…)

The Jewish vote won't suddenly swing to the GOP, for reasons that have nothing to do with Obama.  Jewish voters tend to be more progressive; the Democratic Party is a more natural home for them.  While there may be some truth in the notion that African-Americans are naturally more conservative and could be won over with a more concerted effort by Republicans to address their issues through debate (as Jack Kemp tried), that's almost certainly not true of Jewish voters as a bloc.  The GOP position on Israel might be a better fit, but on domestic politics, they'll keep voting Democratic.
Indeed, and the idea that the GOP is going to suddenly be able to break apart the Democratic coalition over Israel is simply to absurd to be believed.