Polls Indicate Strong Public Support For President Obama's Jobs And Tax Proposals
The public supports the Presidents tax plans, but will that matter on Election Day?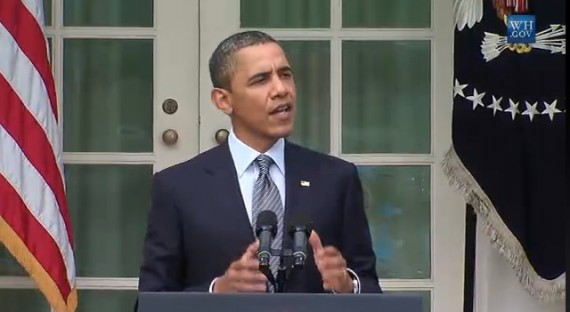 Two new polls show that, at least when it comes to taxing the rich and some of the details of his jobs plan, President Obama has the public behind him.
First, there's this from Gallup:
PRINCETON, NJ — Americans generally favor raising taxes on higher-income Americans and eliminating tax deductions for some corporations as ways of paying for President Obama's proposed jobs plan.

Obama laid out his proposals for the jobs bill in an address to Congress on Sept. 8, and sent the bill to Congress a few days later. Since then, the president has been pushing Congress to adopt the plan, although there are no signs yet as to when either House of Congress will begin to debate the bill.

The president also proposed raising taxes on wealthy Americans in his deficit-reduction proposal announced on Monday at the White House. Republican leaders have responded that this idea represents nothing more than "class warfare," but the current data show that the majority of Americans generally favor increasing taxes on the rich as a way to increase revenue.
Here's how the numbers come down on taxes: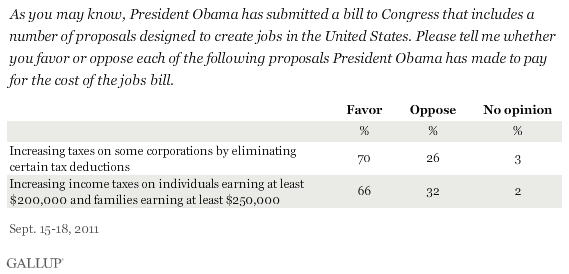 And here's how they come down on the jobs plan proposals: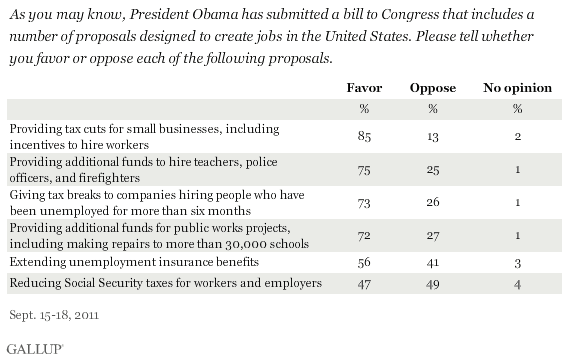 Even the partisan breakdown on both parts of the President's plans is largely to his advantage:
53% of Republicans and Republican leaning independents favor raising taxes on corporations by eliminating certain deductions
41% of Republicans and Republican leaning independents favor raising taxes on individuals earning $200,000 per year and more, and families earning $250,000 per year and more
Majorities of Republicans and Republican leaning independents favor tax cuts for small business (86%), providing additional funds to hire teachers, cops, and firefighters (56%), giving tax breaks to companies hiring people who have been unemployed for more than six months, and providing funds for public works projects (50%)
41% of Republicans and Republican leaning independents favor extending the Payroll Tax Cut
The only element of the President's plan that didn't get at least 40% support among Republicans is extension of unemployment benefits.
There are similar results to be found in two questions buried in last weeks CBS/New York Times Poll:
q75 Do you think any plan to reduce the federal budget deficit should include only tax increases, or only spending cuts, or a combination of both tax increases and spending cuts?

Both – Total Yes — 71%
…Republicans answering Yes 57%
…Democrats answering Yes 82%
…Independents answering Yes 70%

q76 In order to lower the nation's budget deficit, do you think taxes should be increased on households earning $250,000 a year or more or should the government address the budget deficit without increasing taxes on those households?

Increase – Total 56%
…Rep 39%
…Dem 70%
…Ind 55%
None of this should be surprising. We've seen it plenty of times before. In 2008, the idea of not letting the Bush tax cuts continue to for people earning more than $200,000 per year was a regular part of Obama's stump speeches, and polling at the time showed that the public was behind him. When extension time came up in December 2010, polls one again showed broad support for the idea of letting tax rates increase for this group of taxpayers, a fact that made the President's decision to make a deal with the GOP that allowed all the cuts to be extended through the end of 2012 all the more puzzling. Yes, he had just suffered a huge election setback in the mid-term elections, but on this particular issue the public was behind him and yet he chose not to exploit that support.
In any event, these numbers are all the explanation you need for why the Administration has chosen to go down the route they have on taxes and deficit reduction. First, they approaching this from a direction that is going to make the base of the Democratic Party happy, which is necessary if only to counter the fact that Republicans are already heavily engaged and heavily enthusiastic about their party's chances in 2012. It's also aimed at the Indpendent voters who have been drifting away from the President in the wake of a stagnant economy and persistently high unemployment rate.
Will it work? Will the President be able to divert public attention from a faltering economy and high jobless rates by repeating the same "tax the rich" mantras we heard from Democrats in the past., or will this be another repeat of the Walter Mondale and Mike Dukakis fiascoes? Only time will tell, of course. Envy and resentment are powerful emotions and politicians have been appealing to them throughout history. I've got to wonder, though, if people who are primarily concerned with the future of the economy are going to have their mind changed by worries over how much Warren Buffett pays in taxes.