Post-Convention Reality Check
We're winding down to Election Day. Where do we stand?
Two two national quasi-conventions are in the books. The election is two months and a couple of days away. Where do we stand?
The FiveThirtyEight gang is being extremely cautious:
Convention season officially ended on Thursday with the close of the Republican National Convention and President Trump's speech. Trump's speech has already sparked controversy for its content and length and for how many listeners were gathered on the White House lawn. But the reality is that we don't yet actually know what the effect of the last two weeks has been on the race — if anything. We do have a few new polls, but there haven't been any live-caller polls, which tend to be higher quality and show more movement. Another complicating factor is that there has been a lot of news this week, too, including the police shooting of Jacob Blake and ensuing protests. So at this point, we really do need to wait and see how Trump and Biden's election pitches have landed. What we know is that going into this convention period, Trump was an underdog, but as we've said multiple times now, it's still too early to count him out.

There's just not a lot of data that can help us understand how Americans are responding to what's happening in Kenosha, Wisconsin, but as Perry Bacon Jr. wrote on Thursday, one thing we do know is that declining support for the Black Lives Matter movement hasn't translated to a decline in support for Biden just yet.

And maybe that's related to the fact that there is at least some evidence that Trump's racist appeals and dog whistles might be less effective in 2020 than they were in 2016. (Research shows they were effective in activating voters in the Republican primary, but had less success in the general election.)
On the one hand, that's fair. There's a lot going on right now. This is almost certainly the most unusual election in my memory (I was barely a toddler in 1968). Aside from the most unorthodox incumbent President in US history, we're in the middle of a global pandemic and race riots. So, things are rather volatile.
Still, the 538ers are bending over backwards to not over-interpret a rather steady trend.
Here's their overall assessment of the odds: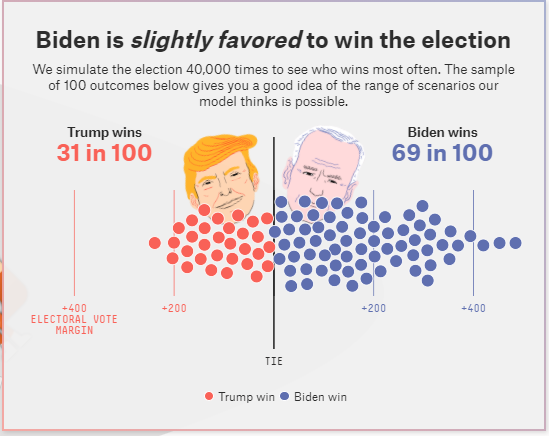 That Trump would win 31 out of 100 times is shockingly high given how unpopular he is. Still, by my math, 69 out of 100 times is way better. Like, more than two times better. "Slightly favored" seems a weird way to describe that.
Here's their trend analysis:
So, there's never been a point in the race where it was even close. The gap is ever-so-slightly narrower now than at Biden's peak but it's always been at least 2-to-1.
Further, there's essentially no chance Trump gets more votes than Biden: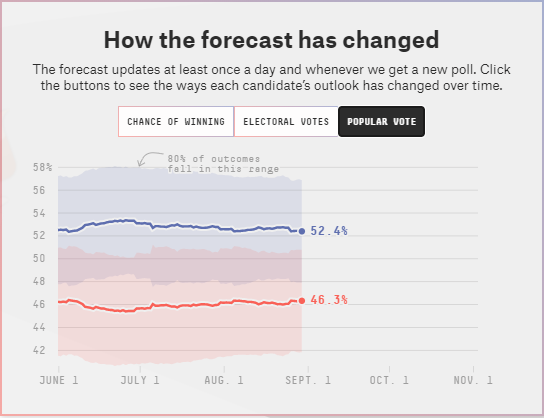 Again, the trend is stasis.
Of course, we don't award the presidency to the popular vote winner. What are the Electoral College odds?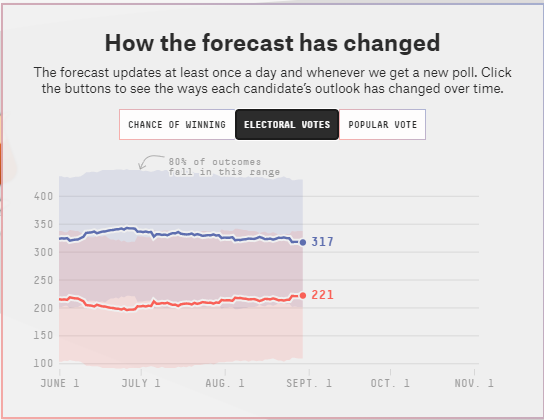 So, again, that's pretty strong for Biden: essentially a 100 Elector lead.
We see similar things in the more-established but slightly-Republican-leaning RealClearPolitics numbers. Their Electoral College topline: Biden 212, Trump 115, Toss Ups 211.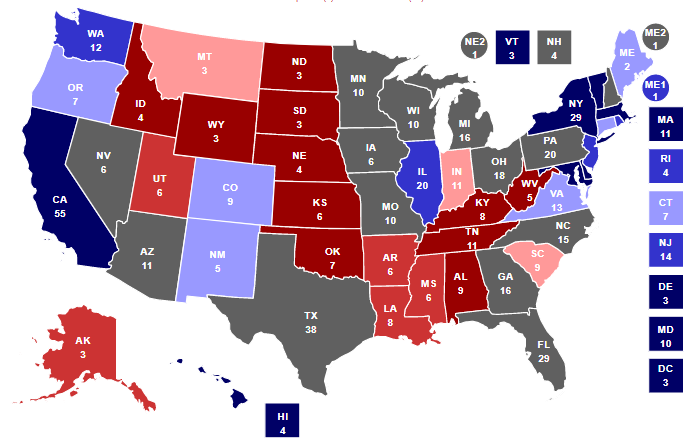 Biden needs to pick up 57 Electors somewhere while Trump needs 154. Almost all of the "toss-up" states went for Trump last time, which means he's trying to win back voters that he has lost over his four years in office. And the fact that Georgia and Texas aren't yet sewn up means a Biden landslide is a distinct possibility.
Only in the national topline does it look remotely close: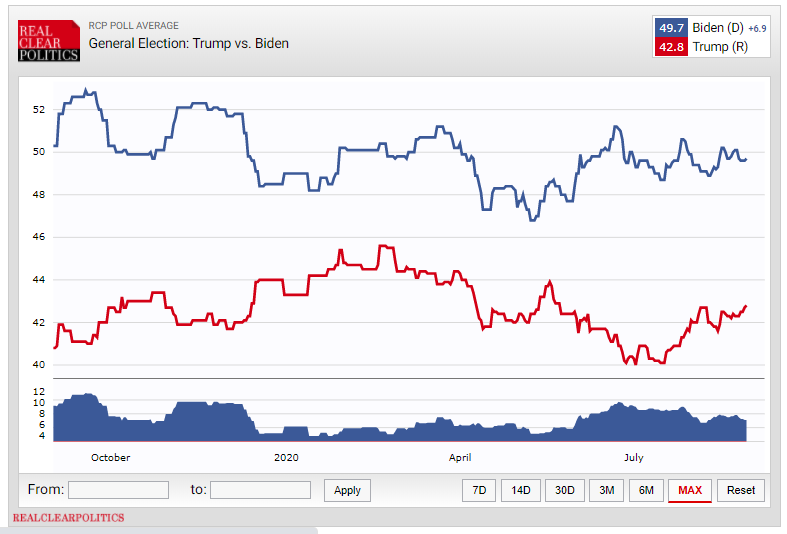 It's conceivable that Trump could make up a 7-point lead given sufficient backlash over the racial unrest. Still, the trendlines—the fact that Trump has never led the race—are telling. It's incredibly unusual for an incumbent to suddenly become popular at the 11th hour.