It's Too Late To Stop Donald Trump At The Convention
Republican insiders are apparently still looking at ways to stop Donald Trump at a convention. It's far too late for that, guys.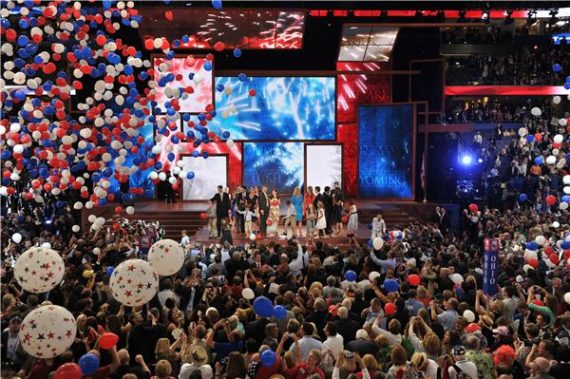 Anti-Trump Republicans are once again talking about some way to deny him the nomination at the convention, but as with previous plots this one seems to be doomed to failure:
The faction of the GOP that is unhappy with Donald Trump as the party's presumptive nominee has one last plan to stop the mogul: staging an all-out delegate revolt at the Republican National Convention.

The far-fetched idea is the latest reflection of a campaign cycle that has been anything but ordinary, and stems from a continuing dissatisfaction among some conservative stalwarts with how Trump is behaving and running his campaign. But two longtime GOP veterans says they wouldn't bet on the effort working.

The effort comes at a rough time for the GOP. As the Democratic Party's heaviest hitters, including President Barack Obama, Vice President Joe Biden and Massachusetts Sen. Elizabeth Warren, line up behind Hillary Clinton and against Trump, Republicans have been forced to criticize their own nominee. Recent comments from Trump about a federal judge's Mexican heritage have drawn widespread rebuke and put GOP leaders in a corner as they defend their endorsement of Trump while disavowing his comments.

One of the vocal advocates for a delegate revolt is conservative commentator and Weekly Standard editor Bill Kristol, who has also been actively seeking a candidate to mount an independent bid against Trump, thus far to no avail.

Kristol tweeted late Thursday that the idea of a "conscience convention," where delegates are free to vote for whomever they want to, is also appealing.

"I've been focused on independent candidacy, & still am. But struck by sudden level of interest in possible delegate revolt at convention," Kristol tweeted. He added: "A Convention of Conscience in Cleveland would be quite something. Made easier by fact Trump only won minority of total primary votes anyway."

He also linked to an op-ed in the conservative National Review from attorney David French, who was Kristol's pick for an independent bid until French quashed the idea, in which the conservative writer argued that not a single delegate to Cleveland was actually "bound" to Trump.

Bob Vander Plaats, the head of The Family Leader, an influential social conservative group in Iowa, told CNN's Kate Bolduan Friday morning that "everything does need to be on the table" at the convention, though he stopped short of calling for a revolt on the convention floor.

"We want a principled conservative and disciplined candidate who is the standard-bearer of this party," said Vander Plaats, who backed Texas Sen. Ted Cruz during the primaries. He said Trump has time before the convention to "have the concerns laid to rest."

He added, "We're watching Trump."

A Colorado delegate bound to Cruz who will serve on the GOP Rules Committee told ABC News that she plans to introduce a clause that would allow delegates to vote their conscience.

"All I'm doing is adapting to the circumstances," Kendal Unruh told ABC. "I certainly believe Trump's demagogic racist comments are hurting him."

The rules enacted by the previous convention, which govern in 2016 until delegates pass a new set of rules, state that even if a delegate casts a ballot for a candidate other than one they are bound to, the convention secretary will record their bound vote.

In order to change that rule, the 112 delegates (two from each state and territory) on the Rules Committee would have to pass different rules and bring those to the floor of the convention, where a majority of delegates present would have to approve them.

Rules expert and RNC veteran Jim Bopp, an Indiana delegate who serves as special counsel to the RNC Rules Committee, said he has spoken with people who want to "keep the option open to manipulate the rules in some way to deny Trump the nomination," but he said he wouldn't bet on any changes.

"I would put money on no rules changes that would affect the outcome of the nominating process," Bopp told CNN. "I think it's highly likely that no rules changes would be adopted that would affect the nomination."

Bopp said there's also a counter movement within Rules insiders to pass a rule that would prevent any other rules changes from going into effect until the close of the convention.

Rules Committee and Oregon RNC member Solomon Yue is behind that effort, and has been pushing the RNC this year to adopt rules that give less power to the party and more to the delegates. He tried but failed to get the party to adopt rules that would require bigger majorities to pass business at the convention.

Yue says with roughly 80% of the convention delegates being either Trump or Cruz backers, the anti-Trump forces don't have much strength.

"The common denominator of the delegates is anti-establishment, anti-Washington," Yue said. "And if you think about 'Never Trump' people, they are representing Washington and the establishment."
The New York Times' Jeremy Peters reported on similar discussions earlier this week, but as Peters notes such a move would be exxceedingly difficult:
Stopping Mr. Trump at this point could prove additionally difficult, however, because he has quietly filled the most important convention committees — those that will determine the rules and platform — with delegates loyal to him.

Initially seen as not having a strong delegate whip operation, Mr. Trump can now count on about half the seats on the platform and rules committees, according to Republicans who have been tracking delegate selection. This is a major turnaround from two months ago, when Senator Ted Cruz's campaign was sweeping the delegate contests.

Conflicting impulses are at play. Republicans have been reluctant to openly encourage a challenge to Mr. Trump at the convention for fear of hopelessly splitting the party. But they are not discouraging the idea, either, as their patience with Mr. Trump's erratic and offensive behavior wears thin.

(…)

Once Mr. Trump became the presumptive nominee last month, party officials more or less fell in line. Even Mr. Ryan came around, announcing last week that he would support Mr. Trump — just as Mr. Trump, it turned out, was unloading on Judge Curiel.

One other obstacle confronts the never-say-die "Never Trump" crowd: No candidate of any stature has stepped forward to challenge Mr. Trump at the convention.

"Until somebody gets courage, it doesn't matter," said Curly Haugland, a member of the convention Rules Committee from North Dakota who has argued that delegates should vote their consciences in Cleveland — a position that puts him at odds with the leadership of the Republican National Committee.

Without a candidate, Mr. Haugland added, all talk of a contested convention is meaningless. "In order to have a contested convention," he said, "we need to have contestants."
In reality, of course, the "plans" being talked about now are just the latest effort by Republican 'establishment' figures and movement conservatives who have obviously become increasingly horrified by the idea of Donald Trump at the top of their ticket to do something that sixteen opponents and a year-long primary campaign were unable to do, stop Donald Trump from winning the Republican nomination. There's nothing wrong with this goal, of course. His rhetoric, temperament, and the fact that he clearly has at best only a superficial command of the economic and foreign policy issues facing the United States make it clear that Donald Trump doesn't belong anywhere near the Oval Office or even at the top of the ticket of a major political party. As I noted earlier this week, he has spent the past year making bigoted comments about Mexicans and Muslims, mocking disabled people, attacking women like Megyn Kelly and Carly Fiorina in the most crass and demeaning manner, encouraging his supporters to engage in violence against supporters, and demonstrating utter disdain for the Rule of Law and Freedom of the Press. Most importantly, polling is increasingly starting to indicate that his candidacy poses a real danger of sending the Republican Party down a path that could very well end in an electoral disaster that would make 2008 and 2012 seem like good years by comparison. Only someone who is utterly insane would be comfortable with the idea of a man like this at the top of their ticket. The problem that these Republicans face is that it is far too late to stop Trump from winning the nomination on the floor and that any effort to do so is likely to just split the GOP further and make down ballot losses in November more likely and more severe.
As I've said before, if Donald Trump was going to be stopped, it needed to happen during the long period between his entry into the race and the time when the first ballots were cast in February. Instead of going after Trump during that period, though, Trump's primary opponents acted liked they were afraid of taking him on and, in most cases, barely even responded when he attacked them directly. Jeb Bush, for example, did nothing to push back against Trump when the real estate executive labeled him as "low energy," and indeed seemed to confirm that label with the way he cowered in the face of Trump's juvenile attacks. The same was true of Marco Rubio and other candidates who might have had a chance if they'd taken Trump on directly. In many cases, it was apparent that the candidates were afraid to take Trump on because they believed that he would implode on his own and they didn't want to offend his supporters in the hope that they could make a play for them when Trump had left the scene. Ted Cruz, meanwhile, took the far more cynical approach of spending most of the pre-primary period cozying up to Trump in the most obsequious ways possible in the hope that doing so would lead to him being the person who would inherit Trump's support after the supposedly inevitable collapse. That collapse never happened, of course, and by the time the voting started and it was apparent that Trump was not only not going to implode but that he had maintained his position as the Republican frontrunner, it was essentially too late to stop him. The reaction when insiders began to realize this was, of course, predictable. There were discussions about contested conventions, third party and independent candidacies, and a whole host of other methods to try to deny reality. Each one of these efforts failed, largely because it was far too late to stop Trump at the point they were being discussed, and the same fate awaits these latest talks about potentially denying Trump the nomination on the floor.
First of all, as noted above Trump appears to have consolidated his support among the delegates pledged to him sufficiently to ensure that efforts to change the rules on the convention floor would likely fail, at which point Trump would emerge not just as the nominee but as a nominee who fought off yet another attack from the 'establishment," something that's likely to just energize his more fanatical supporters. Second, the image of the GOP elite trying to deny the nomination to the candidate who has a 1,000 delegate lead in the delegate count, a lead of more than 5.5 million votes in the popular vote, and who has won more than 30 states over the past four months is not a flattering one for the GOP and it's likely to hurt the GOP at all levels in the fall. Finally, if the effort did somehow succeed, it would likely mean an even more severe split in the GOP between those who back Trump and the so-called 'establishment' than already exists, and that would cause problems for the GOP going forward. What all this means for the #NeverTrump crowd and the rest of the GOP is very simple. Either they stay consistent with their position and refuse to vote for Trump in the fall — something that can take the form of voting for Hillary Clinton, voting for Libertarian nominee Gary Johnson, or not voting at all — or they give in and fall in line behind Trump notwithstanding his hateful rhetoric and the very obvious concerns about what kind of President he might be if he won. Tilting at windmills like a 'contested convention' at this late date is really just a waste of time.