Clinton Holds Slight Lead Over Trump As General Election Race Begins
Hillary Clinton has a slight lead in national polling over Donald Trump as the battle for the White House really begins.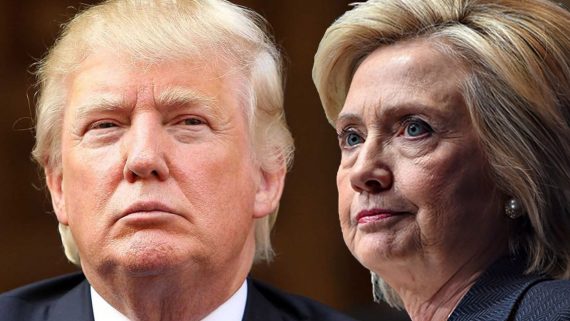 With both the Republican and Democratic races for President now essentially decided, and the nation facing the prospect of a Presidential race between Hillary Clinton and Donald Trump, it seems like as good a time as any to take a look at the polling in the race to see where things stand. As has been said before, there are several caveats worth keeping in mind when looking at numbers this early in the cycle. The first, of course, is the fact that the race for President is not a national race but effectively a race in each of the fifty states plus the District of Columbia that make up the Electoral College and, more importantly, the ten or so states that could potentially be considered toss-up states that will most likely end up deciding the election. With only a handful of exceptions, there has not been very much reliable polling in those states so it's hard to say what the Electoral College Map looks like at the moment. Nonetheless, it has generally been the case that the outcome in the states tends to mirror the national popular vote in all but the most exceptional cases. Second, most polling is still focused on polling Registered rather than Likely Voters due to the fact that it is generally deemed to be too soon to start trying to develop likely voter models that at least come close to estimating the demographic makeup of the electorate that will actually vote in the fall. This will be especially important this year due to the fact that both Donald Trump and Bernie Sanders have attracted people to the polls who don't typically vote very often. The extent to which these groups turn out for the General Election could go a long way toward deciding the winner in more than one state. Finally, polling five months prior to the General Election doesn't necessarily tells us much of anything. The numbers we're looking at today will fluctuate many times over the next five months. So, consider this a snapshot of where the race stands today, not a prediction of where it will be on November 8th.
With all of that in mind, let's take a dive into the most recent national polls, all of which tend to show Hillary Clinton with a slight lead over Donald Trump by looking at the newest Fox News poll:
Most voters feel the upcoming election matters more than ones in the past.  At the same time, majorities dislike the presumptive nominees — and think they lack the integrity to hold the nation's highest office.

Eighty-five percent say there's more than usual at stake in this year's presidential race, according to a Fox News poll released Thursday.  That's up from 70 percent who felt that way in 2012.  Clinton (83 percent) and Trump supporters (87 percent) are about equally likely to feel like there's more at stake.

The new poll shows Hillary Clinton with a three-point edge over Donald Trump (42-39 percent) in a hypothetical matchup.  That's within the poll's margin of error.

The poll was conducted Sunday through Wednesday — right as Clinton finally captured enough delegates to secure the Democratic nomination.  Trump hit that mark May 26.

Clinton's edge over Trump is due to a six-point drop in support for him rather than an increase for her.  Trump was up by 45-42 percent three weeks ago (May 14-17, 2016).  Since then, he lost three points among self-identified Republicans and 11 points among independents.

Clinton is ahead among blacks (+76), unmarried women (+34), women (+18), lower-income households (+14), and voters under age 30 (+13).

Trump is preferred among white evangelicals (+42), whites without a college degree (+25), whites (+16), men (+15), and independents (+5).

Expect the race to remain tight, as people are pretty set with their choice.

Voters were asked if there is a chance their candidate "could say or do something" that would make them change their mind before Election Day.  More than 8-in-10 Clinton backers say there is no chance at all (57 percent) or only a small chance (24 percent).  Sentiment is almost identical for Trump supporters: 57 percent say no chance and 23 percent say just a small chance.

Voters may be committed to their candidate, but that doesn't necessarily mean they're happy about it.  Trump supporters are split between being happy to vote for him (51 percent) and holding their nose (48 percent).  Clinton backers are more upbeat:  60 percent happy vs. 37 percent holding their nose.

For comparison, in March 2000, only one quarter of George W. Bush supporters (24 percent) and those backing Al Gore (25 percent) said they would have to hold their nose.

Both candidates have reason for optimism.  Among just those "extremely" or "very" interested in the election, Trump is up by 45-41 percent.  That's because more Republicans (78 percent) than Democrats (67 percent) are interested.

On the other hand, far more see Clinton (69 percent) as qualified to be president than feel the same about Trump (47 percent).  And more than twice as many think she is "very" qualified:  37 percent Clinton vs. 17 percent Trump.

Roughly 6-in-10 say Trump is not likeable (58 percent), and he does not have the knowledge (59 percent) or temperament (62 percent) for the job.

By a 39-point margin, voters think Trump is the one who "will shake things up in Washington."

Majorities feel Clinton (54 percent) and Trump (58 percent) lack the integrity to be president.

Some 36 percent of Republicans and 22 percent of Trump supporters think he does not have the temperament to be president.
These numbers are largely consistent with other recent national polls that have shown Clinton in the lead, albeit by single digits and often within the margin of error. The most recent Rasmussen poll, for example, has Clinton ahead of Trump by four points at 42% to 38%. A Reuters/IPSOS poll that shows Clinton ahead by eight points at 42% to 34%. A IBD/TIPP poll that put Clinton five points ahead by five points at 45% to 40%, and a Quinnipiac poll that put Clinton ahead by four points at 45% to 41%. Earlier polling, which stretches back to mid-May shows somewhat similar numbers as well as the apparent impact of the early end of the race for the GOP nomination and Trump's consolidation of support. All of this leaves Clinton with a 3.8 point advantage in the RealClearPolitics average, somewhat lower than it has been in the past, but also indicating other trends that could become important as the race goes on: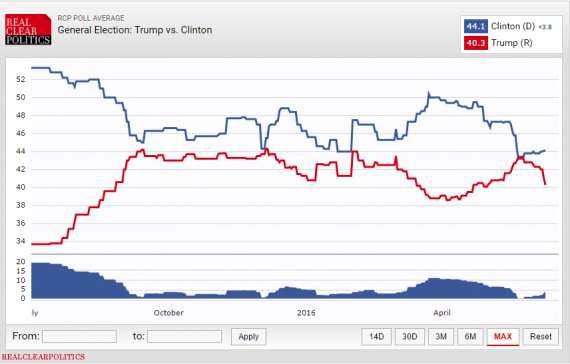 Looking at the chart, we see several interesting things. First of all, while there have been a handful of polls that showed him with a lead over Clinton inside the margin of error, there hasn't been any point in the past six months when Donald Trump led Hillary Clinton in the polling average. There have been a few times when he's come close, obviously, but each time that has happened his poll numbers have dropped, Clinton's have risen, and we've gone back to the status quo of a race with a slight Clinton lead. All of this occurred while Clinton was fighting off a particularly vociferous challenge from Bernie Sanders. Trump's most recent rise came as he consolidated Republican support behind him but quickly seemed to fall away as his poll numbers dropped in the immediate after math of his recent attacks on a Federal Judge, along with coverage of other things he's said in public. It's also worth noting that this polling all took place before Clinton wrapped up the Democratic nomination, so it's possible we'll see the gap between Clinton an Trump grow in the coming weeks.
The picture looks about the same at Pollster:
As things stand, then, it does appear that Hillary Clinton has the advantage as the race begins. Given both the controversies surrounding the presumptive Republican nominee and the fact that Democrats have long held an advantage in Presidential races going back to Clinton v. Bush in 1992, it's not entirely a surprise that the numbers are where they are. Indeed the question going forward will be whether Trump will be able to gain even a temporary lead in the polls and the poll averages, or whether we are looking at a year in which Clinton maintains at least a slight lead for the balance of the race only to pull off a landslide win in November, or one where the race remains close right up until the end and the race ends up going about the same a what we saw in 2008 and 2012. Instinct and intuition would suggest that the GOP is headed for a massive blowout loss, but that's by no means certain. We'll simply have to wait and see which direction the polls take over the coming months.