Post-New Hampshire Polling
We now have five candidates in double-digits.
The first of the post-New Hampshire national surveys are in. As expected, Bernie Sanders is now the obvious frontrunner. But Joe Biden hasn't dropped off nearly as much as the chatter would have us believe and Amy Klobuchar thus far has gotten little bounce. And Mike Bloomberg is suddenly viable.
At least, that's what the latest Morning Consult poll tells us: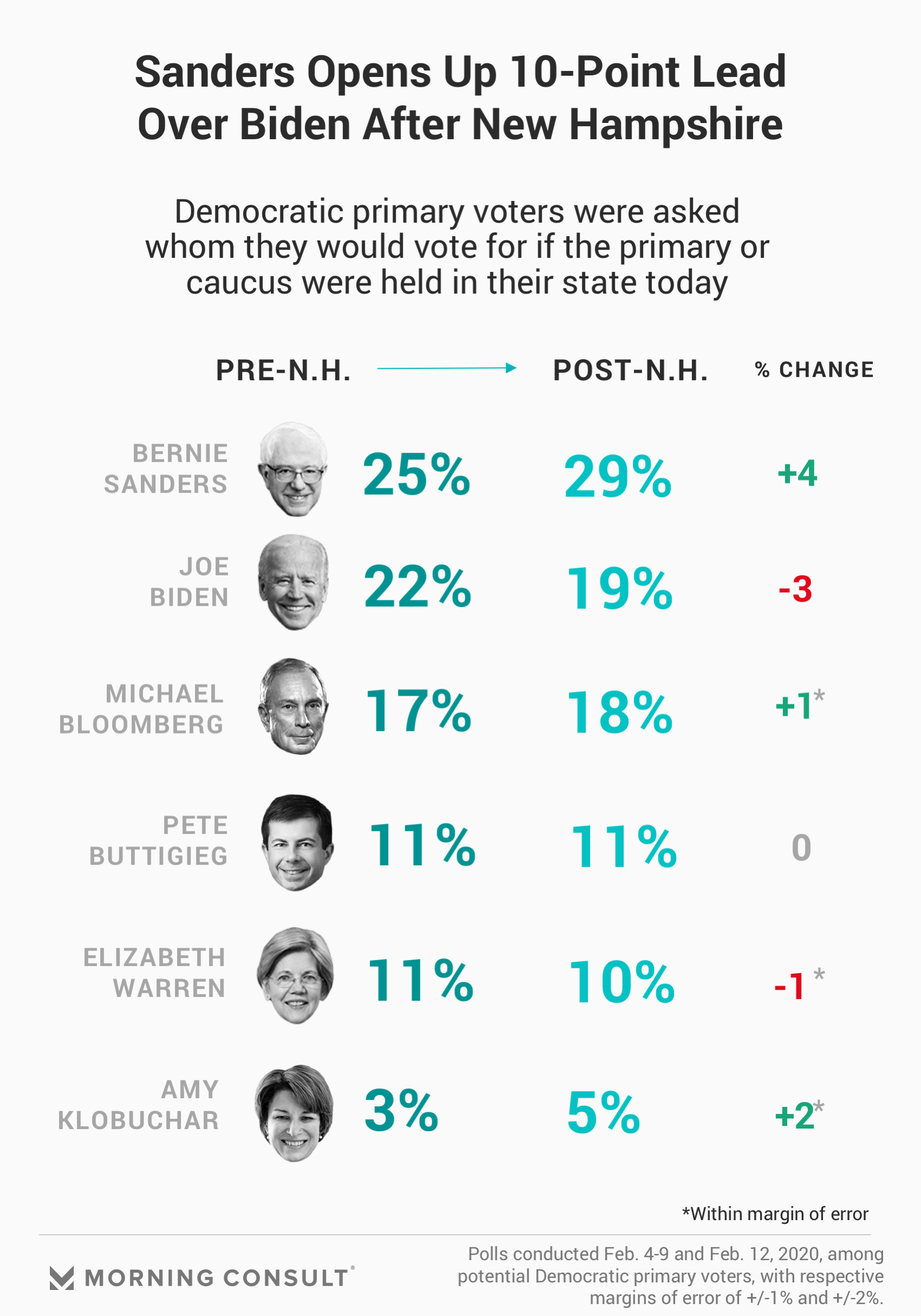 According to a Morning Consult poll conducted Wednesday, the Vermont independent is the first choice for 29 percent of Democratic primary voters, up 4 percentage points since polling conducted Feb. 4-9. Biden's support fell 3 points during that time to 19 percent, leaving him 1 point ahead of former New York City Mayor Michael Bloomberg.

Former South Bend Mayor Pete Buttigieg of Indiana, who placed second in New Hampshire but leads Sanders by a whisker in the race for Democratic National Convention delegates, saw no change in his first-choice support, while the Granite State's third-place finisher, Amy Klobuchar, improved 2 points, to 5 percent. She trails Sen. Elizabeth Warren (D-Mass.) by 5 points.
Granted, trailing by 10 is quite different from being the slight frontrunner. But the actual drop is only three points, which is hardly catastrophic.
The two questions at this point seem to be:
Can Elizabeth Warren get back in the game as the progressive alternative to Sanders?
Can the "moderates" consolidate around one candidate in time to stave off a Sanders victory?
I don't even pretend to have answers at this point.
Certainly, my prediction that the race would be over with soon because of the front-loaded primary schedule seems to be wildly off base. I thought that Iowa and New Hampshire would persuade candidates who had been mired in the single digits, like Klobuchar, to drop out. But, while she's still only at 5%, she clearly got a sense of new life from out-performing Biden in the Granite State.
At this point, I see no reason for any of the six candidates who made the graphic above to withdraw before Super Tuesday. But, if Warren can't mount a comeback soon, she's going to feel enormous pressure to cede the field to Sanders. Similarly, if Biden doesn't bounce back soon, he'll be seen as a spoiler who's handing the nomination to Sanders.