President Obama Supports Mandatory Voting, And He's Wrong To Do So
President Obama thinks that it would be a good idea if everyone were forced to vote. He's wrong, and his idea is most likely unconstitutional.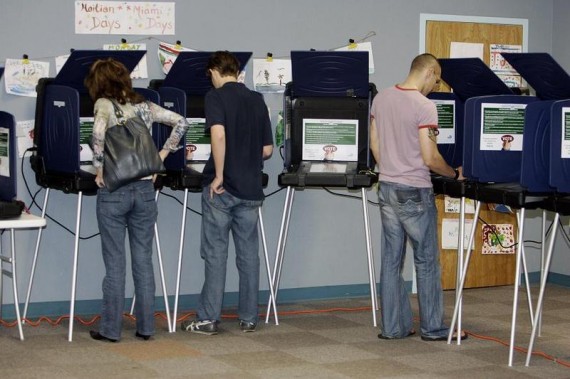 Yesterday during a speech in Cleveland, President Obama suggested that the solution to America's problems lied in forcing every American to vote whether they wanted to or not:
(CNN) The president whose major policy achievement is mandatory health insurance thinks maybe voting should be mandatory, too.
Asked how to offset the influence of big money in politics, President Barack Obama suggested it's time to make voting a requirement.

"Other countries have mandatory voting," Obama said Wednesday in Cleveland, where he spoke about the importance of middle class economics, and was asked about the issue during a town hall.

"It would be transformative if everybody voted — that would counteract money more than anything," he said, adding it was the first time he had shared the idea publicly.

The clout of millionaires and billionaires in campaign funding has been enormous, and many claim the uber wealthy have undue leverage in politics.

"The people who tend not to vote are young, they're lower income, they're skewed more heavily towards immigrant groups and minority groups," Obama said. "There's a reason why some folks try to keep them away from the polls."

At least 26 countries have compulsory voting, according to the Institute for Democracy and Electoral Assistance. Failure to vote is punishable by a fine in countries such as Australia and Belgium; if you fail to pay your fine in Belgium, you could go to prison.

Aside from campaign finance issues, the United States also grapples with one of the lowest voter turnout rates among developed countries.

Less than 37% of eligible voters actually voted in the 2014 midterm elections, according to The Pew Charitable Trusts. That means about 144 million Americans — more than the population of Russia — skipped out.
President Obama isn't the first person to suggest this idea, of course, and he likely won't be the last. Whenever there are stories after any election about lower voter turnout, someone comes up with the idea of making it mandatory that people show up to the polls notwithstanding that the low turnout numbers themselves seem to be a fairly good indication of the fact that there is a large group of people out there who don't want to vote for one reason or another. Five years ago, for example, the Brookings Institution's William Galston proposed that the United States should adopt a mandatory voting system similar to the one that exists in Australia, where voters can be fined if they don't at least come to the polls and mark a ballot although they are given the option of essentially voting "none of the above." Former adviser to President Obama Peter Orszag made a similar proposal in 2012.  The idea has also been floated by political pundits and "serious" journalists every time they lament what is supposedly wrong with American politics in general, and voter turnout in particular. As with most such solutions, though, the idea of mandatory voting seems to create far more problems than it would supposedly solve.
Before we can even discuss the supposed voter turnout "problem," it must be recognized that there are any umber of reasons why people don't vote, either in general or in a particular election. Presidential elections tend to get higher voter turnout than any other year, for example, and that's largely because these are seen as being the most "important" elections. Mid-term elections get lower turnout than Presidential elections historically, but still tend to get higher turnout than off year elections. Finally, primary elections tend to get the lowest turnout of all, in no small part because many states limit primary participation to voters registered as members of a particular political party. On some level, it's perfectly understandable that people are more likely to vote in Presidential elections than other elections, and that off year elections and primaries tend to get lower turnout. While this obviously has some kind of impact on the results of the election I am not sure that it constitutes a "problem." If people choose not to vote in a given election, then that should be their choice. Forcing them to go to the polls isn't going to accomplish anything.
It's also worth noting that these "non voters" come in different categories. In some cases, obviously, they consist of people who are so fed-up with the status quo in American politics, as represented by both major parties, that they don't see any reason to participate. In other cases, there are no doubt a whole host of reasons why people don't vote. Telling them that they have to come to the polls and choose between two candidates they already find unacceptable doesn't strike me as being very productive. Some of these non-voters may live in areas where there isn't really a contested election either because the outcome is obvious from the beginning or because the opposing party didn't even bother putting up a candidate. Fixing the problems that are keeping them away from the polls are going to require something other than forcing people to vote. Other non-voters may not be able to get to the polls when they're open on Election Day, although the availability of early voting in many states and absentee voting in every state makes that argument a difficult one to maintain. To some extent, though, these problems can be fixed through other, less intrusive changes to election law that make it easier to vote early, or via absentee. Finally, this group of non-voters also likely consist of a significant number of people who quite simply don't pay much attention to the news, have no idea who's running, and don't particularly care who wins a given election. Why we would want these people to vote is quite honestly beyond me.
One final objection to the President's idea is related to an argument I made in my response to Galston's proposal five years ago. Unlike Australia and other nations where voting is mandatory, the United States has both a long tradition of protecting political speech, and not compelling that speech, and a specific Constitutional Amendment that protects that right. If the act of voting is anything, it is a specific act of political speech and compelling people to engage in such an act would seem to clearly be a violation of both the letter and the spirit of the First Amendment. Additionally, given the fact that, for at least some people, not voting is intended to be a political act in and of itself, making voting mandatory would deprive them of their right to make that statement in the manner that they choose. Even if the penalty for not voting is just a fine, it is still a penalty and no person should be penalized for refusing to engaged in compelled political speech.
As a practical matter, of course, mandatory voting is something that will likely never come to pass in the United States. There does not appear to be any basis in the Constitution for Congress to pass a law on the matter, for example, and even if it did it would not be able to compel participation in non-Federal elections. At the state level, the arguments against this idea would likely outweigh the arguments in favor of it no matter which party controlled the legislature. And, finally, the legal challenges that such laws would likely face would have a good chance of succeeding for the reasons discussed above. President Obama likely knows all of this, but it was nonetheless disconcerting to see him once again fall back on the idea that people should be forced to do something just because he thinks it would be a good idea.