Previewing The Biggest Night So Far In The 2016 Race For President
By the end of the night, we're likely to be in an entirely new phase of the race for both the Republican and Democratic nominations.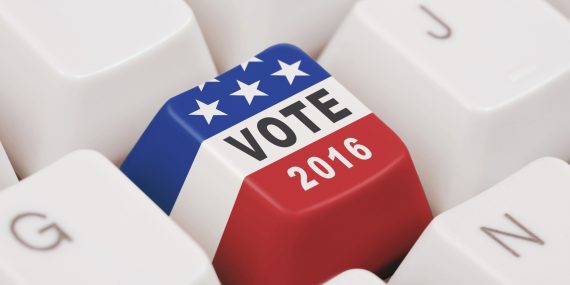 Voters in five states are heading to the polls today in what is likely to be a 'Super Tuesday' that will define how the race for both parties nominations will proceed heading into the April, May, and June when the primary calendar calms own significantly:
MIAMI — Voters are casting ballots in the five states across the Midwest and Southeast holding primaries Tuesday — contests that could shore up the two front-runners or breathe new life into the lagging campaigns of their challengers.

On the Democratic side, Sen. Bernie Sanders (Vt.) was working to pull off more come-from-behind wins in states where voters feel damaged by globalization, allowing him to claim momentum from Hillary Clinton. The former secretary of state enjoys a sizable lead in delegates but has not been able to seal the nomination.

The contests are especially important on the Republican side, offering a chance for billionaire Donald Trump's remaining rivals to finally slow his march to the nomination with two winner-take-all contests that have particularly high stakes for a pair of favorite sons, Sen. Marco Rubio ofFlorida and Gov. John Kasich of Ohio.

Sen. Ted Cruz of Texas, meanwhile, hoped to pick up delegates in contests in Illinois, North Carolina and Missouri and retain his position as Trump's chief Republican rival.

Trump scored an early win Tuesday morning, swamping the tiny vote in a Republican caucus held in the Northern Mariana Islands, according to a tweet from the executive director of the GOP in the U.S. territory.

The win earned Trump nine delegates, only a tiny sliver of the 367 delegates at stake Tuesday. But should the chaotic Republican contest lead to a contested national convention in July, the win could prove important because of arcane party rules that require candidates to have won a majority of delegates in at least eight states or territories. The win was Trump's eighth of the nominating season.

The day's biggest prize is Florida, where 99 delegates are at stake and which could be the last stand for Rubio, a candidate once touted as "the Republican savior" who more recently has badly trailed Trump in polls even in his home state.

Rubio planned to blanket the airwaves of South Florida on Tuesday morning, appealing on English and Spanish-language television and radio stations to the communities that propelled his political rise through the West Miami City Council, to the Florida House of Representatives and into the U.S. Senate.

"Tomorrow we're in Utah but today is about Florida," he said on WFOR-TV in a live interview before the sun came up.

He expressed optimism that Florida voters, who know him best, will provide a surprise win.

"This is not a race for circuit judge. People are going to support — they know who the candidates are, they've been watching for a while," he said.

And he repeated recent remarks that it's "getting harder every day" to pledge he will support Trump, should the businessman win the Republican nomination.

"I'm just disgusted by some of the things he's doing in his campaign, to be honest with you. I know people are angry, I know people are frustrated, but leaders don't take advantage of anger and frustration. They address it, but then they say here's how we're going to solve it. He's spurring it on," he said.

Rubio is scheduled to appear Tuesday night at Florida International University, where he has been a part-time professor.

Hundreds of thousands of ballots have already been cast in early voting in Florida. Turnout was light in the early morning at a polling place near the airport in Miami. But the voters who showed up sounded passionate about their choices.

(…)

Among Democrats, multiple polls in the days leading up to Tuesday's contests showed Sanders closing in on Clinton in three states in the industrial Midwest — Missouri, Illinois and Ohio. But polls show Clinton far ahead in Florida and in North Carolina, setting up the possibility of an outcome parallel to last week's contests, when Sanders scored a narrow and surprising victory in Michigan, yet Clinton came away with a widened lead in the delegate count because of her resounding victory in Mississippi.

In other words, Clinton appears poised to continue her progress toward the Democratic nomination, but ever more bloodied by her battles with Sanders.

The only place with a primary Sanders intended to skip was Florida, where polls have shown Clinton with a sizable lead in the most delegate-rich contest, unlike the other four Democratic primaries Tuesday.

Florida's primary is closed, meaning independents, who have sided with Sanders in large numbers in other states, won't be able to participate. The state is also home to large numbers of seniors, who have gravitated far more heavily toward Clinton elsewhere.

In Miami, Luis Caldera, 61, said he voted for Clinton. He called her "the best option" and said her experience and his familiarity with her career set her apart.

But on the campaign trail Monday, Sanders continued to hammer Clinton, as he did in Michigan, on the issue of trade — arguing that he has been a far stronger ally in the fight to protect manufacturing jobs in Ohio.

"You in Ohio and in the Midwest know about the disastrous trade policies," he told an audience packed into a theater in Akron, where a once-thriving tire industry has experienced a major decline.

"It took me about 13 seconds to figure out that NAFTA was written by corporate America, that its goal was to shut down factories and plants in America, to move abroad to find cheap labor, and bring those products back into America. It didn't take a PhD to figure that out," Sanders said.

Clinton, meanwhile, appeared to take sharper aim at Trump, the Republican front-runner, than at Sanders.

At an MSNBC town hall in Springfield, Ill., Clinton said Trump is evoking the kind of mob violence "that led to lynching."
As I noted yesterday with respect to both the Republican and Democratic races, the outcome in some races seems to be more certain in some states than it does in others, but in both cases the real battle is the battle for delegates. On the Democratic side, the fact that all delegates are awarded proportionally means that the impact of whatever victories that Bernie Sanders is able to steal from Hillary Clinton is blunted somewhat by the fact that Clinton still walks away from each contest with additions to her total delegate count that make the prospect of Sanders ever even coming close to her next to impossible. On the Republican side, meanwhile, the only real question tonight is whether Donald Trump is able to win enough delegates to put him on a clear path to winning the 1,237 delegates that would garner him a majority of the delegates on the first ballot, or just enough to give him a plurality of the delegates, and likely more than any other candidate. However the night turns out, in other words, we will be entering a new phase of the race tomorrow in any case.
Here's how I think it will turn out:
Republicans
First, let's get the easy ones out of the way. Trump will win Florida rather easily, and will likely be declared the winner of the Sunshine State and its 99 Winner Take All delegates relatively soon after polls close at 8pm Eastern in that part of the Florida panhandle that lies in the Central Time Zone (the rest of the state will see its polls close at 7pm Eastern and we'll get early results from those parts of the state well before western panhandle voters are finished voting, although news organizations will refrain from declaring a winner while some polls are still open. Trump has been leading by double digits in the polling here for some time now, and there's no reason to believe that it's incorrect. The only question is whether Marco Rubio suspends his Presidential campaign tonight, or waits until later in the week. Trump will also easily win in North Carolina, where polling has shown him with similar double digit leads, and grab a substantial portion of its 74 delegates. I'll also pick Trump to win Illinois, although it's likely to be a closer affair than the other two states and he may have to share some of the state's 69 delegates since they are awarded based on the results in each Congressional District.
The one unknown tonight seems to be Missouri, thanks largely to lack of polling. As I noted yesterday there seems to be some agreement among analysts that Ted Cruz could pull off a win here. So, let's give Ted Cruz the win in the popular vote, but the delegate allocation could be interesting since Missouri follows the same District-based allocation that Illinois does. This means Trump in particular could still do well in picking up delegates even if he narrowly loses the state overall.
Governor John Kaisch has been surging of late in Ohio, so the smart money would seem to me to be on him winning the popular vote and taking all of the Buckeye State's 66 delegates. At the same time, the contrarian thought has occurred to me that Kaisch really ought to be doing better than a single digit lead in the polling average over Donald Trump in a state where he has a very high job approval rating. Given that, the idea that Trump could pull off what would amount at this point to a surprise win here should not be discounted. Let's call this one a coin flip then, but under the circumstances a coin flip suggests to me that Trump could end up pulling off a win. If that happens, then Trump's path to the nomination would be virtually unstoppable.
Democrats
As with Trump on the Republican side, Hillary Clinton's victories in Florida and North Carolina seem to be self-assured and likely to be called early in the evening. In both states, the Democratic front runner has a double digit lead and there's no reason to believe those numbers are inaccurate. This is especially true given the fact that the Democratic electorate in both states consists of large numbers of African-Americans, which have been particularly loyal to Clinton throughout the race so far. I also expect that Clinton will win in Illinois notwithstanding the fact that polls have shown Bernie Sanders making the contest close in the Land of Lincoln.
As with the Republican race, Missouri is one state where an upset win seems likely. There's been very little polling in the Show Me State, and what little there has been seems to show that Bernie Sanders could do well here. So, let's give Missouri to Sanders narrowly, with the understanding that the proportional allocation of delegates means that it's not likely to mean very much to the race for a majority of delegates, which Clinton is clearly winning.
Finally, in Ohio Clinton leads the polls and seems well-positioned to win, but many have wondered whether Sanders efforts to appeal to blue color voters by hammering Clinton on her support for past trade deals will hurt her the way it clearly did in Michigan. My guess is that it will hurt, but not nearly as much as it did in the Great Lakes State and that Clinton will manage to pull off the win here to give her the lion's share of the Buckeye States 143 Democratic delegates.
So there you have my projections. Starting tonight at 7pm, we'll see how right, or wrong I am.