Protesting at Officials' Homes
Is harassing judges, mayors, Senators, and the like in their private lives just free speech?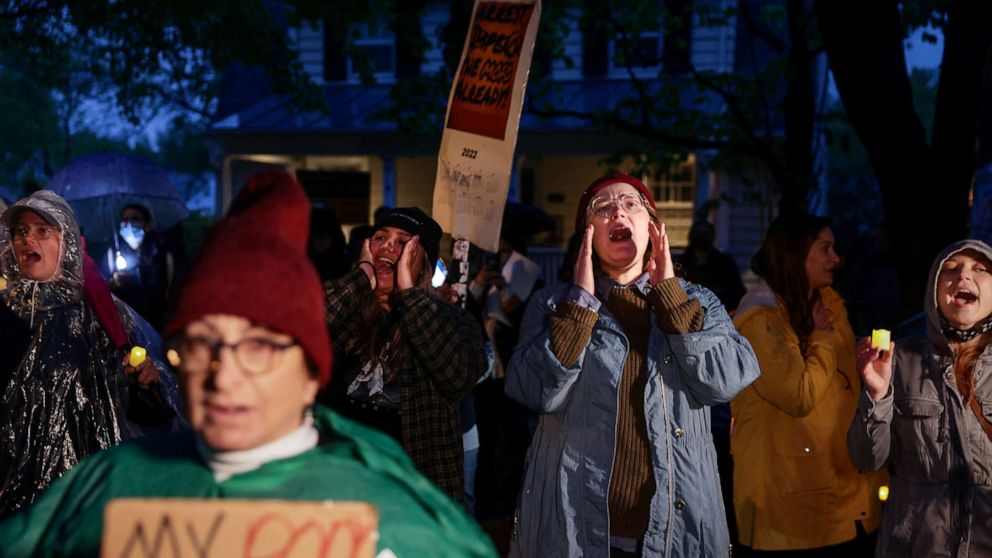 Since news leaked of the Supreme Court's coming repeal of Roe v Wade, protesters have gathered outside the suburban Maryland homes of Chief Justice John Roberts and Justice Brett Kavanaugh. Official reaction has been swift.
WSJ ("Senate Passes Bill to Protect Supreme Court Justices' Families"):
The Senate swiftly passed a bill to expand police protections for Supreme Court justices to include their immediate family members, in the wake of protests following a leaked draft ruling that indicated the court could overturn Roe v. Wade.

The measure passed late Monday by unanimous consent. The broad support in the Senate suggests a clear pathway to passage in the House, but no immediate plan was set.

[…]

The Supreme Court is currently surrounded by security fencing to guard against potential threats. Over the weekend, some protesters demonstrated outside the home of Supreme Court Justice Brett Kavanaugh in suburban Chevy Chase, Md.

Senate Minority Leader Mitch McConnell (R., Ky.) accused progressives of trying to harass justices at their homes in order to achieve a desired judicial outcome, saying they were trying to "replace the rule of law with the rule of mobs." He also said the White House had been slow to condemn such protests.

At the daily White House briefing Monday, press secretary Jen Psaki said protesters "should never resort to violence, to threats, to intimidation in any way, shape, or form."
The Washington Post editorial board implored "Leave the justices alone at home."
The right to assemble and speak freely is essential to democracy. Erasing any distinction between the public square and private life is essential to totalitarianism. It is crucial, therefore, to protect robust demonstrations of political dissent while preventing them from turning into harassment or intimidation. An issue that illuminates this imperative in sharp relief is residential picketing — protests against the actions or decisions of public officials at their homes, such as the recent noisy abortion rights demonstrations at the Montgomery County dwellings of Supreme Court Chief Justice John G. Roberts Jr. and Justice Brett M. Kavanaugh. The disruptors wanted to voice opposition to a possible overruling of Roe v. Wade, as foreshadowed by a leaked majority draft opinion last week. What they mainly succeeded in doing was to illustrate that their goal — with which we broadly agree — does not justify their tactics.

The protests are part of a disturbing trend in which groups descend on the homes of people they disagree with and attempt to influence their public conduct by making their private lives — and, often, those of their families and neighbors — miserable. Those targeted in recent years include not just the conservative justices but also Senate Majority Leader Charles E. Schumer (D-N.Y.); Mayor Ted Wheeler (D) of Portland, Ore.; and exiled Chinese dissident Teng Biao. To be sure, such tactics have a longer history: One of the ugliest manifestations was the antiabortion movement's widespread deployment of pickets at the homes of abortion providers. What begins as peaceful protests can degenerate into violence: The oft-picketed author of Roe itself, Justice Harry A. Blackmun, was startled one evening in 1985 by the sound of a bullet shattering his Arlington apartment's window.

To picket a judge's home is especially problematic. It tries to bring direct public pressure to bear on a decision-making process that must be controlled, evidence-based and rational if there is to be any hope of an independent judiciary. Critics of reversing Roe maintain, defensibly, that to overturn such a long-standing precedent would itself violate core judicial principles. Yet if basic social consensus and the rule of law are to be sustained — and if protesters wish to maximize their own persuasiveness — demonstrations against even what many might regard as illegitimate rulings must respect the rights of others. And they must be lawful.

White House press secretary Jen Psaki said Monday on Twitter that President Biden abhors "violence, threats, or vandalism," and that judges "must be able to do their jobs without concern for their personal safety." This was a welcome clarification of the noncommittal statement Ms. Psaki made Friday.
It's not just a matter of etiquette; it's apparently actually illegal:
A Montgomery County ordinance permits protest marches in residential areas but bars stationary gatherings, arguably such as those in front of the Roberts and Kavanaugh residences. A federal law — 18 U.S.C. Section 1507 — prohibits "pickets or parades" at any judge's residence, "with the intent of influencing" a jurist "in the discharge of his duty." These are limited and justifiable restraints on where and how people exercise the right to assembly. Citizens should voluntarily abide by them, in letter and spirit. If not, the relevant governments should take appropriate action.
While I'm skeptical that the federal law in question passes 1st Amendment muster—restrictions based on political motive are highly suspect—a ban in residential areas aimed at keeping down noise and congestion likely would.
The issue is not a new one and there seems to be widespread consensus that officials should not be subject to harassment in their private lives. Indeed, it's hard to find well-conceived arguments to the contrary.
Reason's Robby Soave gives it a half-hearted try:
The street and sidewalk are public spaces, and it's legally permissible to protest there. The First Amendment rightly protects Americans whose displeasure with their government's policies compels them to engage in free expression—even if the form that expression takes is hostile and unpleasant. The Bill of Rights enshrines the people's right to protest; there is no right enjoyed by government actors to avoid witnessing protests.

Needless to say, that is separate from the question of whether such tactics are wise or worthwhile.
That's his argument in its entirety.
Vogue culture writer Emma Specter is more enthusiastic in "Inconveniencing Brett Kavanaugh Right Now Is Good, Actually."
I'm not condoning trespassing or any other illegal activity, but are we really criticizing pro-choice activists for having the audacity to show up at the homes of Supreme Court justices, when those same Supreme Court justices seem to feel perfectly comfortable making their presence known in our bedrooms, our marriages, and our doctor's offices? What constitutes Kavanaugh's right to privacy when he has all but deemed my right to a safe, easily accessible, and yes, private medical procedure illegal?

Protesting at a public figure's family home isn't without its collateral damage, and while I do feel bad for Kavanaugh's children (we don't choose our parents, after all), I also feel bad for Rosie Jimenez's daughter, who was left without a mother when Jimenez died from an unsafe abortion in 1977, after the Hyde Amendment cut off Medicaid funding for safe medically-supervised abortions. I feel bad for the children of the woman known only as 'Manuela', who have to live with the knowledge that their mother was handcuffed to a hospital bed in El Salvador after a miscarriage. I feel bad for all the people who know and love Lizelle Herrera, arrested just last month in Texas's Rio Grande Valley for "causing the death of an individual by self-induced abortion." When you stack a peaceful protest in a Maryland suburb against all that human suffering, the contrast feels stark.

If you're concerned about the effect that these protests would have on Kavanaugh's neighbors, allow me to put your mind at ease. They're the ones who organized the protest, driving home the point that the right to abortion isn't theoretical or being questioned in some faraway place; abortion rights intimately affect the lives of your neighbors, your friends, your coworkers, and the people you build your life with. To take them away is to tell those very same people that your interpretation of the law matters more than their lived experience.

Of course, some are chiming in with calls for civility. (It's worth noting that the protests were entirely peaceful, without any trespassing or destruction of property.) But it feels ironic that, to many, maintaining politeness supersedes the freedom of expression of a group of people having their right to autonomy over their own bodies forcibly taken from them. If Christine Blasey Ford, the woman who accused Kavanaugh of sexual assault in 2018, didn't enjoy the privilege of being unbothered in her home after going public with her story, why should he? For that matter, if people seeking abortions are regularly harassed and threatened on their way into clinics to obtain often lifesaving care, why shouldn't the Supreme Court justices who choose to make their experiences even more difficult expect some minor level of inconvenience to their day?

Ultimately, the point of political protest isn't to blend seamlessly into the background, or to take place at a convenient hour. The point is to disrupt the status quo—and that's exactly what the pro-choice activists outside Kavanaugh's house are doing. "I was known as the angriest man in the world, mainly because I discovered that anger got you further than being nice," the late AIDS activist Larry Kramer was once quoted as saying, and he was (as ever) right—if there was ever a time for "nice" expression of dissent, it's in the rearview mirror now. As the posters at the protests say, respect existence or expect resistance. Just don't be surprised when that resistance makes your day-to-day life more difficult; that's what it's supposed to do, after all.
While emotionally powerful, these appeals are intellectually thin.
First, no, "his neighbors" didn't organize the protest in front of Kavanaugh's house. One particular neighbor, Lacie Wooten-Holway, did. And, indeed, the very story Specter links notes that other neighbors resent the intrusion into their private space.
The main argument seems to be that two wrongs actually do make a right. But Kavanaugh was 12 in 1977. The US Supreme Court has no jurisdiction over El Salvador. The Texas anti-abortion law is extreme but Kavanaugh didn't pass it. And harassing Blasey Ford at her home was shameful, not a model that should be expanded upon.
The secondary argument—that protests are supposed to be inconvenient—is more compelling. But it's one thing to inconvenience Justices or Members of Congress as they try to get to their office or have to listen to chanting through megaphones while doing their job. Or even inconveniencing would-be patrons of a business being picketed by striking employees. It's another thing indeed to harass the children and neighbors of officials in their homes.