Question Of The Day: Will He Stay Or Will He Go ?
There's really only one story in Washington, D.C. today, and Stanley McChrystal is the star player.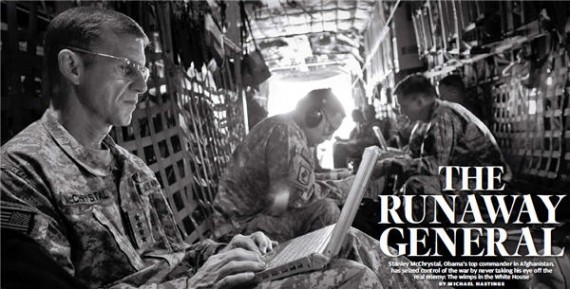 Within the hour, General Stanley McChrystal will begin what is probably the most difficult non-combat day of his military career and he seems to clearly understand that his neck is on the line:
During his round of phone calls to top officials of the Obama administration whom he and his team disparaged to a Rolling Stone reporter, Gen. Stanley McChrystal said, "I've compromised the mission," a senior administration source tells ABC News.

Whether he did so irrevocably is at the top of the agenda in his Oval Office meeting with President Obama this morning. The president will press him as to what he was thinking and whether he still has the ability to serve as commander of 100,000 US troops in Afghanistan after making remarks about the president and his national security team that the general could use to justifiably fire any of his underlings if they were made about him.

"He'll have to have some pretty good answers to some tough questions," a senior White House official tells ABC News.

McChrystal will have a legitimate opportunity to make his case to keep his job, officials said.

Officials described the reaction within the West Wing as immediate anger and certainly that McChrystal be fired, followed by a willingness to hear the counterargument given the importance of the war, its perilous state, the fact that the story revealed no policy disagreements, how closely tied McChrystal is with the current strategy, and the fact that Gen. David McKiernan was dismissed from the same job last Summer.
In the last twenty-four hours, a wide range of voices have spoken up regarding their opinion of what the President should do in this situation. The Afghan government, for example, is expressing concern that replacing McChrystal at this point would endanger the success of a military policy that he pretty much drafted himself, and there are some here in the U.S. raising the same concern. In today's Wall Street Journal, though, Eliot Cohen argues that President Obama doesn't really have a choice, McChrystal must go:
Gen. McChrystal's just-published interview in Rolling Stone magazine is an appalling violation of norms of civilian-military relations. To read it is to wince, repeatedly—at the mockery of the vice president and the president's special representative to Afghanistan and Pakistan, at the sniping directed toward the U.S. ambassador, at a member of his staff who, when asked whom the general was having dinner with in Paris said, "Some French minister. It's so [expletive deleted] gay." The quotes from Gen. McChrystal's underlings bespeak a staff so clueless, swaggering and out of control that a wholesale purge looks to be indicated

(…)

There is, however, a more fundamental issue: military deference to civilian authority. It is intolerable for officers to publicly criticize or mock senior political figures, including the vice president or the ambassador (who is, after all, the president's personal representative to a foreign government). It is intolerable for them to publicly ridicule allies. And quite apart from his own indiscretions, it is the job of a commanding general to set a tone that makes such behavior unacceptable on the part of his subordinates.

After Gen. McChrystal's understandable but somewhat impolitic address at the International Institute for Strategic Studies last fall, the message from Washington was clear: Stay mum. In this business one deserves one mistake—and this second mistake is far, far worse than the first.
I agree with Cohen, McChrystal has to go. At some point this afternoon I expect the announcement to be made.