Rand Paul: Bill Clinton's Lewinsky Affair Relevant To 2016 Election
Rand Paul seems to think a 15 year old scandal is relevant to the 2016 Presidential race.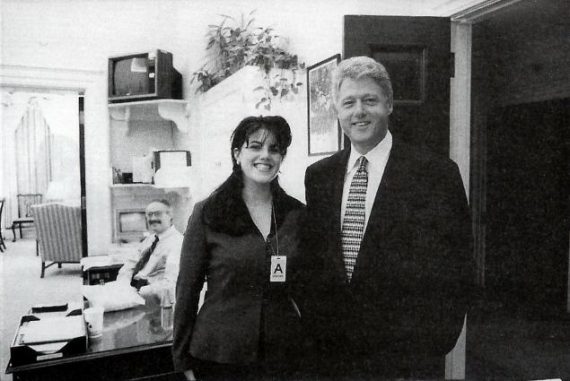 Kentucky Senator Rand Paul, who looks for all the world like he's preparing for a run at the Republican nomination for President in 2016, apparently thinks that a 15 year old scandal that ended up harming the GOP more than anyone else is somehow relevant to the 2016 race for President:
Sen. Rand Paul (R-Ky.) suggested Sunday that the Bill Clinton-Monica Lewinsky scandal should give Americans pause when it comes to evaluating the Clinton legacy — and, by extension, Hillary Rodham Clinton's potential presidential campaign.

(…)

"One of the workplace laws and rules that I think are good is that bosses shouldn't prey on young interns in their office," Paul said. "And I think really the media seems to have given President Clinton a pass on this. He took advantage of a girl that was 20 years old and an intern in his office. There is no excuse for that, and it is predatory behavior."

Paul said the episode undercuts Democrats' allegations of a GOP "war on women" and should color people's perceptions of the Clintons. He added that "sometimes it's hard to separate" Bill and Hillary Clinton.

"And then they have the gall to stand up and say Republicans are having a war on women?" Paul said rhetorically. "So yes, I think it's a factor. It's not Hillary's fault, but it is a factor in judging Bill Clinton and history."
Here's the video:
Paul's comments here strike me as being particularly obtuse. For one thing, what Bill Clinton did in the mid-90s, and the political and indeed Constitutional crisis that followed doesn't really tell us much of anything about the person who will be on the ballot if she runs, Hillary Clinton. Indeed, if anything the entire Lewinsky affair remains something out of which Hillary emerged as a sympathetic character. Bringing the episode up again during the course of the 2016 election doesn't strike me as something that's going to accomplish anything at all beneficial for the Republican Party.
Some on the right seem to see the whole history of the Lewinsky story as some kind of counter argument to the idea of a GOP "War On Women," because it points out that Bill Clinton was engaged in predatory conduct toward women while he was President. Even accepting the truth of that last statement, though, I don't see how that helps the GOP in convincing female voters in particular that the party is listening to them. In fact, attempting to attack Hillary by bringing up the fact that her husband was unfaithful in their marriage strikes me as something that is just as likely to reinforce the "War On Women" meme as anything else. What else can you call it when they start attacking a wife for the fact that her husband cheated on her? Such rhetoric is likely to help Paul among conservative voters but it seems unlikely to resonate very well among voters as a whole, and certainly not among the female voters that it was supposedly aimed at.
Paul's comments tell us one thing beyond the whole "War On Women" meme, though, and that is how the GOP would react to a Hillary Clinton candidacy and possible Presidency. Clearly, we'd be looking at a resumption of the same Clinton-era partisanship and conspiracy theories that we saw from 1993 all the way through the end of Clinton's Presidency. Not only will we start hearing about the Lewinsky scandal again, but there will likely be a return to everything from Whitewater to the suicide of Vince Foster (including the rumors that Hillary was having an affair with Foster). Someone will likely raise the old issues regarding Hillary and her success in the futures markets while he husband was Governor of Arkansas. Others will likely bring up whatever precise controversy it was that led people to be so interested in Hillary's billing records from the time she worked at the Rose Law Firm. Added into that, obviously, will be issues like Benghazi and the general conservative argument that Hillary Clinton didn't accomplish anything of note either as a Senator or as Secretary of State. In other words, it will be a replay of everything we saw during the time that Bill Clinton was President. Given the fact that former President Clinton emerged from all of that with fairly high poll numbers, and that he remains one of the most popular of the living former Presidents, I'm not exactly sure why Republicans think this will work.