Raul Castro Says he is Willing to Talk
The US government has an odd and unproductive view on the concept of talks.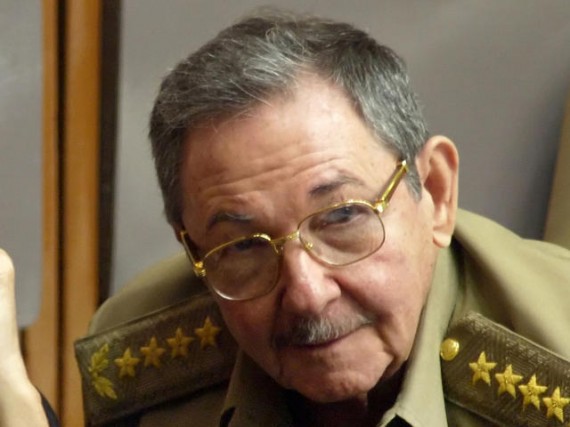 Via the AP:  Raul Castro: Cuba willing to sit down with US
At the end of a Revolution Day ceremony marking the 59th anniversary of a failed uprising against a military barracks, Castro grabbed the microphone for apparently impromptu remarks. He echoed previous statements that no topic is off-limits, including U.S. concerns about democracy, freedom of the press and human rightson the island, as long as it is a conversation between equals.

"Any day they want, the table is set. This has already been said through diplomatic channels," Castro said. "If they want to talk, we will talk."
Now, do I think that it is likely that democracy and human rights would flower quickly and with ease if the US sat down with the Cuban government?  No.  However, do I think we all would be moving in a more positive direction if we did so?  Yes.
The evidence is pretty clear:  the lack of talking has hardly lead to liberalization on the island.  Nor, I would note, has it really been of any use to the United States over the last two decades.  The policy, quite frankly, makes no sense.
Further, as I have maintained for quite some time:  liberalization becomes more likely via engagement, not by continued isolation.
Unfortunately, US terms for talking are illogical:
Later Thursday, Mike Hammer, assistant secretary for public affairs at the U.S. State Department, said that before there can be meaningful engagement, Cuba must institute democratic reforms, improve human rights and release Alan Gross, a Maryland native serving 15 years for bringing satellite and other communications equipment into Cuba illegally while on a USAID-funded democracy-building program.

"Our message is very clear to the Castro government: They need to begin to allow for the political freedom of expression that the Cuban people demand, and we are prepared to discuss with them how this can be furthered," Hammer said. "They are the ones ultimately responsible for taking those actions, and today we have not seen them."
In other words, the US is willing to talk about democratization and liberalization only if Cuba would democratize and liberalize.  This is just like the US insisting that the it will only speak to Iran about stopping its nuclear program if it first stops its nuclear program or the notion that Israel can only negotiate with the Palestinians about recognizing Israel's right to exists if the Palestinians will first recognize Israel's right to exist.
It is as if on the hard question the US government will only talk if the problems are pre-solved.  Perhaps it is the thought that "talks" mean "celebration of the achievement of all goals and the resolution of all problems" instead of "a starting place for negotiation to figure out how to solve difficult and intractable problems that aren't solving themselves."
Without a doubt mutual signs of goodwill (such as the release of Gross) are reasonable expectations.  However, the notion that the major issue that would require negotiations could be solved sans said negotiations.
By the way:  I recognize that talks of the type described herein are hardly a guarantee to solve anything.  However, these problems are hardly solving themselves and the unwillingness to increase communication and mutual understanding strikes me as counterproductive.
There is also the argument that talks will legitimize the adversary in question.  However, if we think about Cuba, it is worth noting that the currently regime has been in place since 1959.  I am pretty sure it acquired all the legitimacy it was going to need some time ago.  And, ironically, the US has actually empowered that regime by treating it like a major adversary, even well after its strategic significance (which was linked directly to the Cold War and not to any inherent power) evaporated.