Republican Field Not Weak As You Think
The GOP doesn't have a charismatic superstar waiting in the wings. That's okay.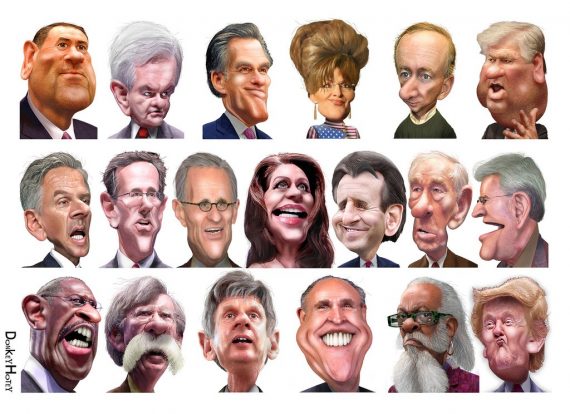 Ramesh Ponnuru makes a strong case that all the handwringing about the weakness of the Republican field is misplaced. First, he notes the qualifications of the top-tier candidates:
The three people most likely to win the Republican nomination — Mitt Romney, Tim Pawlenty and Jon Huntsman, according to Intrade.com — have all been governors. Two of them were governors of states that Obama carried in 2008. By contrast, the top three candidates for the Democratic nomination last time around (Obama, Hillary Clinton and John Edwards) had a combined zero days of executive experience. This time, even some long-shot Republican candidates have stronger resumes than that: Libertarian gadfly Gary Johnson, for example, was a two-term governor of New Mexico.

Romney is well-versed on the issues and fast on his feet. Pawlenty, by addressing voter concerns about health care and traffic congestion while holding the line on taxes, managed to win re-election in deep-blue Minnesota in 2006, when Republicans were routed nationwide. Huntsman was a popular governor of Utah and, as the former ambassador to China, is knowledgeable about the country's most important economic relationship.

All three have real political skills, and real accomplishments. All can credibly challenge Obama on the economy: Romney and Huntsman because of their business backgrounds, Pawlenty and Huntsman because their states did relatively well under their leadership during the worst of the recession. None of these men is positioned on the right edge of their party. If one of them wins the nomination, Democrats may be able to convince voters that the Republican Party as a whole is unsuited for power. But they won't be able to make a case that the nominee is a particularly extreme member of the party.
We're in agreement here. While there are some people in the field that I, as a Republican for three decades, couldn't vote for, Romney, Pawlenty, and Huntsman are all plausible presidents. The weakness argument, mostly, is about charisma and star power. But Ponnuru thinks that's misguided:
So why the disrespect? Partly it's because the number of serious contenders is small. If Huntsman doesn't take off, the race could well be a two-man contest between Romney and Pawlenty. The Democratic wave elections of 2006 and 2008 left Republicans with few plausible contenders (although their own wave election of 2010 gives them a deep bench for 2016). And no candidate dominates the field, giving a misleading impression about the strength any of them would bring to the general election.

Dissatisfaction with the Republican candidates is also a matter of psychology. Republicans may not like, and some of them may not even respect, the incumbent president. They nonetheless see him sitting in the Oval Office and commanding troops. They see their own candidates, by contrast, sharing a stage with a bunch of other people, some of them fringe figures. They seem small. They will keep seeming small until some of them start winning primaries and one of them wins the nomination.

Offstage, Republicans imagine, is the perfect candidate. He has to be offstage because nobody onstage is perfect. He also has to be offstage because not running is part of his perfection. If he ran, he would be another guy competing for microphone time at the debates. The other candidates would suddenly have an incentive to draw attention to his flaws.

Right now, conservatives think of Congressman Ryan as a bold, free-market visionary. Within weeks of his entering the race, he would be redefined as the longtime Washington fixture who voted for TARP, the prescription-drug benefit, the auto bailout and other bills hated by Republican primary voters.
He's certainly right about Ryan–or any mythical candidate not in the race. Once their records are examined, people will find things they don't like. The only candidate in my memory where that didn't happen was Barack Obama–who had no record to speak of and managed to get all the way through an election cycle persuading all but the most hard-core Republicans that he basically agreed with them on every issue.
Unlike me and most of the readers of political blogs, most Americans–indeed, most primary voters–have barely started paying attention to the election. I live and breathe politics and policy day in, day out, regardless of how far we are from an election. And yet I know very little about Tim Pawlenty, much less Jon Huntsman. But, unless I'm badly misjudging the dynamics of the process, they're the only plausible challengers to Mitt Romney for the nomination.
The television age has given a huge advantage to charismatic personalities. John Kennedy was the first television candidate and we've had Ronald Reagan, Bill Clinton, and yes, Barack Obama in my lifetime. On the other hand, we've also had Lyndon Johnson, Richard Nixon, Jimmy Carter, and George H.W. Bush. (Gerald Ford was never elected and George W. Bush could arguably go on either side of the ledger.)
Obama is an incumbent president who's charismatic, likable, disciplined, and able to raise boatloads of money. He's the odds-on favorite for 2012. But given a bad economy and the vagaries of unfolding events between now and election day, any of the reasonable Republicans have at least a puncher's chance.
UPDATE: Apparently, this is becoming a meme. At the NYT Caucus blog, Matt Bai has re-written Ponnuru's column almost verbatim as "Cheer Up, Republicans, the 2012 Field Isn't That Bad." And Jay Cost took to The Weekly Standard with "A Formidable Republican Field."  He, too, focuses on Romney, Pawlenty, and Huntsman and offers four reasons why they're bad news "for President Obama and the Democrats.
1. Crossover appeal. Huntsman, Pawlenty, and Romney all won statewide elections by performing better than the party normally does in each state. In 2008 Jon Huntsman won 64 percent of the gubernatorial vote in Utah (an improvement on his performance relative to 2004), while John McCain won 62 percent of the presidential vote that same year. Tim Pawlenty won reelection in Minnesota in 2006 narrowly, but this was still an impressive feat considering that Minnesota retains a blue tilt and 2006 was a terrible year for Republicans in general. T-Paw won about 100,000 more votes that the Republican candidates in the 8 Minnesota House districts that year, and 200,000 more votes than Mark Kennedy, the GOP candidate for the open Senate seat. In 2002, Mitt Romney won a comfortable, five point victory in Massachusetts, despite the fact that his party is so weak in the Bay State that it ran just 4 candidates in the 10 House districts that year.

In other words, all three have demonstrated an ability to pull in voters who have previously backed Democrats, which is a requirement if the GOP is going to win the presidency back next year.

2. Records as governors. All three of these candidates earned a national reputation as governors, which will give them all an opportunity to point to their executive records in contrast to President Obama's. This is preferable to coming up through the ranks via the House and Senate, where people don't really "run" anything. And, as we saw with Bob Dole, John Kerry, John McCain, and even Hillary Clinton, Senate candidates often have that strange dialect known as "Senate-ese," wherein they talk about their experience on this or that subcommittee, their support for this or that amendment, or their vital role in this or that part of the inscrutable appropriations process. Put simply, Huntsman, Pawlenty, and Romney can present themselves as men of action, rather than men of deliberation — and action is what the country wants.

3. No "gotcha votes." There's a second advantage that comes from not having been in Congress. When you're in the House or the Senate, you end up having to vote on pretty much every divisive issue that the country deals with. Many of these votes are irrelevant — having to do with the legislative process or being for/against bills that have literally no chance of becoming law. Even so, the congressional record is a great place for campaign researchers go when they're looking to smear the opposition. They can take some otherwise irrelevant vote on, say, abortion, taxes, Medicare, whatever, and turn it into a crime against all decency. Governors don't have that problem, at least not nearly to the same degree. While some laws with controversial items might get signed or vetoed, the state legislature regularly works as a buffer for governors. And furthermore state governments do not have to deal with nearly as many divisive subjects as the U.S. Congress does.

4. No bloodbath. I've been pointing out for a while that it's unlikely that the GOP will have to go through the kind of war that nearly destroyed the Democrats in 2008 — in large part because the Republican party is much more homogenous. If this is the final field (and it might not be), the chances of an extended and bloody primary fight are now even smaller. In fact, there is a growing chance that the nominee could be set by mid- or even early February. The three top candidates are very similar to each other in terms of their background and the nature of their appeal, being as they all are center-right governors who plan to emphasize their abilities to get things done. There's really no need for an extended primary season to see which one is the preferred candidate.
We shall see. If this is indeed the field, Romney has the clearest path to the nomination. He came in a very respectable second in both Iowa and New Hampshire last cycle and the candidates who beat him, Mike Huckabee and John McCain, aren't running this year. And he's the runaway favorite in New Hampshire in the early polling.
Sarah Palin is the obvious wildcard, in that she would be tough to beat in Iowa. But if it's three moderate former governors running against one another, the path to the nomination could indeed be smooth and without the damage that a fight with the Tea Party faction would cause.