Republican Race Remains Tight, Clinton Continues To Dominate General Election Polling
The GOP race remains tight, but some candidates have benefited from their entry into the race more than others. Overall, though, Hillary Clinton continues to dominate.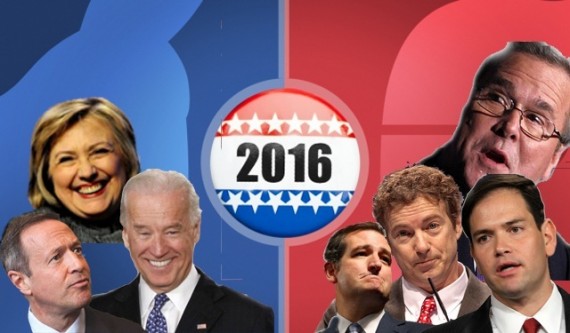 One of the first national polls conducted after the wave of Presidential campaign announcements that began last month with Ted Cruz's speech at Liberty University shows that, while there has been some movement in the wake of the announcements, the GOP race remains tight and Hillary Clinton remains both a prohibitive favorite for the Democratic nomination and leading in General Election match-ups:
With the ranks of declared 2016 presidential candidates growing, a new CNN/ORC poll finds the contests for the Democratic and Republican presidential nominations solidifying around two key points: Hillary Clinton dominates everyone on the Democratic side, while no one has broken out of the pack on the Republican side.

The recent formal entries into the Republican race by Marco Rubio, Rand Paul and Ted Cruz have stirred up the GOP field somewhat, but still, no clear leader has emerged. The new poll finds Jeb Bush has held on to the top spot among Republicans and Republican-leaning independents, but Bush's edge is slight and there are multiple contenders for the nomination who could overtake him with just a small increase in support at the same time that some previously strong contenders have faded.

Overall, 17% of Republicans and Republican-leaning independents back Bush for the GOP nomination, while 12% support Wisconsin Gov. Scott Walker. Paul and Rubio stand at 11% each, with former Arkansas Gov. Mike Huckabee at 9% and Cruz at 7%. Former neurosurgeon Ben Carson and New Jersey Gov. Chris Christie, both of whom placed second in CNN/ORC polls as recently as last fall, are now well behind the leader at 4% each.

Bush's edge in the nomination contest extends across several attributes viewed as key to winning the presidency. He is most often named as the candidate with the right experience to be president (27%), as the one with the best chance of beating the Democratic nominee in the general election next November (26%) and as the strongest leader in the large field of GOP contenders (21%). He is also more often seen as the candidate with the clearest vision for the country's future (19%), who cares the most about people like you (18%), and who most closely shares your values (19%).

On one metric, however, Bush has an emerging challenger. While 18% see Bush as the candidate who best represents the future of the Republican Party, the same share say fellow Floridian Rubio is the best representation of the GOP's future. Paul, at 10%, is the only other candidate in double digits on this question.

The poll suggests Rubio's campaign rollout has helped raise his profile in the party, boosting him into the top five in the overall race for the GOP nomination. But sustaining that momentum through the many campaign rollouts to come could be a challenge.

Cruz's announcement raised his numbers among Tea Party backers, but he has shown little improvement elsewhere. Among tea party supporters, Cruz and Walker tie for the top slot at 15%, Rubio follows at 14%, Paul 12%, and Bush 11% with the rest in single digits. In a March CNN/ORC poll, Cruz had just 6% among Tea Party backers, Walker had 22%.

Cruz and Walker's tea party strength seems to rest on their credentials as strong leaders, perhaps burnished by their high-profile stands on Obama's health care overhaul in the Senate and labor issues in Wisconsin, respectively: 21% of tea party Republicans call Cruz the strongest leader in the field, 16% say Walker is.

The poll finds little sign of an announcement bump for Paul.
In Paul's case, actually, the CNN/ORC poll that was taken before he got in the race had him at 12%, so he's actually gone down in the polls, although the 1% difference is within the margin of error so it's statistically insignificant. Paul was alone  among the announced candidate sin not getting something of a poll bump, however. Ted Cruz went from 4% to 7% and Marco Rubio went from 7% to 11%. Among the other candidates at the top of the pack, Scott Walker and Jeb Bush, neither of whom have officially announced their candidacy as of yet, are basically at the same point there were in previous polls so, at the very least, they haven't really lost any ground in the wake of the announcements by Cruz, Paul, and Rubio. This one poll hasn't had much impact on the polling averages, of course, where Bush remains in the lead followed by Walker, Cruz, Paul, Rubio and Huckabee, but that is likely to change as other pollsters release a new round of national polls that take into account the new entrants to the race.
As usual, a poll taken this early should be taken with a grain of salt and it certainly doesn't give us any predictive insight. At the same time, though, it does suggest a few themes that are likely to shape the race for the GOP nomination going forward. At least initially, it would appear from these and other numbers that we've seen so far that Rand Paul's appeal could be limited to a relatively small percentage of Republican voters. This wouldn't be surprising given Paul's generally libertarian views and foreign policy positions are generally out of step with the Republican Party as a whole, of course, and it provides a good explanation for why he has been downplaying some of those positions recently while simultaneously trying to appeal to social conservatives and other groups in the GOP that are likely to view him with suspicion.  As a contrast to Paul, Texas Senator Ted Cruz has clearly seen his stock rise since entering the race the last month, something that is due in no small part to the fact that he is largely in line with the Tea Party and hardcore right base of the Republican Party. There are other candidates who will be competing for that vote, of course, but getting in the race early may have given Cruz an advantage that will be hard for others to blunt. Finally, even though this poll was taken mere days after he entered the race, Marco Rubio seems to be the one candidate among the three who have entered the race who could be most likely to compete as part of the GOP's top tier along with his fellow Floridian Jeb Bush. It will be interesting to see if these trends continue as the race goes along.
While the race on the Republican side remains tight and uncertain, the race for the Democratic nomination seems to be over already:
Clinton declared her candidacy for the Democratic nomination for president with a web video and promptly hit the road to Iowa and New Hampshire. Her campaign begins in an extremely strong position among Democrats nationwide: nearly 7 in 10 Democrats and Democratic-leaning independents support her. Overall, 69% back the former secretary of state over Vice President Joe Biden (11%), Vermont Senator Bernie Sanders (5%), former Virginia senator Jim Webb (3%), former Rhode Island governor Lincoln Chafee (1%) and former Maryland governor Martin O'Malley (1%). Clinton is also the second choice of just over half of the Democrats who prefer someone else for the nomination. All told, Clinton is the first or second choice of 83% of the potential Democratic electorate.

Any possible Democratic competitors face a steep uphill battle in trying to draw support away from Clinton. Democrats are broadly enthusiastic about a Clinton candidacy, far more than they are for any other potential nominee. Overall, 58% of Democrats say they would be enthusiastic if she won the party's nomination. About a quarter say they would be enthusiastic about a Biden nomination (26%) while 11% say so about Sanders, 7% Webb, 6% O'Malley and 2% Chafee.
And, when you put Clinton head to head with her potential Republican opponents, she continues to dominate:
Marco Rubio fares best against the former first lady, trailing Clinton by 14 points, 55% to 41%. Bush trails Clinton by 17 points, 56% to 39%. Christie and Paul fall 19 points behind Clinton, each putting up 39% to Clinton's 58%. Huckabee, Walker, Carson and Cruz each trail Clinton by more than 20 points.
 There's not much value in the General Election matchup polling, of course. Yes, it does show that if the election were held today, Clinton would win no matter who the Republican nominee is, but as Philip Bump notes, the election is not being held today, and it will not be held for another nineteen months. There is much that will happen between now and then that will have an impact on the race. Both sides will have up days and down days, and, most importantly, the polling will begin to narrow at some point just as it always have. Given how each of our last four Presidential elections have gone, it's unlikely Clinton would win a General Election by double digits in the popular vote. If she did, then it would lead to the kind of landslide we haven't seen in this country since Ronald Reagan was re-elected in 1984. It's more likely that if she does win, it will be be a margin not too dissimilar from the ones Barack Obama saw in 2008 and 2012, possibly even closer. If a Republican wins, it's likely to be my a much closer margin in both the popular vote in both the Popular Vote and the Electoral College.
All of that being said, it's rather obvious that Clinton is heading into this race with a huge advantage, both because of her own personal popularity and the Democratic Party's advantage in the Electoral College. If she is able to maintain that over the next year and a half, then she likely will be elected President.