Republicans 2012: Who Else Might Run?
With the customary hand-wringing over the low quality of the presidential field well underway, the corollary pining for other candidates to join the race is starting.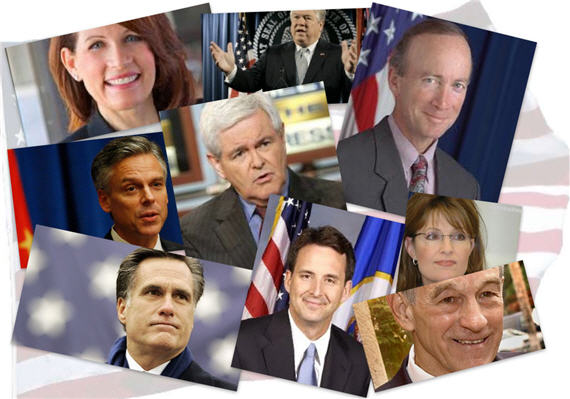 With the customary hand-wringing over the low quality of the presidential field well underway, the corollary pining for other candidates to join the race is starting.
Mitch Daniels seems to be the favorite of the Republican commentariat and some in the media. FT is the latest to profile him.
Sitting at his desk in Indiana's grand turn-of-the-century state house, Mitch Daniels' eyes light up momentarily in mid-sentence, like a proud father recalling the deeds of his children. "I just found out a few minutes ago, by the way, that in nominal dollars, the payroll of the state of Indiana is lower today than it was seven years ago," says Mr Daniels, the politician Barack Obama could face in the 2012 presidential poll.

The Indiana governor's record in successful budget management has elevated him to a national political figure at a time when the country is more fiscally focused than it has been in a generation.

It is also why many conservatives are urging Mr Daniels to throw his hat into the Republican ring to win the party's nomination to challenge Mr Obama next year.

George W. Bush, his former boss, is one of many Republican grandees offering private counsel to Mr Daniels as he mulls a bid. Mr Bush's wife, Laura, has also talked the issue through with Mr Daniels' wife, Cheri. "A lot of people are coming around. There were two this morning and there will be more tonight," he says.

For a party despairing over beating the president, despite the weak economy and high unemployment, Mr Daniels offers a credible alternative with experience in business as well as in budgets. In the White House, he advised Ronald Reagan and was Mr Bush's first budget director. As a senior executive in Eli Lilly, the global pharmaceutical company, he ran its defence of its profitable anti-depressant, Prozac, against a campaign by the Church of Scientology.

He was elected as Indiana governor in 2004 and overwhelmingly re-elected, along with sizeable majorities in the legislature in 2008, even as Mr Obama swept the usually conservative state in the presidential poll.
I'm also seeing quite a bit of clammoring for Rick Perry. Texas Tribune is on the bandwagon:
It's Rick Perry versus the nincompoops. That's not a slap at the rest of the Republican field, but at the political chatterers who just can't or won't believe the Texas governor when he says he doesn't want to run for president. Nobody believes him, which makes it easier for some to contend that he is making a grab at the highest political office in the land.

It's not that Perry is lying. It's that politicians so regularly lie about prospective campaigns that his actual words don't matter. What matters is the sense of things and perception.

The governor is in a great position. His name is in the conversation, but he doesn't have to trek to Iowa and New Hampshire and he doesn't have to open a federal campaign account and he doesn't have to fend off attacks from declared candidates. He's in place if there's a draft, but not at risk of an embarrassing loss. How can you lose a race you're not running?

The current field of Republican presidential candidates is about as inspiring as the soup aisle at the grocery store. There's a distinct thrill deficit here, and Republican voters are still looking for someone who does for them what Barack Obama did for Democrats in 2008.

Perry checks off a lot of the boxes for an ideal Republican candidate. It might gall the late Molly Ivins to hear this, but as she used to say, he's got some Elvis. He's good-looking and telegenic, great at working a crowd, both at the handshake level and at the microphone. He actually enjoys campaign hokum. He has become a good public speaker. (You should have seen him when he was running for agriculture commissioner in 1990; there stands the proof that he's teachable.) He's good with the fiscal conservatives, the social conservatives, the Tea Partiers and the Christians, and he subdued the establishment Republicans in Texas by easily defeating U.S. Sen. Kay Bailey Hutchison in the 2010 gubernatorial primary. He's from a big Southern and Western state (we're a little conflicted about it) with a lot of electoral votes and, more importantly, with a mother lode of conservative campaign money.

He's got a national forum — as chairman of the Republican Governors Association — and a big issue — state sovereignty, as expressed in his book, Fed Up!: Our Fight to Save America from Washington. He doesn't start with the baggage that other candidates have. That's partly a product of not posing a threat to others on the national scene in a way that inspires them to hire diggers of dirt.
Oh, and then there's Chris Christie. LA Times is beating that drum.
Of all of the potential GOP candidates, the serious Republican money men and women want the girl playing hardest to get: New Jersey Gov. 

Chris Christie.

The Garden State Guv says no dice, telling reporters, "Short of suicide, I don't really know what I'd have to do to convince you people that I'm not running. I'm not running."

Until he rolls a seven, I'm not buying it.

CNN recently reported that Christie met with a group of influential Iowa Republican donors who tried to talk him into running.Bruce Rastetter, an energy company executive told the Cable News Network, "We want to encourage him from an Iowa perspective and a national perspective. We need a candidate like him in the race…I think the other people are good people, good candidates. Chris Christie is someone who is…unique…and direct."

If Christie truly has no interest in running, why is he meeting with activists from Iowa instead of watching all of the 'Barefoot Contessa' episodes stored on his TiVO?

It's because Christie wants to be courted.

Think about it, if you want to convince someone to do something they claim they don't want to do, having a never-ending parade of very smart, very wealthy people sweet-talk them into 'saving the country' will do the trick every time. It's the most persuasive route you can take, outside of a rag soaked in chloroform. If big money donors can eliminate the torturous task of spending 10 hours a day raising money, Christie can spend all of his time on the fun part of campaigning: going on TV, pressing the flesh and eating deep-fat-fried meat products on sticks. As a sweetener, did I mention that he can eat deep-fat-fried meat products on sticks?