Republicans Maintain Control Of Senate
Defying the odds, Republicans held on in several traditionally Democratic states to keep control of the Senate.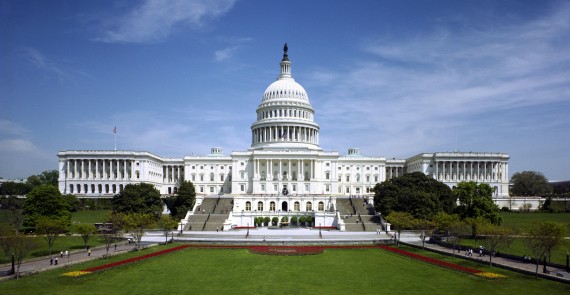 In addition to a White House win that leads to an uncertain future, Republicans made it through Election Night holding onto control of the Senate:
Republicans maintained control of the Senate on Tuesday, fending off numerous Democratic challengers who polls showed were leading going into Election Day, as incumbents were pulled along by Donald J. Trump's unanticipated strength in several key battleground states.

Senators Ron Johnson of Wisconsin, Richard M. Burr of North Carolina and Patrick J. Toomey of Pennsylvania made late comebacks to win re-election and to help ensure Republicans retained power.

Senator Marco Rubio, Republican of Florida, who insisted a year ago that he would not seek another term and embarked on an unsuccessful race for president, defeated his Democratic challenger, Representative Patrick Murphy.

Many other incumbents fared well, even in a climate of high voter dissatisfaction with anyone who could be labeled part of the Washington establishment.

Senator Rob Portman of Ohio, a Republican who was considered highly vulnerable when the campaign began, easily won re-election, as did Senator John McCain, Republican of Arizona. Senators Roy Blunt of Missouri, Rand Paul of Kentucky, Tim Scott of South Carolina and James Lankford of Oklahoma, all Republicans, also won.

In Wisconsin, Mr. Johnson, who had been trailing badly against former Senator Russ Feingold, was aided by an enormous cash infusion from outside groups.

Democrats picked up at least one seat but were finding others elusive, ensuring that they would remain in the minority of a fiercely divided chamber. Democrats gained the Senate seat in Illinois with Representative Tammy Duckworth defeating Senator Mark S. Kirk, a Republican. Also, in New Hampshire, Gov. Maggie Hassan was clinging to a lead of a little more than 1,000 votes in her quest to unseat Kelly Ayotte, the Republican senator.

And in Nevada, Catherine Cortez Masto defeated Representative Joe Heck, retaining the seat for Democrats held by Senator Harry Reid, who is retiring. But they lost their chances at a gain when Evan Bayh, who had served two terms each as governor and senator in the state, lost to Representative Todd Young.

Many races narrowed substantially in the closing weeks, and analysts in both parties predicted that the Senate would be closely divided no matter which party took control.

From the beginning of the election cycle, Republicans were on the defensive in the Senate, where they had far more competitive seats in play than the Democrats. In the House, gerrymandering and the Republicans' largest majority since the 1930s seemed sure to keep the chamber in their control.

In the Senate, seven incumbent Republicans elected in the Tea Party wave of 2010 seemed particularly vulnerable, but the party had built up something of a buffer with big wins in 2014 that gave it a four-seat majority.

Republicans also benefited from the efforts of Senator Mitch McConnell of Kentucky, the majority leader, who tried to make sure that incumbents did not face the kind of challenges from the right that had bedeviled the party since 2010.

Mr. Toomey, Mr. Burr and Senator and Charles E. Grassley of Iowa all avoided seriously contested primaries, allowing many of them to run as seasoned center-right candidates as opposed to hard-line conservatives. Mr. Rubio also avoided a messy intraparty fight for his seat once he entered the race after his failed shot at the White House.

Republicans' fear of Mr. Trump's presidential bid lingered before the votes were tallied. Most starkly, Mr. Toomey, Republican of Pennsylvania, waited until the last possible moment to say that he voted for the Republican nominee after weeks of evading the question.

But in the end, some candidates who rejected Mr. Trump prevailed, others who abandoned him lost and those who tried to avoid the question of his candidacy did fine. Mr. Portman, who started off as a provisional underdog, began an early attack on his opponent, Ted Strickland, the former Ohio governor, over job losses during Mr. Strickland's tenure. His no-stone-unturned campaign — which even included radio ads in Ukrainian — and a big volunteer network helped him compensate for a less robust turnout operation from the top of the ticket.
As of now the only Senate seats that appear to be unresolved are the Senate race in New Hampshire, where Kelly Ayotte maintains a slight lead over outgoing Governor Maggie Hassan, and Louisiana which is headed for that state's traditional runoff election which the Republican candidate is expected to easily win absent some incredibly unforeseen circumstances. This leaves Mitch McConnell with, at the worst, a 51-49 majority for the next two years and, more likely, a 52 to 48 seat majority that has real potential for growth when the 2018 midterms roll around. Thanks to these wins, Republicans will be able to easily approve Trump's cabinet appointments as well as hold off on the nomination of Merrick Garland to the Supreme Court to allow President Trump to select his own Supreme Court nominee after being sworn into office. The fact that this happened in a year when the odds were stacked against continued Republican control if only because of traditional electoral expectations makes the accomplishment even more surprising than it might otherwise have been. Some races, such as the outcome in Wisconsin, seemed to portend the outcome of the Presidential race as Ron Johnson seemingly easily fended off from Russ Feingold to win re-election, a sign that things were not going well in the traditional Democratic firewall in the Industrial Midwest.
Thanks to this win, Republicans will have control over the two popularly elected branches of the Federal Government going forward, and will be able to shape the course of the Judiciary for years to come with at least one Supreme Court appointment that will no doubt seek to continue the legacy of Antonin Scalia and the Court's conservative wing. They will be able to pass much of the agenda of the House and the newly elected President with at best only a minimal ability on the part of Senate Democrats to stop them, and they will be able to take steps to reverse many of the aspects of the Obama Presidency that Republicans have objected to the most over the past eight years. Finally, it means that Republicans will be able to adopt budgets that previously would have been dead on arrival, or simply unrealistic given the fact that the White House was under Democratic control.