Republicans Reluctant To Act On 'Bump Stocks,' Hoping The ATF Will Act For Them
After initially signaling support for a bill banning 'bump stocks,' Republicans in Congress now appear to be hoping someone else will act for them.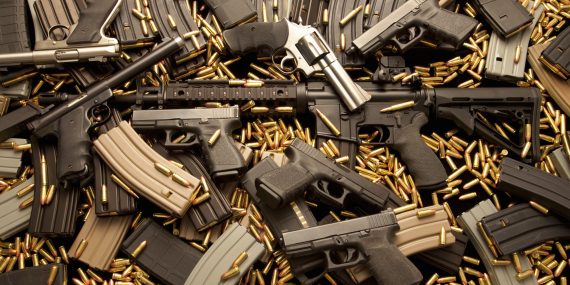 After some initial signs that we'd see quick Congressional action on so-called 'bump stocks,' devices that allow semi-automatic rifles to function as if they were fully automatic, Republicans on Capitol Hill are backing away from acting and hoping that the ATF acts in their place:
House Speaker Paul D. Ryan backed away Wednesday from legislative action to ban "bump stocks," the device a mass shooter used in Las Vegas earlier this month to create machine-gun-like rapid fire from his legal semiautomatic rifle, killing 58.

Instead, Ryan and many of his fellow House Republicans hope the Bureau of Alcohol, Tobacco, Firearms and Explosives (ATF) will act administratively to outlaw the devices, which the agency ruled legal in 2010.

"We think the regulatory fix is the smartest, quickest fix, and then, frankly, we'd like to know how it happened in the first place," Ryan (Wis.) told reporters Wednesday. He did not discuss pursuing legislation to address the issue.

Ryan made his remarks a day after 20 bipartisan House members backed a bill to ban bump stocksand similar devices meant to accelerate the firing rate of semiautomatic rifles.

The bill, sponsored by Reps. Carlos Curbelo (R-Fla.) and Seth Moulton (D-Mass.), would make it illegal to manufacture, own or transfer any device that "is designed and functions to increase the rate of fire of a semiautomatic rifle but does not convert the semiautomatic rifle into a machinegun."

Fully automatic machine guns, which fire off multiple rounds with a single pull of the trigger, are much more tightly regulated than semiautomatic weapons under federal law, and it generally is illegal to own guns of that type manufactured after 1986. Bump stocks avoid those restrictions by utilizing a semiautomatic weapon's recoil to repeatedly engage the trigger.

Curbelo said Tuesday that administrative action alone would not solve the issue, noting that ATF has previously ruled that the devices should not be regulated like machine guns.

"If they were to get sued after changing that interpretation, the plaintiffs would have a very strong case, given the agency's previous determinations," he said. "So if people agree with banning these devices, let's pass a law. It's the best way to make sure it gets done."

Ryan's comments Wednesday went somewhat further than his comments last Thursday, shortly after the National Rifle Association issued a statement saying that bump stocks ought to be more tightly restricted and that ATF ought to revisit its prior rulings.

"Fully automatic weapons have been outlawed for many, many years," Ryan said last Thursday. "This seems to be a way of going around that, so obviously we need to look how we can tighten up the compliance with this law so that fully automatic weapons are banned."

Mary Markos, an ATF spokeswoman, said Wednesday that the agency is "not releasing anything at this time" regarding its regulation of bump stocks.

Although many gun-rights advocates in Congress have expressed a willingness to restrict bump stocks and similar devices, they are wary of taking action through legislation. With the presidency and both chambers of Congress under GOP control, and yet few pieces of major legislation signed into law, multiple House Republicans said privately this week that it would be politically untenable to put a gun-control bill on President Trump's desk.

"It's the height of irony if we don't repeal Obamacare, we don't cut taxes, but we do implement more gun control," said Rep. Thomas Massie (R-Ky.), chairman of the House Second Amendment Caucus. "That's a perversion of the GOP agenda, and I think my colleagues recognize that, which is why they're hoping the ATF will do it."

But there may be a critical mass of moderate Republicans that could help push a bump-stock bill to the fore. Curbelo said Tuesday that he expected to add "many more" Republican co-sponsors to his measure in the coming days.

A Washington Post count of GOP lawmakers suggests that enough Republicans are willing to join with Democrats in the House to pass a ban.
As I noted in my initial post on this topic, there's little reason not to act on these banning these devices given the fact that they clearly serve no legitimate purpose other than to allow people to get around laws that have been in place since at least 1986, and in some cases as long ago as the 1930s, that banned the sale and ownership of fully automatic weapons by civilians. While it remains unclear at this time whether the weapons that were used by the shooter in the Vegas shooting were actually equipped with these devices, it has been reported that police recovered at least a dozen of them both from his hotel room and from his home, and the audio recordings of the shooting clearly indicate that he was using a weapon that had been modified in some way to act like an automatic weapon to complete his carnage. Because of this, banning the devices seem like an easy call that Congress should be able to act on quickly.
Of course, this is Washington we're talking about so such things are easier said than done.
In this case, it seems apparent that at least some Republicans on Capitol Hill would prefer to not have to go on the record as having voted even for what is clearly a reasonable gun control law that practically everyone can agree on. This appears to be why they are hoping that the BATF will act on their behalf and rescind its previous regulatory ruling that found that the bump stocks were not banned under existing law and that only Congress had the authority to expand that law. Despite this, and despite the fact that Republicans spent eight years criticizing President Obama for allegedly using Executive and regulatory authority to go around Congress in ways not authorized by law. Now, they are clearly hoping that the BATF acts so that they don't have to and so that they won't have to go on the record with a vote that gun rights groups such as the National Rifle Association and Gun Owners of America, as well as individual advocates of gun rights, don't approve of even if its the right thing to do. It isn't an exaggeration to call this cowardly, and it will be interesting to see if hardline Republicans get away with it.
It's possible that the House of Representatives could still act on this, of course, since it appears from the head counts that have been done that there is enough support for a bump stock ban among moderate Republicans and Democrats for the measure to pass easily. The question is whether such a measure can or will get to the House floor. While there are some procedures that a vocal minority can use to force a vote on a bill in the House, it's not easy and far more difficult than if the House leadership green lights the measure and allows it to go through the regular process. Instead of doing that, though, these latest remarks seem to indicate that the leadership is dragging its feet and hoping someone else will act so they don't have to. Not exactly a profile in courage, is it?