Republicans Vow To Continue Investigations Even If Hillary Clinton Wins The White House
House Republicans are vowing to continue their investigations even if Hillary Clinton wins the White House.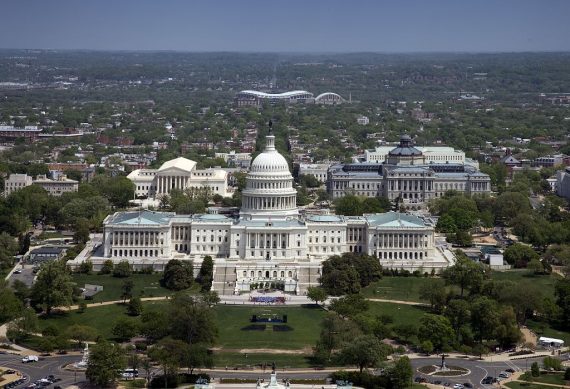 Republicans on Capitol Hill are vowing that they will continue their investigations of Hillary Clinton even if she wins the White House:
Top GOP lawmakers on both sides of the Capitol are vowing that their investigations of Hillary Clinton will continue even if she wins the White House in November.

Indeed, the FBI wrapped up its investigation of Hillary Clinton's use of a private email server this summer, but congressional Republicans say they're just getting started.

House Oversight Chairman Jason Chaffetz (R-Utah) wants answers on the deletion of Clinton emails he says may constitute "destruction of evidence" — and he's willing to use subpoenas to get them. House Intelligence Chairman Devin Nunes (R-Calif.) is working on a bill to pull the security clearance of anyone who broke rules governing confidential information, a jab aimed squarely at Clinton and her top aides.

And there's percolating interest among congressional Republicans in sniffing out any connections between the Clinton Foundation and the State Department — a potential new Clinton probe inspired by reports showing foundation donors securing access to Clinton as secretary of state. CNN reported in August that FBI officials wanted to probe the Foundation connection for conflicts of interest but was slapped down by Justice officials.

Republicans have also signaled interest in diving deeper into questions of whether Clinton or her aides perjured themselves on the email matter.

"Hillary Clinton created this problem; I'm trying to untie this big tangled web," Chaffetz (R-Utah) said in an interview this week. "I'd be derelict in my chairmanship if I didn't pursue this with all the vigor I have."

Sen. John Cornyn (R-Texas), the second-ranking GOP senator, offered a similar message on the Senate floor Wednesday.

"Unfortunately, [FBI] Director [James] Comey's announcement back in July wasn't the end of the story… because last month even more e-mails came to light that revealed the line blurred between the Clinton Foundation and the State Department under Secretary Clinton," Cornyn said. "It is clear that major Clinton Foundation donors enjoyed great access to Secretary Clinton while she was serving as our nation's premier diplomat. … I hope, soon, that we all get some answers."

Clinton campaign spokesman Brian Fallon in a statement said "this is exactly what Americans hate about Washington: before the election has even happened, House Republicans are already plotting what political attacks they might wage against a potential Clinton administration."

"Republicans are offering nothing more than pure, partisan gridlock, and this is why we must work hard to elect as many Democrats as possible this November," he added.

If Clinton prevails against Donald Trump, the investigations could strain her relations with Capitol Hill from the outset of her presidency, at possibly the most fertile time for getting her agenda through Congress. But there was no disagreement among Republicans interviewed for this story: If questions remain unanswered, the probes will continue into next year, whether she's in the Oval Office or not.

That view is shared by top leaders. A source familiar with House Speaker Paul Ryan's thinking said he considers Congress' oversight role — including potentially overseeing a President Hillary Clinton — to be an important priority.

"Rigorous oversight of the executive branch is important no matter who is in the White House," the source said. "[Ryan is] not known for partisan witch hunts, but his members will conduct robust oversight if needed."
This is hardly a surprise, of course. Republicans have been investigating various alleged scandals allegedly emminating from the Obama White House virtually from the moment they won back control of the House of Representatives in the 2010 elections. From 'Fast & Furious,' the BATF operation meant to track gun running to Mexican drug gangs, to the IRS targeting scandal, to seven different investigations of the September 11, 2012 attack  on the CIA annex in Benghazi, Libya, there has been little that has escaped Congressional attention. On some level, of course, these investigations are entirely appropriate since oversight of Executive Branch agencies is among Congress's most important jobs. At some point with each of these investigations, though, it has become clear that a large part of the motivation behind these investigations ended up being partisan rather than any real desire to find out what really happened in any of these incidents or determining what needs to be done to make sure they don't happen again. It's no real surprise to learn that Republicans intend to continue with hearings like this if Clinton wins the White House and if, as most analysts expect, and indeed it would be surprising if they didn't.
Of course, we hardly need the Obama years to establish a precedent here. It's already becoming apparent that a Hillary Clinton Presidency is likely to mean, for Republicans at least, a return to the same adversarial relationship between Congress and the White House that we saw during the Clinton years in the wake of the 1994 elections, with the main difference being that it will be far less likely that the Administration and Congress can work together in the manner that it did during those final years of the Bill Clinton Administration. Perhaps this will prove to be incorrect. Perhaps a Hillary Clinton Administration, together with House Republican Leadership and Senate GOP Leader Mitch McConnell will find ways to work together to get things done the way Bill Clinton, Newt Gingrich, and Bob Dole did. One gets the impression that Speaker of the House Paul Ryan, and McConnell, would be amenable to such a relationship, but the difference is that these men have far less control over their members than Gingrich, along with men like Dick Armey and Tom DeLay, and Dole did over their respective caucuses twenty years ago. In the modern era, there are significant members of Congress who seem to have more loyalty to outside groups than they do to party leadership, as John Boehner learned quite well during his time in office. Additionally, it's unclear exactly what impact the candidacy of Donald Trump might have on Republican Party politics even if he ends up losing the election. One possibility is that the Trump phenomenon fades as quickly as it came into existence and that some sense of normalcy returns to Capitol Hill in 2017. The other possibility is that the civil war inside the GOP that Trump's rise has set off will continue, and that will make it harder for leadership to control members even on routine votes that everyone ought to agree with. If the second option becomes reality, then we may look back on the Obama years with some degree of nostalgia.