Resistance To A Mormon President The Same As It Was In 1967
Mitt Romney faces the same resistance to the idea of a Mormon President that his father did when he ran for President four decades ago.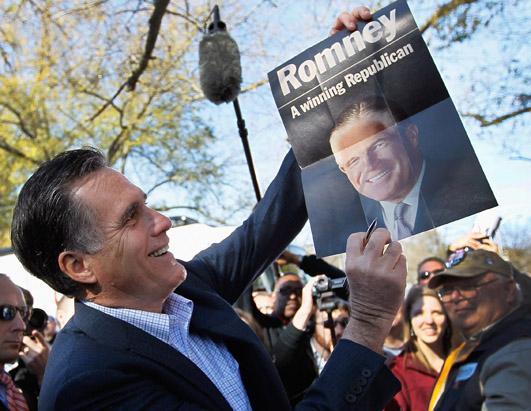 A new Gallup poll suggests that public resistance to the idea of a Mormon President is virtually unchanged since Mitt Romney's father ran for President 45 years ago:
PRINCETON, NJ — Eighteen percent of Americans say they would not vote for a well-qualified presidential candidate who happens to be a Mormon, virtually the same as the 17% who held this attitude in 1967.

The exact percentage of Americans who resist the idea of voting for a Mormon has varied slightly over the eight times Gallup has asked the question, typically when a Mormon was running for president, including George Romney (1968 campaign), Orrin Hatch (2000 campaign), and Mitt Romney (2008 and 2012 campaigns). The percentage opposed to a Mormon president has averaged 19% since 1967 — from a low of 17% at several points to a high of 24% in 2007. The current 18% is down from 22% a year ago.

Gallup originally asked the question in April 1967, after Mitt Romney's father, Michigan Gov. George Romney, announced the formation of an exploratory committee for the 1968 Republican nomination. At that point, George Romney was one of the two top contenders for the GOP nomination, along with the eventual winner, Richard Nixon.

Now, some 45 years later, George Romney's son Mitt will be the Republican nominee — and the pattern of resistance to his Mormon religion has essentially not changed.
Gallup's chart tells the tale: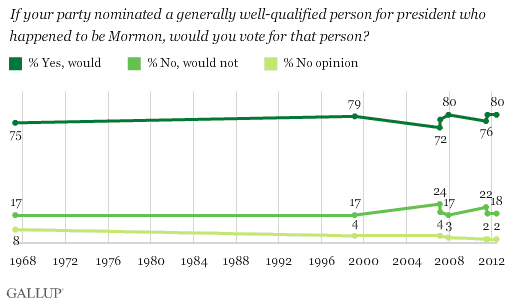 The poll also finds that anti-Mormon sentiment varies with education — only 6% of those with a postgraduate education say they would never vote for a Mormon for President, while the number is 23% percent among those with a High School education or less — and political affilation, with 10% of Republicans, 18% of Independents and 24% of Democrats. That political split is one that we've seen in other recent polls, as James Joyner noted in a recent post here at OTB.
What's most interesting, though, is that it doesn't seem like this anomalous bias against Mormons would have much of an impact on Mitt Romney's candidacy, because the people who actually know what his faith is are the least likely to vote against someone because they're Mormon:

It's also worth noting that this is a poll of Adults, not Registered or Likely Voters, and that a full 39% of those surveyed either don't know what Romney's faith is, or incorrectly identify as something other than what it actually is. So, it's unclear that this actually means anything for the election.
Nonetheless, as Gallup notes, the resistance to a Mormon candidate and its consistency over a 45 years period is an anomaly. Over the same period of time, we've seen resistance to Presidential candidates of other faiths decline significantly, as as resistance to the idea of a female President. Indeed, in 2008 one of America's two major political parties was at the point where its Presidential candidate was either going to be a woman or an African-American man and in that year, just 45 years after Martin Luther King Jr's "I Have A Dream" Speech, we elected an African-American to the Presidency. Outside of Mormons, the only religious groups that don't seem to have benefited from four decades of increased public acceptance are atheists and Muslims.
Why haven't the numbers changed at all when it comes to Mormons? Partly, it may simply be the fact that there haven't been many prominent Mormon's in national politics. After George Romney ran in 1968, there wasn't a Mormon candidate for President until Orrin Hatch's ill-fated run in 2000, which didn't receive much media attention at all largely because it didn't last very long. Mitt Romney's 2008 campaign for President was really the first high-profile Presidential campaign by a Mormon candidate since his father had run for President, and then this year, for a time, we had two Mormons competing for the Republican nomination. Add into that the fact that Mormons are a relatively small percentage of the American public, and perhaps it's a lack of familiarity that explains all of this. This is one of the reasons, I think, why you are seeing stories in the press about Mitt Romney's faith. It's something that not a lot of Americans are familiar with, and that leads to a certain degree of interest in the subject on the part of the press. Whether this coverage will impact Mitt Romney's candidacy in 2012 in either a negative or positive way, though, is a question that only time will be able to answer.